Whether you like to add your favorite mixer, drink it neat, or on the rocks, everyone has a style, flavor, and blend of whiskey.
Most whiskeys are identified by their country, but this definition is not always accurate.
It will also depend on how it is produced. Before taking a closer looker at the history of Tennessee Whiskey, let's look at 10 of the best labels on the market today.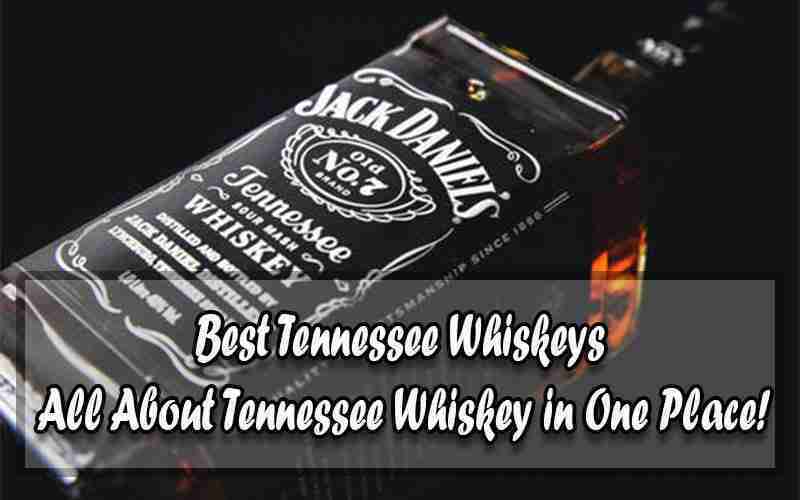 Top 10 Tennessee Whiskeys
What better way to start than with one of the all-time classic Tennessee Whiskeys famous worldwide?
Jack Daniel's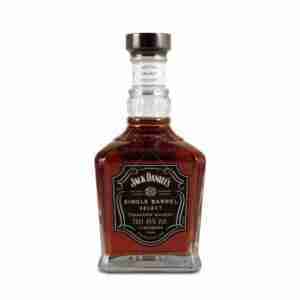 Like many whiskeys, Jack Daniel's has various whiskeys, most noticeably Jack Daniel's Single Barrel Whiskey at 50% ABV. It is a rich dark color, signifying its age and complexity. You will notice a sweet fruity flavor and hints of caramel and spice.
There is still the vanilla essence associated with Jack Daniel's and the subtleness of the oak.
The bottle we are most used to seeing is Jack Daniel's No.7. The classic production takes a sour mash of whiskey and charcoals it. It is then left to mellow before passing through 10 feet of sugar maple charcoal as a filtering method. Finally, it is left in handcrafted barrels.
The length of time for aging will only depend on when experts decide that the aroma and flavor are perfect.
For the 150th anniversary, Jack Daniel's has released a particular version of No.7 that is more intense and slightly stronger.
It is worth getting your hands on this one.
Read Next – Jack Daniel's Tennessee Whiskey Review
George Dickel Barrel Select Tennessee Whiskey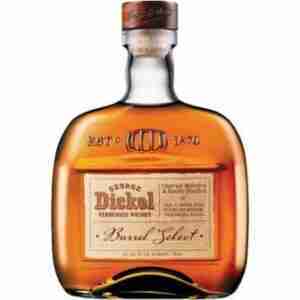 This whiskey has been aged 10-12 years in selecting handcrafted barrels from Master Distiller John Lunn.
You can enjoy a touch of smokiness, sweetness, and spice, and it's best to be served neat or over ice.
The George Dickel Barrel Select is an award-winning Tennessee whiskey, earning multiple gold medals from the Beverage Testing Institute and 93 points at the Ultimate Spirits Challenge in 2013.
George Dickel also has a rye whiskey. It is a mash of 95% rye and 5% malted barley. The prominent flavor is vanilla with a touch of rye spice.
The taste is simple but delicious on the palate and incredibly easy to sip. It's a good value whiskey that has also scored well in the Wine Enthusiast magazine.
Read Next – SKREWBALL Peanut Butter Whiskey Review
Prichard's Tennessee Whiskey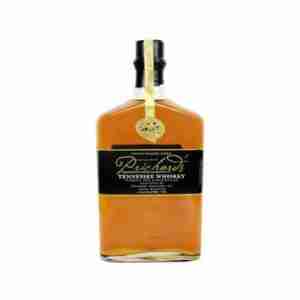 Prichard's Tennessee Whiskey has a great history that establishes the States.
It is made using techniques from the Civil War era that involve white corn and small pot stills.
It is then aged in charred American oak barrels for ten years. After aging, it is reduced to 80 proof with limestone-filtered spring water.
Most would say that this 40% ABV has a bold taste, a smell of oak and caramel, and a gentle kick of ginger.
Heaven's Door Straight Tennessee Bourbon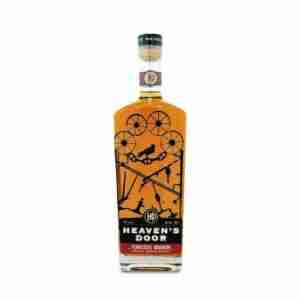 Plenty of Rock Stars have ventured into the whiskey industry, and with a name like Heaven's Door, there is no surprise that Bob Dylan's venture into the spirits started here. Dylan used the old church distillery to record four albums.
It was even Dylan who designed the artwork on the bottle. A musician's influence wouldn't sway any severe whiskey drinker.
Still, in this case, the Heaven's Door distillery has done a fine job, winning a gold medal at the 2018 San Francisco World Spirits Competition.
This Tennessee whiskey has a pale amber color and a grain mash of 70% corn and 20% rye. With a higher rye content, you might notice a peppery taste. The warm, sweet spices aroma is met with cinnamon flavors with just enough cheer and honey.
Look out for Heaven's Door Double Barrel Whiskey and Heaven's Door Straight Rye Whiskey.
Corsair Ryemageddon Whiskey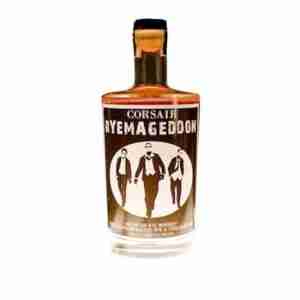 The design of the bottle, the hip name, and the fact that it only states "aged spirit" leads us to question how long it has been aged. However, it is still that taste that matters. We can't argue with Darek Bell (a master distiller who studied at the Bruichladdich Distilling Academy in Scotland), who voted for the 2013 Craft Distillery.
The mash consists of 80% malted rye and 20% chocolate rye. The scent wasn't one of our favorites, especially if you are not a licorice fan.
It was a little too sweet-smelling. The taste, on the other hand, is perfectly balanced. The chocolate is there but not overpowering.
There is also the right amount of cinnamon, pepper, and smokiness. There is a little heat, but it doesn't last longer than it should.
Read Next – Creek Water Whiskey Review – Meet "Yelawolf's" Bourbon!
Collier and McKeel Tennessee Whiskey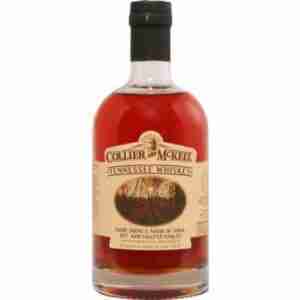 Collier and McKeel are not in the same league as Jack Daniel's or Dickel in size, but the strict whiskey-making process has allowed them to produce a fine-tasting whiskey. Don't be surprised if you detect different aromas and flavors in other cases, as Collier and McKeel are small-batch producers.
The brand has followed the Lincoln County Process to a T with limestone-filtered water locally sourced, as is the cut sugar maples.
The color is clear and rich, almost caramel-like. The first smell to reach your nose is sweetness, followed by a woody, caramel aroma.
The sour mash doesn't overwhelm you, and there is just enough of a spicy taste to notice, but it doesn't overpower the other flavors of honey and earthiness. It is impeccable and on the rocks, and the Collier and McKeel website has some good inspiration for mixology.
Uncle Nearest 1856 Premium Whiskey
Lynchburg and its nearby areas produce some of the finest whiskeys on this list, including Uncle Nearest 1856.
The year is relevant with nearly two centuries of mastering distilling methods. Uncle Nearest may have played a role in the foundations of the Lincoln County Process.
The local ingredients, double distillation, and premium aging techniques (for 11 years) have led this whiskey to win world recognition.
At 57.55% ABV, the first thing you notice, along with the strength, is the spicy caramel flavor combined with a touch of maple and dried fruits, particularly raisins.
Nelson's First 108 Tennessee Whiskey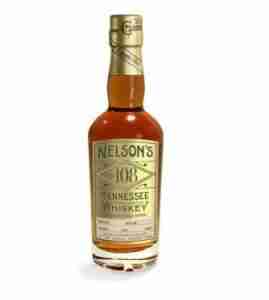 We loved the story of the name. In 1909 Tennessee experienced a statewide prohibition, and Nelson's Green Brier Tennessee Whiskey was, so to speak, retired. Precisely 108 years later, it was back with a few updates, the first being the name.
The 108 version involves a sugar maple charcoal mellowing.
What makes Nelson's First 108 different is the aging process. It is aged in 30-gallon barrels compared to the usual 53 gallons.
This enables rapid processing of just two years. Then it is moved to full-sized barrels.
That said, this is not your average 2-year whiskey and is neither underdeveloped nor too oaky.
It is fresh, dry, and has subtle flavors of chocolate and cinnamon. It is perfect for those who like the sweetness of toffee and butterscotch.
Rollins Tennessee Whiskey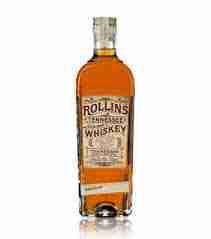 The bottle's design would lead you to believe that the Rollins Tennessee Whiskey is older than it is.
Despite being new to the whiskey playing field, Rollins Tennessee Whiskey follows the traditional Lincoln County Process and takes pride in using local products for the corn and grain mash. It's a beautiful rich golden color and delivers an impressive pack.
At 40% ABV, a rich sweet maple charcoal taste and a tiny hint of baked apples with caramelized sugar and cinnamon.
It still has collected some awards for its youth, which deserve respect.
Clayton James Tennessee Whiskey
While taking the Lincoln County process and adding the unique Clayton James touch, this brand takes white corn and grain mash and ferments it in copper pots.
Once the heads and tails are cut, leaving the hearts are aged. Because of this, only small batches are produced, and it is not as easy to find as others.
The whiskey is filtered through maple charcoal, evident in the smoky and sweet flavor, along with vanilla, spice, and caramel. You may even spot floral flavors and rosewater.
On the nose, you will appreciate the fruitiness of apples and pears.
What Is Tennessee Whiskey?
To be an authentic Tennessee whiskey, it must follow specific requirements, so it must be produced in Tennessee.
In most cases, it will use the Lincoln County Process, which involves passing through charcoal chips to filter it.
This gives Tennessee whiskey unique charcoal mellowing characteristics. This filtering makes it stand out from bourbon, and bourbon whiskey can be produced anywhere in the U.S. Prichard's is the only Tennessee whiskey exempt from this law.
There are four other requisitions to be able to call a whiskey an authentic Tennessee whiskey:
It cannot be distilled over 160 proof
It cannot enter a barrel over 125 proof
It must be bottled at 80 proof or higher
The ABV must be between 40% – 70%
By the North American Free Trade Agreement (NAFTA), the whiskey must age in new charred oak barrels. Tennessee whiskey must also be made of a grain mash containing at least 51% corn. For this reason, the George Dickel Rye Whisky can't be legally classed as a Tennessee whiskey despite being produced in Tennessee.
Before the statewide prohibition in 1909, there were far more Tennessee whiskey distilleries, but many didn't survive, so only a few of the original brands still stand today.
Read next – Best 10 Texas Whiskeys: All About Texas Whiskey in One Place!
The History of Tennessee Whiskey
As the founders of America began to move west, they took their whiskey-making skills with them. Luckily, they were met with the perfect conditions for the perfect whiskey, the land, the water, and the suitable climate.
This whiskey has undoubtedly had its ups and downs. Tennessee was making so much whiskey before the Civil War that the government banned whiskey production so that efforts could be turned towards the army.
This didn't stop the distilleries from building businesses again after the war.
There were hundreds of distilleries at this point, but the government again stepped in and introduced the second statewide prohibition.
Read next – Best Honey Whiskeys – All About Honey Whiskeys!
Some brave produce kept going, which helped keep the traditional techniques going and made way for moonshine.
It wasn't until 1940 when Jack Daniel's returned and then George Dickel in the 1950s.
Not until 2009 did Tennessee start reforming the laws created during the prohibition, allowing the number of distilleries in Tennessee to grow from three to thirty today.
In 2017, the Tennessee Whiskey Trail was established. Visitors can tour 26 of the Tennessee distilleries, each taking between 30 minutes and a couple of hours, with the tour lasting around ten days.
Read next – Best Cinnamon Whiskeys – About Cinnamon Whiskey in One Place!
How Is Tennessee Whiskey Made?
The mash grain must consist of at least 51% corn. The remaining grain is usually varying percentages of rye and barley. Each distillery will have its trade secrets to produce the individual aromas and flavors.
The grains are ground into a paste-like consistency, and most commonly, limestone water is added before it is placed into oak barrels for the aging process, which will vary.
Jack Daniel uses sugar maple wood soaked on 140-proof Jack. It is then set on fire and burnt down to charcoal.
The charcoal is ground into small pellets. New whiskey is poured through the shots and put straight into oak barrels.
George Dickel pours whiskey into 13ft vats. The maple charcoal and whiskey are allowed to soak together at 40 degrees.
Whichever grain mash and process is used, there is no doubt that the Lincoln County Process does give Tennessee whiskey a flavor like no other.
Jillmo Whiskey Decanter Set, 1250ml Whiskey Decanter with 2 Whiskey Glasses
as of September 30, 2022 3:15 pm
Whiskey Decanter Set + 2 Whisky Glasses on Rich Wood Classic Mahogany Base Tray with Chilling Stones Gift Packaging - Whiskey Dispenser for Liquor Scotch Bourbon - Christmas Holiday Gift
3 new from $99.99
Free shipping
as of September 30, 2022 3:15 pm
Premium Art Deco Whiskey Decanter And Glass Set. 27oz Scotch Decanter In Unique Stylish Gift Box. Bourbon Decanter For Men. Genuine Lead Free Crystal Liquor Decanters For Alcohol Designed In Europe.
as of September 30, 2022 3:15 pm
EISCH Malt Whiskey Glasses JEUNESSE - Set of 2 mouthblown Whiskey Glasses with Lid for the aroma and flavor development, voted best nosing glass by 'Whisky Magazine'…
as of September 30, 2022 3:15 pm
KROWN KITCHEN - Gun Whiskey Decanter Set. Includes Whiskey glasses, coasters, and wood base. Perfect Dad Gifts. For bourbon, scotch, liquor, 850ml.
as of September 30, 2022 3:15 pm
Jewelry By Johan Whiskey Oak Ring with Meteorite, Wooden Men's Wedding Band
as of September 30, 2022 3:15 pm
Riedel Fire Whisky Set
12 new from $76.00
Free shipping
as of September 30, 2022 3:15 pm
Aroma Academy - Whisky Aroma Kit - 24 Aroma Nose Training System
as of September 30, 2022 3:15 pm
Godinger Whiskey Decanter Airplane Globe Set with 2 World Whisky Glasses - for Liquor Scotch Bourbon Vodka
4 new from $88.24
Free shipping
as of September 30, 2022 3:15 pm
Unique Whiskey Decanter and Glass Set - Premium LeadFree Crystal Decanter and Whiskey Glasses, with King Sized Whiskey Stones, Sophisticated Luxury Bourbon Gifts for Men, Elegant Liquor Dispenser
as of September 30, 2022 3:15 pm