Texas is famous for many things, including the Texas BBQ, hot weather, and even Dr. Pepper's home.
Only a tiny percentage of people know Texas as an excellent whiskey-producing state.
Like many states, whiskey has deep roots in the culture of Texas, but before we start talking about the history of Texas whiskey, let's look at 10 of the best whiskeys produced in America's second-largest state.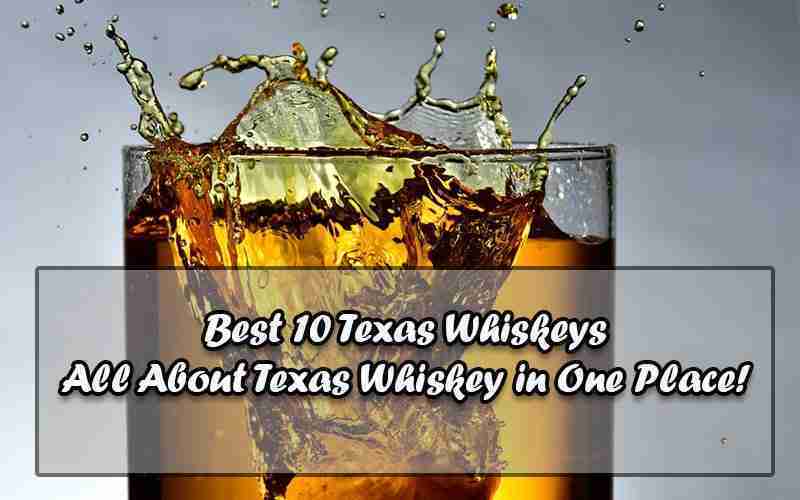 Ironroot Harbinger Bourbon Whiskey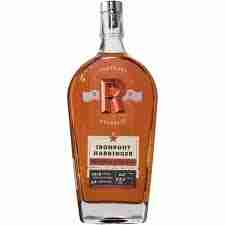 Ironroot has a great history. In the 1800s, Denison, Texas, suffered from a phylloxera outbreak.
One grape breeder managed to save the grapes from the outbreak, becoming known as the iron grapes.
Some 200 years later, the Ironroot Harbinger Bourbon was named the World's Best Bourbon at the World Whiskies Awards 2020, not to mention several other impressive awards.
The mash combines purple corn, bloody butcher corn, flint corn, non-GMO yellow dent corn, and rye.
The nose will detect a lovely sweet syrup, oranges, and red fruit aroma.
The red fruit scent is continued into the flavor, combined with spices and dark sugar.
This particular whiskey is 57.5%, and it is recommended that you look out for other blends of Texas whiskey from Ironroot.
Read Next – Best Honey Whiskeys
Balcones Texas Blue Corn Bourbon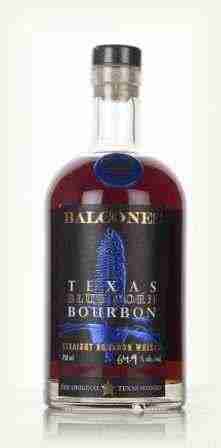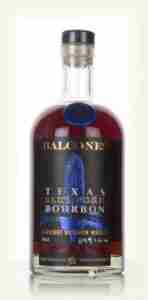 Balcones didn't take long to build a name for themselves. What started as a small distillery out of Waco now has a range of 100% blue corn spirits, varying in barrel selection and aging.
The one that caught our attention was the Blue Corn Bourbon, an impressive 64.5% ABV.
You might not notice a difference in color to the other Balcones bourbons with their rich amber color.
Compared with some of the other blends, you will notice that the smell isn't too overpowering despite its kick.
Rather than spice, you can smell creamy custard. The blue corn provides a fantastic flavor, an explosion of sweetness, and savor with the right amount of heat and a touch of salt.
Read Next – 5 Top And Best Peanut Butter Whiskey
Garrison Brothers Cowboy Bourbon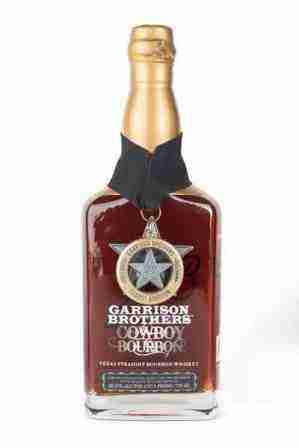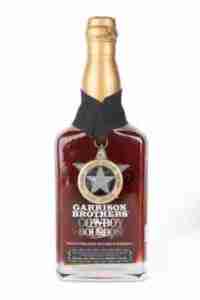 Of the 2019 batch, there are just 6,440 Garrison Brothers Cowboy whiskey bottles.
Each is individually numbered by hand and signed by Donnis Todd, a master distiller.
The bottle is then rested on a satin pillow and carefully stored in a custom oak box. It is a fantastic gift for any whiskey lover.
This particular whiskey came about by accident. After practicing with various mash bills, the creator couldn't illegally dump all unsuccessful attempts, so he blended them.
The mash comprises 74% corn, 15% soft red winter wheat, and 11% two-row barley. This mash gives the whiskey a reddish-brown look.
It is aged five years, and the final result is 68.65% Texas whiskey. It has a rich taste of toffee, cherry, and vanilla. Vanilla is also one of the most predominant aromas too.
Read Next – Best Scotch Whiskies You Can Buy
Treaty Oak Ghost Hill Texas Bourbon Whiskey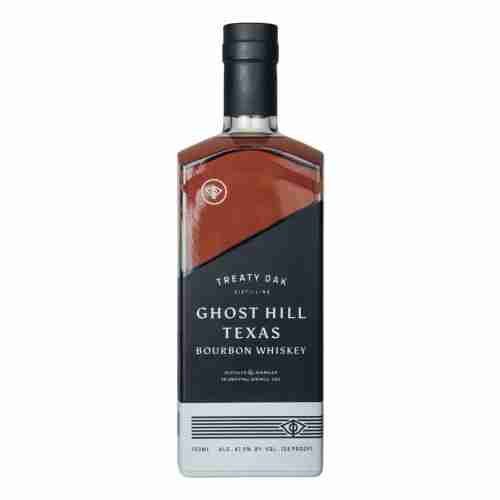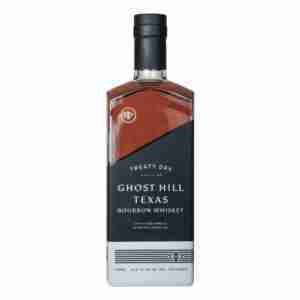 Treaty Oak Distilling can be found in Dripping Springs, which provides all of the grains for the whiskey.
The mash bill is 53% yellow Texas No.1 corn, 36% Texas wheat, and 11% American barley.
The distillery noticed a rapid maturation because the warehouse isn't temperature controlled.
The extreme weather changes meant that the flavor from the American white oak #3 char barrels was extracted faster.
The one thing that made us notice this whiskey that the pure wheat fragrances.
It was like rolling around in the hay in summer. But there is also a sweetness to it. We appreciated its depth, the oak, and a touch of honeycomb when sipping the whiskeys. There was a surprising amount of heat for just 47.5%.
Read Next – Best Canadian Rye Whisky Brands to Buy in 2023
Iron Wolf Select Bourbon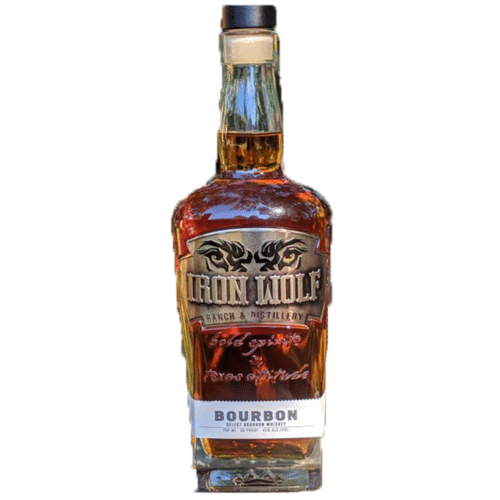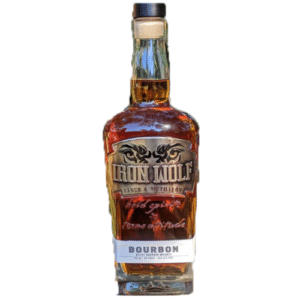 At Iron Wolf, they wanted to focus on the experience of whiskey and create a fine drink.
A couple of years of research went into the concept before building a world-class Spicewood distillery that whiskey lovers could visit.
The distillery produces a range of flavored whiskeys, but all are based on the Iron Wolf bourbon.
The distillery has managed to keep the mashed blend under its hat. We know that each stage is carried out at the distillery and that the whiskey is aged for three and a half years.
Bottled at 45% ABV, we loved the sweet toffee caramel on the nose and the palate.
At the same time, we detected some rye in the blend with excellent peppery heat. Again, this was a great choice, neat and for cocktails.
Read Next – Creek Water Whiskey Review – Meet "Yelawolf's" Bourbon!
Ranger Creek.36 Texas Straight Bourbon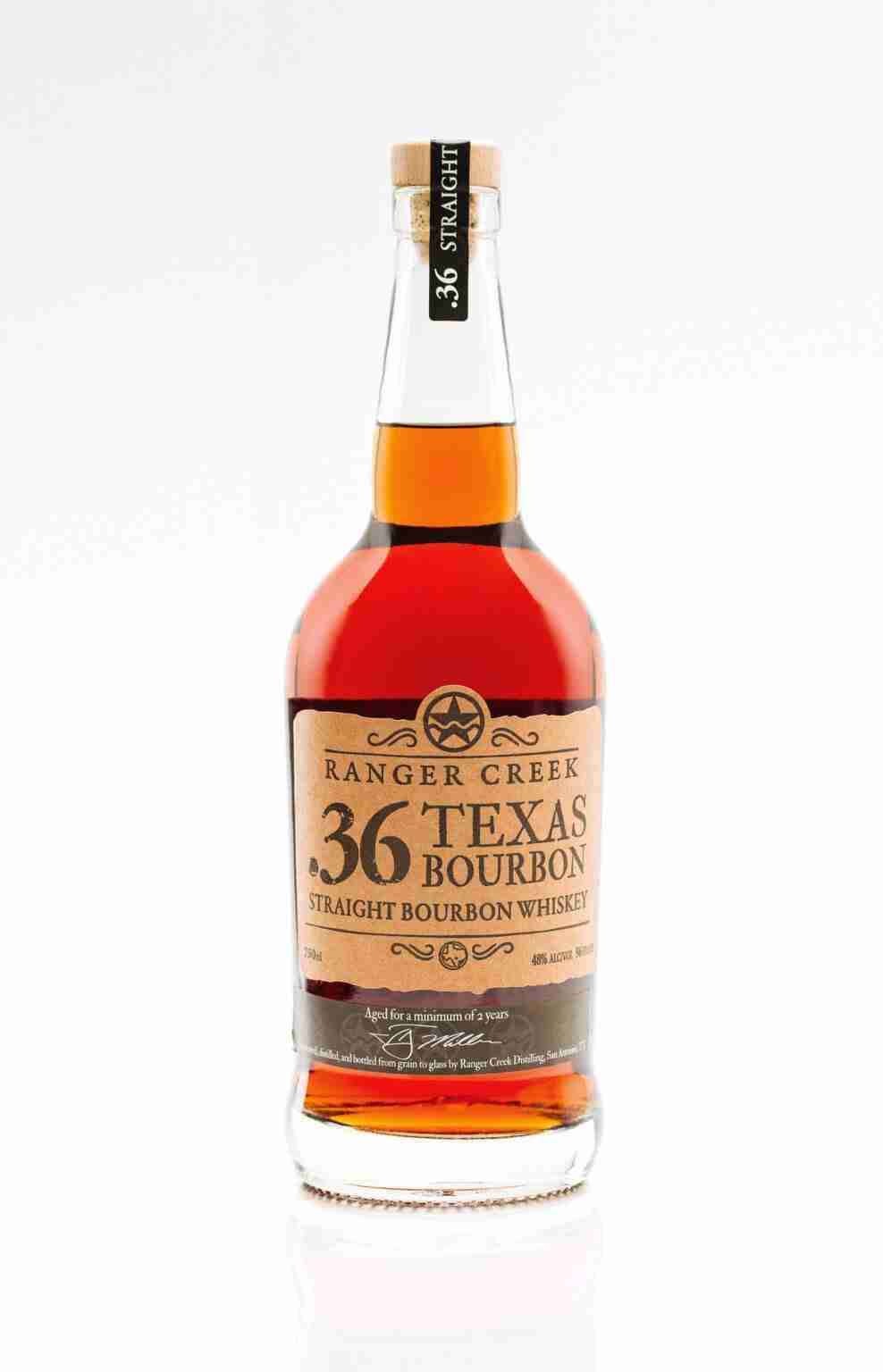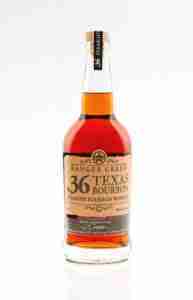 The name did have us wondering! It references the .36 caliber pistol used by the Texas Rangers, an original idea, and we like things that add to the experience.
Ranger Creek began a new series of whiskeys in 2011 called the SCS or Small Caliber Series.
The SCS uses smaller barrels than the traditional aging process, bringing the whiskey to faster maturity.
I am considering the Ranger Creek. At 48%, it still has a bit of a bite. The first experience is the warmth of spices, a little cinnamon, and pepper, which is well balanced with brown sugar and caramels.
36 Texas Straight Bourbon has only been aged for nine months. You will be blown away.
Read Next – Bird Dog Whiskey Review
Herman Marshall Texas Bourbon Whiskey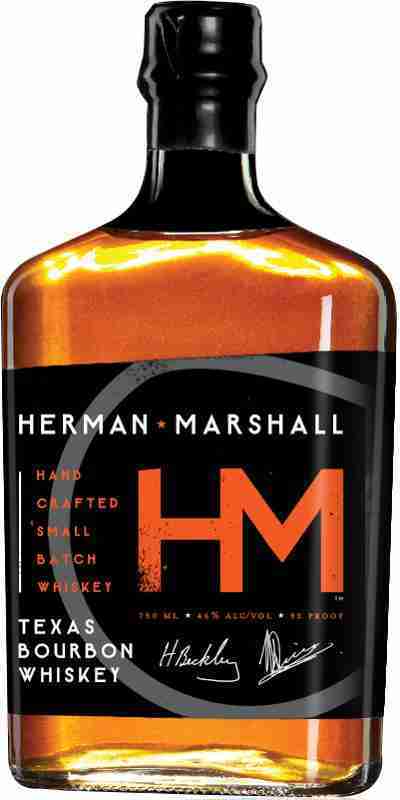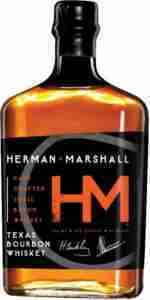 Herman Beckley and Marshall Louis make a great team, building and running Dallas Distilleries in Garland.
Herman focuses on what goes into the bottle, while Marshall takes care of what happens outside the bottle.
It is a lovely rich golden color. As soon as you open the bottle, you can tell a high level of corn in the mash.
It's a smooth whiskey, easy to drink at 46% ABV. Each flavor is there yet delicate.
You will detect hints of vanilla, butterscotch, and even a little coffee. You can try the Herman Marshall Rye Whiskey if you want something with more heat.
Ben Milam Straight Bourbon Whiskey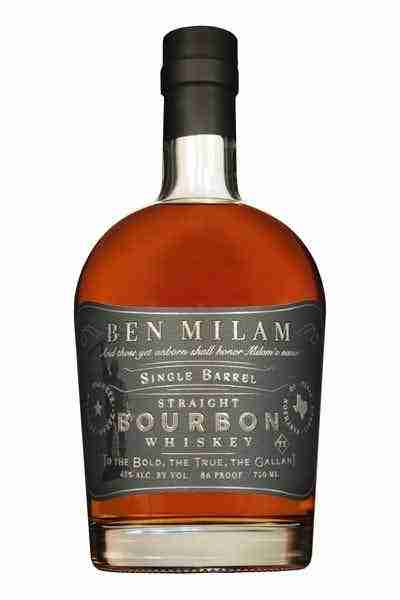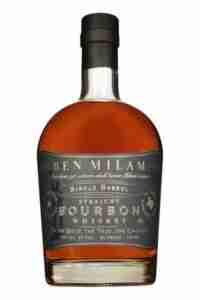 The design of the bottle tells this story. The silhouette of a man holding a rifle in the air and the dedication on the labeled bottle are for a military hero named Ben Milam. Milam would have been proud when the whiskey won a double gold medal at the 2018 Sab Francisco World Spirits Competition. The bottle looks a dark amber color but is still quite evident.
There is no information about the mash or the aging period, but it smells like fresh-cut grass in summer and the warmth of cinnamon and vanilla's sweetness. When tasting, we could almost pick up some rye but primarily brown sugar, oak, and spices. We noticed that the flavors came into their own once the whiskey had been allowed to air.
Firestone & Robertson TX Straight Bourbon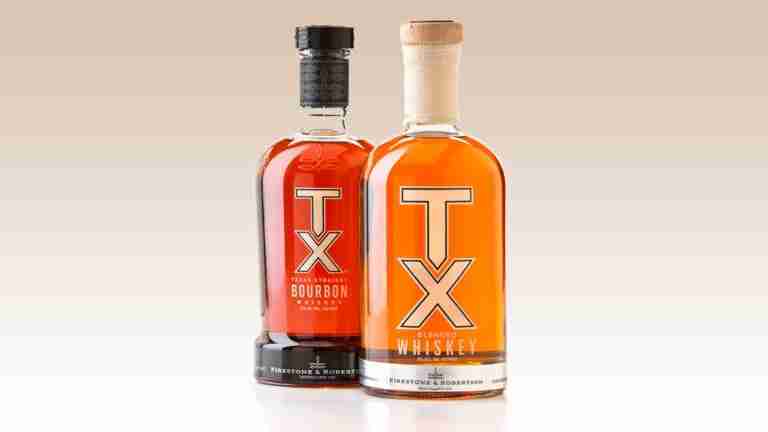 Possibly one of the first whiskey distilleries in the North of Texas, Firestone and Robinson keep their mash bill disclosed.
It contains Texas Yellow Dent Corn, Texas soft red winter wheat, and 6. row distillers' malt.
They have created their strain of yeast from Texas Pecan nut. We know it has been aged for four years as straight bourbon.
The unique rich red color was the first thing to catch our attention. We were opening the bottle releasing a wave of corn and a lovely touch of pecan.
The freshness on the nose reminded us (in a good way) of youthfulness.
An exciting combination of tastes: pecan, brown butter, and a little vanilla. In contrast, there is just a touch of pepper and oak.
Yellow Rose Outlaw Bourbon Whiskey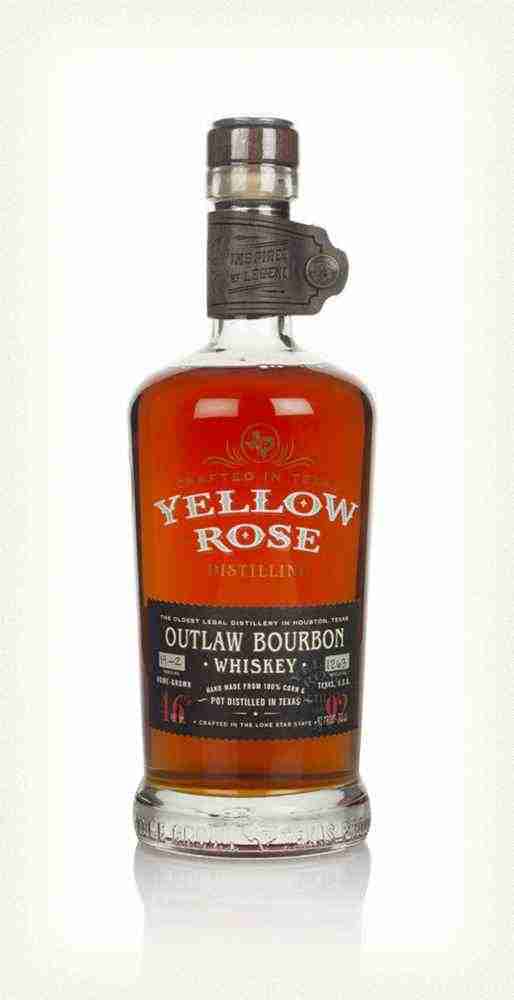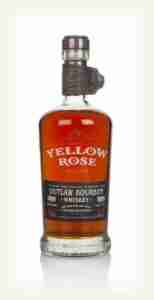 Thanks to a Kickstarter campaign, Yellow Rose is here today, which helped the company open a tasting room.
They now produce blended and rye whiskeys as well as the Outlaw bourbon. It has only been aged five to seven months; the dark copper color surprised us.
Yellow Rose uses 100% organic Texas corn for this whiskey. It uses traditional pot stills and tiny barrels.
This, combined with the heat from the Gulf Coast, means the charred oak is absorbed quickly. It smells sweet, oaky, and floral.
The smoky wood flavor lasts for just the right amount of time. We also tasted caramel, molasses, and warm buttered popcorn.
Overall, this left us pleasantly surprised.
What Is Texas Whiskey?
It's a tricky question. We don't want to say that there is no such thing officially. But rather than its location defining it, it is determined by the distillers' passion and ability to focus on individuality.
Texas whiskey is bourbon. Bourbon can be produced anywhere in the United States, but the bill mash must be at least 51% corn.
It also must be distilled at below 160 proof. What makes bourbon different from other whiskeys in the barrels that are used?
Each batch must use new oak. There is no reusing of a barrel, leading to a loss of flavor over time.
Read Best Tennessee Whiskeys – All About Tennessee Whiskey in One Place!
The History of Texas Whiskey
The first recorded whiskey distillation in Texas occurred in 1837, making it one of the state's earliest industries. German immigrant John David Hill in Houston opened the earliest commercial distillery in 1856. by the early 1860s, more than 30 distilleries were operating in the state.
During the Civil War, most of the state's distilleries were shut down due to a lack of supplies and workforce. A few operations stayed afloat by producing medicinal whiskey or selling it out of state, but most went out of business. After the war, production slowly started to ramp back up but was dealt a blow in 1919 with the enactment of Prohibition.
Prohibition was finally repealed in 1933, and several distilleries reopened their doors. The industry struggled during World War II due to rationing and restrictions on alcohol production. It wasn't until the late 20th century that Texas whiskey began to see a resurgence.
In 1988, revisionist Patrick Henderson founded the first legal whiskey distillery in Texas since Prohibition when he opened Balcones Distilling in Waco. Since then, dozens of craft distilleries have popped up all over the state, helping to put Texas back on the map as a premier whiskey-producing region.
The Texas Whiskey industry is very young compared to some other states and their whiskeys.
That's not to say the state hasn't produced it for longer.
It just means that the concept of Texas Whiskey wasn't born until 2006. When Garrison Brothers were granted the first distiller's permit for bourbon outside Kentucky and Tennessee, this was the oldest legal distillery in Texas.
And it wasn't an instant success. The young distillers struggled to make Texas whiskey an actual thins for the first few years.
But soon after, things began to change. A few more distilleries were created, and brands experimented with flavors.
Over the last decade, production has increased by over 300%. Although still young, Texas whiskey has become well-established and won some of the most significant whiskey awards worldwide.
There are over one hundred whiskey distillers in Texas today.
Read next – Best Cinnamon Whiskeys – About Cinnamon Whiskey in One Place!
The Different Types of Texas Whiskey
There are three types of Texas whiskey: straight, blended, and single malt.
Straight whiskey is made entirely from one type of grain. Corn is the most common grain in straight whiskey, but other grains like rye and wheat can also be used. Blended whiskey is made by combining two or more types of straight whiskeys. Single malt whiskey is made from 100% malted barley.
Texas has a long history of producing high-quality whiskies. Some of the first distilleries in the state date back to the 1800s, and over 30 craft distilleries are making unique whiskies across Texas. Whether you're looking for a smooth and easy-drinking blended whiskey or a bold and spicy straight rye, there's a Texas whisky for everyone to enjoy.
How Is Texas Whiskey Made?
There are no legal requirements for a Texas whiskey (except those implanted regarding bourbon in the States), so the distilleries can experiment more. The basics are always the same 51% corn, yeast, water, and American oak barrels. The grain misplays a role in the variations of color and flavor. But then there are both subtle and considerable differences in yeast and water. Some distillers will use limestone water.
As we saw Firestone & Robertson, their pecan yeast makes all the difference.
Each distillery will have its production methods. Regardless of the type of corn, most distillers insist on sourcing their ingredients locally Garrison Brothers use only 100% food-grade Texas corn rather than feed-grade…
This is seen more with Treaty Oak, which uses Texan oak for its barrels.
The Texan climate also has a huge impact. We all know that Texas is famous for its high temperatures, but there are also significant fluctuations in the summer months. Then you have to factor in the humidity. Some areas of Texas are arid, while others are more humid.
This will affect the time it takes for the whiskey to mature in the barrels. The traditional full-size barrels take years to allow for maturity. During this time in Texas, a barrel could lose up to 30% of its content due to evaporation.
This is why some Texas distilleries are switching to small barrels.
Maturity is faster, and therefore, many Texas whiskeys are considered young. As we learned, this is far from a bad thing, as we tasted some amazingly full-bodied, rich whiskeys you would never have guessed had aged for months.
Texas has surprised us briefly and produced a whiskey some would have thought impossible.
Read Next – Eagle Rare Bourbon Review – Kentucky Straight Bourbon
How to Make Texas Whiskey
Texas whiskey is much like American whiskey, with a few key differences.
The most notable difference is the use of mesquite-smoked barley in the mash. This gives Texas whiskey its signature smoky flavor.
To make Texas whiskey, you'll need the following:
5 pounds of mesquite-smoked barley
10 pounds of corn
1 pound of rye
1 pound of malted barley
Yeast
Water
First, you'll need to mill or grind the smoked barley. Then, mix it with corn, rye, and malted barley. Add yeast and water, and stir well.
Let the mixture sit for a day or two until it ferments. Monitor the fermentation process closely, and bottle it up when it reaches the desired level of alcohol content!
HYDT Whiskey Decanters, Wine Barrel Shaped Whiskey Glass Bottle, with Faucet for Tequila Bourbon Scotch Rum Alcohol Related Gifts for Dad
as of December 9, 2023 5:58 am
7-Piece Crystal Whiskey Carafe Set for Men with 6 Great Cocktail Glasses for Rum,Scotch or Bourbon,Dishwasher Safe intelligentJP
out of stock
as of December 9, 2023 5:58 am
The Whiskey Experience - Premium Whiskey Making Kit | Make, Age & Taste Whiskies from Around the World | Single Malt Scotch, Irish, Japanese Whisky & Single Barrel Bourbon | 2 Liter Oak Aging Barrel
as of December 9, 2023 5:58 am
The Whiskey Experience - Premium Whiskey Making Kit | Make, Age & Taste Whiskies from Around the World | Single Malt Scotch, Irish, Japanese Whisky & Single Barrel Bourbon | 1 Liter Oak Aging Barrel
2 new from $139.95

as of December 9, 2023 5:58 am
Middle Finger Shape Whiskey Decanter Set 2 Liquor Glasses, Mens Gift Cooling Whisky Stones and Funnel for Rum, Scotch, Bourbon, Whisky
as of December 9, 2023 5:58 am
Glencairn Crystal Whiskey Glass, Set of 12
4 new from $65.63
Free shipping
as of December 9, 2023 5:58 am
Whiskey Glasses, Crystal Clear Geo Design Whisky Tumblers Perfect for Scotch, Bourbon Gin & Tonic, Cocktails, 2Pcs
as of December 9, 2023 5:58 am
What whiskey is Texas known for?
When it comes to Texas whiskey, there are two main types that the state is known for. The first is bourbon whiskey, made using at least 51% corn mash. The second type is rye whiskey, made using a mash of at least 51%.
Several distilleries in Texas produce these types of whiskey, each with a unique flavor profile.
Some popular Texas bourbons include Garrison Brothers Bourbon and Balcones Baby Blue Corn Whiskey.
Some top choices for rye whiskey include Treaty Oak Distilling Co. Redemption Rye and Firestone & Robertson TX Blended Straight Rye Whiskey.
No matter your preferred type of whiskey, you'll find something to suit your taste from one of the many great Texas distilleries.
So, try some of these delicious spirits next time you're in the Lone Star State!
Read Next – The Essentials: 10 American Whiskeys You Need To Try
Is there a Texas whiskey?
Yes, there is a Texas whiskey! SeverVarious distilleries produce several different types of Texas whiskey in the state.
While the recipes and methods used to produce Texas whiskey may vary slightly from one distillery to another, the overall process is generally the same.
Texas whiskey is made from a mash of at least 51% corn, fermented and distilled. Once the whiskey has been clarified, it is typically aged in oak barrels for at least two years. Some of the most popular brands of Texas whiskey include Balcones, Ironroot Republic, and Lone Elm.
So try Texas whiskey if you're looking for a smooth, easy-drinking spirit or something with a little more kick!
Is Texas good whiskey?
Yes, Texas whiskey is good. Many believe it is some of the best whiskey in the world.
The state has a long history of producing high-quality spirits, and today there are several excellent Texas whiskeys on the market.
You can't go wrong if you're looking for delicious Texan whiskey. There's a Texas whiskey, whether you prefer a smooth and mellow spirit or a little more bite. There are many different types and styles, so you're sure to find something to your taste.
So if you're wondering whether or not Texas whiskey is good, the answer is absolutely!
Whether you're already a fan of this great state's spirits or just starting, try some delicious whiskies. You won't be disappointed.
What is Texas's original whiskey?
Texas whiskey is a type of bourbon whiskey produced in Texas. The climate in Texas is unique and has a unique flavor profile for whiskey.
Most of the state is hot and dry, creating a faster-aging process for the whiskey. This results in a bolder flavor with more pronounced oak notes. The whiskies produced in Texas are also known for their high proof, resulting in a more intense flavor experience.
Texas whiskey must be made from a mash bill that contains at least 51% corn and is aged in new, charred oak barrels.
The minimum aging time for Texas whiskey is two years, but many brands will age their whiskeys for longer to develop even deeper flavors.
Some of the most popular brands of Texas whiskey include Blended Whiskey, Ranger Creek Mesquite Smoked Whiskey, and Balcones Baby Blue Corn Whisky.
What liquor is Texas famous for?
Texas has a long and storied history with whiskey. The state has been home to some of the world's most iconic bourbon and rye producers, and today, Texas whiskey is more popular than ever.
Some of the most famous Texas whiskeys include Pecan Street Rum, TX Blended Whiskey, and Balcones Brimstone. These whiskeys are all produced in small batches using only the finest ingredients, and they're perfect for sipping on their own or mixing into your favorite cocktails.
If you're looking for a truly unique Texas whiskey experience, check out some of the smaller craft distilleries popping up all over the state.
These distilleries experiment with different grains and aging techniques to create unique spirits you won't find anywhere else.
So whether you're a longtime fan of whiskey or just getting started exploring this delicious spirit, try Texas whiskey. You won't be disappointed.
What's the best Texas bourbon?
When it comes to Texas bourbon, there are a few things you need to consider. First of all, what kind of bourbon are you looking for? There are many different types of bourbon, each with its unique flavor profile. Secondly, what is your budget?
Bourbon can be expensive, so you want the best bang for your buck.
Thirdly, what is your preferred flavor profile? Do you like your bourbon sweet or spicy? Fruity or woody? Many bourbons cater to different tastes, so knowing what you're looking for before purchasing is essential.
Once you've considered all of these factors, it's time to start shopping around!
Here are a few of our favorite Texas bourbons:
Jester King Bourbon Barrel Aged Cuvée coffee stout: This unique bourbon has been aged in oak barrels and coffee beans, making it a complex flavor perfect for coffee lovers.
Balcones Baby Blue Corn Whiskey: This corn whiskey has a light and sweet flavor, making it perfect for sipping neat or on the rocks.
Garrison Brothers Cowboy Bourbon: This award-winning bourbon is made from a blend of two different types of whiskey, resulting in a bold and flavorful spirit.
What kind of whiskey do Texans drink?
In Texas, we like our whiskey smooth and easy to drink. That's why the most popular type of whiskey among Texans is bourbon. Bourbon is an American whiskey from at least 51% corn aged in new, charred oak barrels. It has a sweet, rich flavor with notes of vanilla and caramel.
Texas bourbon lovers will enjoy brands like Balcones Brimstone, Garrison Brothers Texas Straight Bourbon, and Elijah Craig Small Batch Bourbon. These bourbons are all made in Texas and have unique flavors that set them apart from others on the market.
If you're looking for a less traditional whiskey, try a bottle of TX Blended Whiskey. This whiskey is a blend of bourbon, rye, and malt whiskeys produced in Texas. It has a complex flavor with hints of fruit, spice, and oak.
You can find it in Texas, whatever type of whiskey you prefer. So come on down and enjoy a glass (or two) of our state's finest spirits!
Read Next – TX Whiskey Review
Is TX whiskey a bourbon?
Yes, TX whiskey is bourbon. All bourbons must be made from a grain mixture of at least 51% corn, and TX whiskey meets this criterion. In addition, bourbons must be aged in new, charred oak barrels, and TX whiskey is aged in new, charred oak barrels for a minimum of two years.
What was the first Texas bourbon?
The first Texas bourbon was distilled in the small town of Blanco, in the Hill Country. The Blanco Distilling Company was founded in 2009 by two friends, Mark and David, who shared a passion for whiskey. Their goal was to create a unique, high-quality spirit reflecting the terroir of the Hill Country.
They sourced their grains from local farmers and used only the finest ingredients to achieve this.
The result is a smooth, well-rounded bourbon with sweetness, spice, and oak notes.
Bourbon lovers across the country have taken notice of Blanco Distilling Company's products, and the brand has become one of the most respected names in Texas whiskey.
What's the difference between bourbon and whiskey?
Bourbon and whiskey are made from grain mash, but the key difference is that bourbon must be made from at least 51% corn.
Additionally, bourbon must be aged in new, charred oak barrels, while whiskey can be aged in used barrels.
The different aging process gives each spirit its unique flavor profile – bourbons are typically sweeter, while whiskeys tend to be smoky.
BTAC 2023
The BTAC 2023 lists the best Texas whiskeys to be released in 2023. This list includes some of the most anticipated whiskeys from Texas, including:
Brenham Uni5apsed Time
Garrison Brothers Balmorhea
Lone Elm Creek Single Malt
Nolan Ryan Straight Bourbon Whiskey
Temptation Barrel Proof Bourbon
These are just a few of the fantastic whiskeys hitting shelves in 2023. If you're a Texas whiskey fan, keep an eye out for these highly anticipated releases!
Old elk bourbon
There are a few different ways to make bourbon, but the most common is to start with a grain mash of at least 51% corn.
The rest of the mash can consist of wheat, rye, and malted barley. Once the grains are milled and combined with water, they're fermented with yeast to produce a beer-like liquid called wort.
The wort is then distilled to create a clear spirit known as "white dog." This white dog is then aged in new, charred oak barrels for at least two years. The longer the bourbon is aged, the more color and flavor it will develop.
Old elk bourbon is made using this traditional method and is aged for at least four years. The result is a smooth, rich whiskey with vanilla, caramel, and oak notes.
Gold bar whiskey
There's something about gold that screams luxury, and that's precisely what you'll get with gold bar whiskey.
This Texas-made spirit is made with real gold flakes, giving it a unique flavor and a smooth finish. It's perfect for sipping on its own or using in cocktails.
Read Next – Sassenach Blended Scotch Whisky
Allocated bourbon list 2023
The assigned bourbon list for 2023 is as follows:
Pappy Van Winkle's Family Reserve
George T. Stagg
Thomas H. Handy Sazerac Rye Whiskey
William Larue Weller
Eagle Rare 17-Year-Old Single Barrel Bourbon Whiskey
Sazerac 18-Year-Old Straight Rye Whiskey
Evan Williams 23-Year-Old Single Barrel Vintage Bourbon
These are some of the most allocated and challenging-to-find bourbons on the market, and we've compiled a list of where you can find them.
Whiskey of the Year 2023
The best Texas whiskeys in 2023 have yet to be determined, but there are already some front runners.
These include new players like Garrison Brothers Distillery and established brands like Balcones.
Garrison Brothers are known for their small-batch bourbon, while Balcones is known for its unique and innovative flavor profiles.
Other distilleries to watch in 2023 include Heritage Distilling Co., Makers Mark, and Knob Creek.
Conclusion
Texas whiskey is a unique and flavorful spirit perfect for sipping or using cocktails.
If you're looking for something new, we highly recommend giving Texas whiskey a chance. Thanks for reading, and cheers!
Q: What is Texas whiskey?
A: Texas whiskey is an American whiskey made in Texas using grains, water, and yeast. It is often matured in oak casks and bottled at a higher proof than other whiskies.
Q: What are the best Texas whiskey brands?
A: Some of the best Texas whiskey brands include Balcones, Treaty Oak, Ghost Hill Bourbon, Still Austin, Yellow Rose, and many more.
Q: What makes Texas whiskey unique?
A: Texas whiskey is unique because of the Texas climate, which ages the whiskey differently than in other regions. The heat and humidity of Texas cause the whiskey to mature faster, resulting in a bold and complex flavor profile.
Q: What is Texas straight bourbon whiskey?
A: Texas straight bourbon whiskey is an American whiskey made in Texas using at least 51% corn. It is aged in oak barrels for at least two years and distilled to no more than 160 proof.
Q: How is Texas whiskey made?
A: Texas whiskey is made using a combination of grains, water, and yeast. The grains are mashed, fermented, and distilled in pot stills to create a high-proof spirit. The whiskey is then matured in oak casks for several years before being bottled.
Q: What are some popular Texas whiskey brands?
A: Some popular Texas whiskey brands include Garrison Brothers, Firestone & Robertson, Ranger Creek, and Ironroot Republic.
Q: What is the difference between Texas whiskey and bourbon whiskey?
A: Bourbon whiskey is only considered bourbon if made in the United States, uses at least 51% corn in the mash bill, and is aged in new, charred oak barrels. Texas whiskey often follows similar guidelines but is not required by law to do so, allowing for more freedom in the production process.
Q: What is the history of Texas whiskey?
A: Texas has a rich history of whiskey production, dating back to the mid-1800s when settlers began to establish commercial distilleries in the state. These early distilleries often produced low-quality whiskey from white corn, resulting in a "36 Caliber Pistol Whiskey."
Q: What is the Texas Whiskey Festival?
A: The Texas Whiskey Festival is an annual event showcasing the state's best Texas whiskey brands. Attendees can sample various whiskeys and learn about Texas whiskey's history and production process.
Q: What is craft whiskey?
A: Craft whiskey refers to whiskey produced in small batches using traditional methods. Craft distillers often use high-quality ingredients and focus on the production process details to create unique and flavorful whiskeys.