The Bird Dog Whiskey brand has taken flavored whiskey to a new level. We hear the words oaky, dry, sweet, and smoky to describe traditional whiskeys.
But what about hints of grapefruit or praline? It's time to open our minds and pallets to the Bird Dog Whiskey family.
A Short History of Bird Dog Whiskey
In 2009, Western Spirits decided to release a line of flavored whiskeys to select markets. At first, the only flavor available was blackberry, but its popularity soon became apparent, and Bird Dog Blackberry whiskey went national.
In 2013, Western Spirits released Bird Dog Peach whiskey and Bird Dog Hot Cinnamon whiskey.
For some, the idea of anything that tastes different from a real hearty whiskey is just wrong, but Western Spirits only makes flavored whiskeys that make sense. That is to say, while some of the flavors sound utterly bizarre, their combined flavors work.
Not all flavors stand the test of time. For example, in 2014, Bird Dog Moonshine was released.
This blend of Bourbon and peppermint is not one of the 13 flavors on the market today.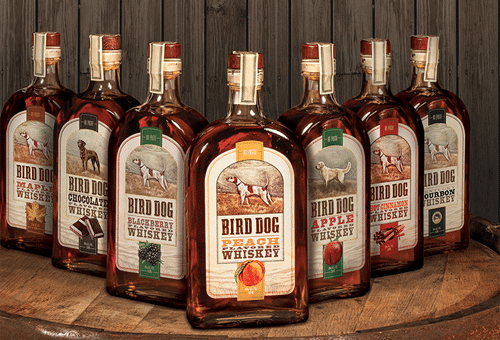 A Whiskey for Each Season
The Bird Dog Whiskey range's exciting thing is that certain flavors are more prevalent at different times of the year.
Like a cold beer is more appealing in summer than in winter, Bird Dog's fruity flavors like peach are more prevalent in the summer months. On the other hand, Cinnamon is a favorite in winter.
Read Next – Best Cinnamon Whiskeys – About Cinnamon Whiskey in One Place!
What Whiskey Is Used in the Bird Dog Range?
The whiskey is a Kentucky Bourbon that has been barrel-aged. Kentucky Bourbon has a rich blend of sweet and smoky as the barrels are often charred oak.
Using real Bourbon, adding unique flavors, and maintaining 80 proof makes Bird Dog flavored whiskeys stand out from competitors.
The Kentucky Bourbon is also available to buy without the added flavors.
Read next – Creek Water Whiskey Review – Meet "Yelawolf's" Bourbon!
What Are the 13 Flavors of Bird Dog Whiskey?
Blackberry- the original flavor, is a golden amber color with a smooth blackberry sweetness and honey and oak flavors.
Peach- another golden amber-colored whiskey, this savory peach whiskey has undertones of vanilla and oak with the warmth of rich Bourbon.
Black Cherry- you will find a nice balance of tart from the black cherries and the Bourbon's smooth warmth.
Praline- if you like subtle flavors of nuts, the praline-flavored whiskey tastes like pecans combined with a touch of brown sugar, adding sweetness.
Apple- once you have tasted the blend of sweetness from the apples, you are left with a warm cinnamon zesty flavor.
Strawberry- the strawberry flavor is light and fresh, making this whiskey perfect for drinking neat or with a mixer. Although subtle, you will notice the woody taste of the aged Bourbon.
Grapefruit- the tartness of the citrus is counterbalanced with a slight caramel warmth. The citrus is strong enough to smell but doesn't overpower the Bourbon.
Hot Cinnamon- the first flavors you taste are sweet and spicy with an after-taste of vanilla and oak. It's great for a winter warmer and adds zest to your cocktails.
Jalapeno Honey- this award-winning flavored whiskey is a fantastic combination of heat and sweetness. A truly unique experience with a crisp, warm finish.
Chocolate- this smooth whiskey offers layers of cocoa, vanilla, and caramel with just the bourbon hint.
Spiced- the allspice added to the finest barrel-aged Kentucky bourbon plays with your senses. You will also detect a touch of vanilla.
Maple- This is an incredibly versatile whiskey with real maple syrup as an ingredient. It's warm and smooth, and the butterscotch and brown sugar combined with the Bourbon is simply delicious.
Blended- if you are looking for a non-flavored whiskey, the Bird Dog Kentucky Blended whiskey uses corn, malted barley, and rye. You will be left with a soft toasted caramel taste with a hint of honey essence.
Bird Dog Awards
You know you are doing something right when your flavored whiskeys have won more awards than any other.
Some of the awards include:
San Francisco World Spirits Competition- Double Gold
Sip Awards 2019- Gold, Double Gold, and Platinum
Sip Consumer's Choice Award
Sip Innovation Award
WSWA Tasting Competition- Double Gold
Los Angeles International Spirits Competition 2019- Gold
Bird Dog Flavored whiskey has defined the industry and has won awards for ten years.
Read next – Old Camp Whiskey Review – Meet Top-Class Whiskey!
In Summary
Bird Dog Whiskey is the answer if you want a way to spruce up your drink cabinet.
Whether neat or combined with your favorite mixer, a flavored whiskey suits everyone's pallet.
The brand comprises sweet, warm, spicy, zesty, and fruity flavors without compromising the whiskey's quality.
Image source – https://www.birddogwhiskey.com/
Read Next – Best Honey Whiskeys – All About Honey Whiskeys!
Whiskey Decanter with Antique Ship - The Wine Savant Ship Decanter Set with 4 Globe Glasses, Drink Dispenser for Wine, Whiskey Decan, Liquor Decanter, Scotch, Rum and Liquor or Spirits 1000ml
1 used from $76.79
Free shipping
as of September 30, 2022 1:54 pm
SALADAYS 7-Piece Whiskey Decanter Set, Gold Trim Whiskey Decanter with 6 Whiskey Glasses, Premium Quality Crystal Decanter Set for Liquor Scotch Bourbon(Ornate Decanter Set)
as of September 30, 2022 1:54 pm
KROWN KITCHEN - Gun Whiskey Decanter Set. Includes Whiskey glasses, coasters, and wood base. Perfect Dad Gifts. For bourbon, scotch, liquor, 850ml.
as of September 30, 2022 1:54 pm
Premium Glass Decanter Set, Whiskey Decanter Set 4 Liquor Glasses, Mens Gift 9 Cooling Whisky Stones and Funnel for Rum, Scotch, Bourbon, Whisky, Crystal Liquor Decanter Drinking Set (Classic glass)
2 new from $79.99
Free shipping
as of September 30, 2022 1:54 pm
Aroma Academy - Whisky Aroma Kit - 24 Aroma Nose Training System
as of September 30, 2022 1:54 pm
Bird Dog Devil Dog Cocoa Cayenne Liqueur Whiskey 750ml
as of August 16, 2022 7:49 pm
Bird Dog Devil Dog offers the perfect mixture of decadent sweet cocoa and tangy cayenne. Color: Deep Reddish-brown Nose: Luscious, rich, cocoa scent Body: A smooth, sleek, creamy chocolate flavor Finish: A slight, tangy cayenne buzz with an overlay of
Bird Dog Strawberry Flavored Whiskey 750ml
as of August 16, 2022 7:49 pm
Perfect for sipping, shots or mixology, Bird Dog Strawberry Whiskey blooms with a light, sweet strawberry flavor throughout. Color: Golden Amber Nose: Sweet, fresh strawberries and a hint of rich bourbon Body: Vibrant strawberry mixed with notes of a w
Bird Dog Apple Flavored Whiskey 750ml
as of August 16, 2022 7:49 pm
Bird Dog Apple Flavored Whiskey flourishes with lush apple flavor. Barrel aged and finally ripe. 80 Proof
Bird Dog Jalapeno Honey Flavored Whiskey 750ml
as of August 16, 2022 7:49 pm
Bird Dog Jalapeno Honey Whiskey exhibits a light, sweet honeyed aroma that finishes with a zesty, crisp jalapeno blast. 80 Proof
Bird Dog Small Batch Bourbon Whiskey 750ml
as of August 16, 2022 7:49 pm
Bird Dog Small Batch Bourbon is a masterfully crafted spirit. It is created by carefully combining our best, premium-aged Kentucky bourbons until the desired distinct and bold flavor profile is achieved. Color: Golden-Reddish Amber with honey hues Nose:
Bird Dog Blackberry Flavored Whiskey 750ml
as of August 16, 2022 7:49 pm
Bird Dog Blackberry infuses two hand selected, all-natural blackberry flavors to create a soft, warm whiskey. The distinctive taste of Bird Dog Blackberry Whiskey was nationally recognized during the 2010 San Francisco World Spirits Competition. 80 Proo
Bird Dog Maple Flavored Whiskey 750ml
as of August 16, 2022 7:49 pm
Bird Dog Maple boasts a gentle butterscotch and dark maple taste to create a warm, smooth whiskey. 80 Proof
Bird Dog 10 Year Old Bourbon Whiskey 750ml
as of August 16, 2022 7:49 pm
Bird Dog 10 Year Old Bourbon is crafted from the most sought-after, hand selected barrels. In the specific barrel selections of this very small batch, considerations of age, depth of character and flavor notes are paramount. Color: Deep Amber with golden