It's not the first time we have seen a music artist expand into the alcohol industry, specifically whiskey.
Perhaps it's the lifestyle, the tour bus traveling the country with whiskey being the artist's fuel, their muse!
In the case of this whiskey, Yelawolf teamed up with Next Century Spirits to develop Creek Water.
Yelawolf is an American rapper, singer, songwriter, and fashion designer. Following Century Spirits distill their spirits and work with individuals to refine their spirits.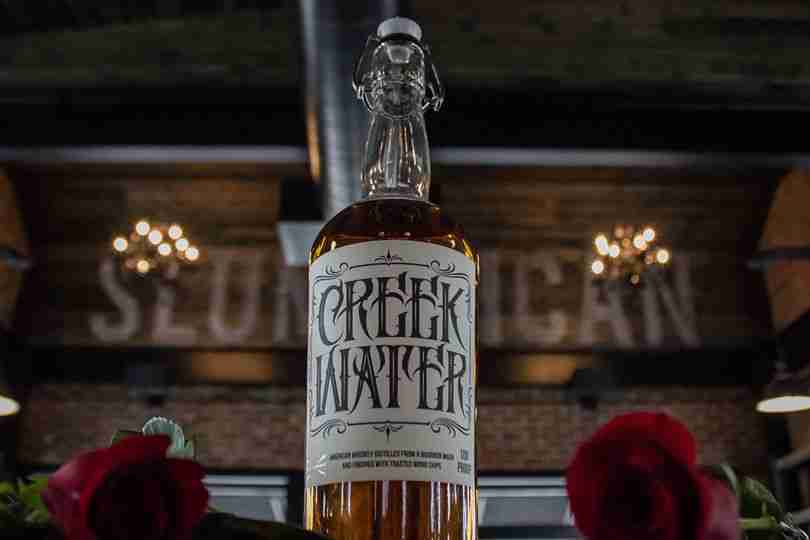 Creek Water Whiskey Mash Bill
This is defined as bourbon, which means it has to have at least 51% corn, been aged in oak barrels, and 100% made in America.
Bourbon must be at least 80 proof (40%). The actual mash bill is 75% corn, 21% rye, and 4% malt. Breaking traditional barriers, Creek Water whiskey is 100 proof, 50% alcohol.
A Unique Distilling Process
Yelawolf was wise to choose Next Century Spirits as his distilling partner. Creek Water whiskey was created using patented advanced technology to mature the whiskey. Unfortunately, we won't know how long Creek Water whiskey has aged.
We know that this new technology speeds up the aging process and therefore cuts down the cost of production. This allows the consumer to enjoy a fine bourbon at around $25 a bottle.
Read next – Bird Dog Whiskey Review – Meet Western Spirit's Multiple Taste Whiskey!
What to Expect from Creek Water Whiskey?
The name implies a freshness of running water, but you know there is far more to it as soon as you smell the whiskey. We noticed vanilla and even leather hints, while others detected a sweetness and even a touch of tobacco.
Initially, we had a smoky sensation of warm spices- predominantly cinnamon when it came to the flavor. It rounded off with a lovely smooth oak finish. You might call it simple yet effective, leaving you with the urge for more.
Who is Creek Water Whiskey for?
If you have never heard the term 'Slumerican,' as soon as you take your first sip of Creek Water whiskey, it will all make sense.
Slumerican is a term used to describe a southerner who is probably not well but doesn't judge others.
It is a person who loves chaos and a good time and often pushes the boundaries of authority. While no laws were broken, Creek Water certainly pushed the boundaries.
Creek Water was created with everyone in mind, from bikers to blue-collar workers, millennials, and hipsters.
The extremely reasonable price allows people from all walks of life to buy it. But there is an elegance that cannot be associated with a cheap whiskey brand.
By no means are we sexist, but it does bring out the masculine side. Even the females in our tasting group agreed that we wanted to get out our toolboxes while wanting to drink more.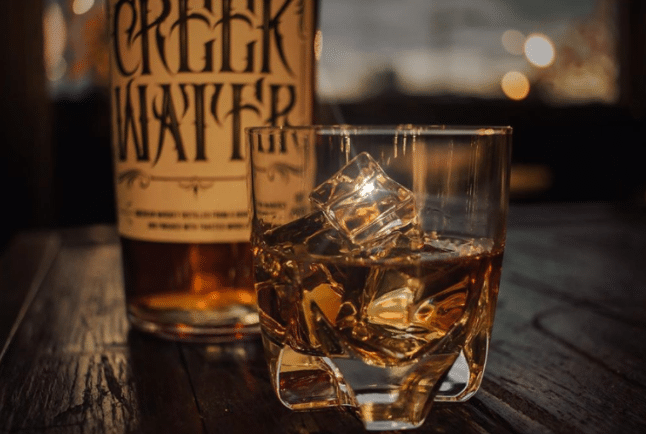 How Should You Drink Creek Water Whiskey?
Neat is probably the best way to appreciate the proper fullness of this bourbon is neat. The same can be said for on the rocks if you add water without upsetting the flavors. Whichever is your preferred method, Creek Water whiskey can take it.
And what about cocktails? Absolutely! Here are two of our favorite recipes that bring out the best of Creek Water whiskey.
Read Next – 5 Top And Best Irish Whiskey
Mint Julep Snow Cone
We love this cocktail with Creek Water because of the connections to the southern U.S.
2 oz Creek Water
¼ oz syrup
Crushed ice
6-8 mint leaves
Creek Water Mule
The classic whiskey and ginger beer cocktail can brb rough to a whole new level with distinct flavors.
1 ½ oz Creek Water
4 oz ginger beer
One tablespoon of lime juice
Ice
Mint, or a slice of lime to garnish
Read Next – Crown Royal Canadian Whisky Review
A Nationally Recognized Whiskey
Creek Water whiskey is still very new to the market compared with other brands. It was released in 2018, and since then, it has been distributed in 19 U.S. states. In 2019, the Yelawolf American-made bourbon won two significant awards in the industry. First, it was awarded the silver medal in the Wine & Spirits Tasting Competition.
It also won the San Francisco World Spirits Competition silver medal. This is one of the highest honors to achieve, showing that it is a refined and complex whiskey and one of the best in its category. To win the silver award out of nearly 3,000 entries is a true testimony in such a short time.
Read Next – The Best Glasses for Wine
In Summary
Creek Water is what you would expect from an all-American whiskey but more than you would expect from a bourbon.
It's fun. It stirs up feelings of home tradition and brings out the daredevil in us all.
The warmth and smoothness of this whiskey make it perfect for all whiskey fans, neat, on the rocks, or in cocktails.
Images source – Facebook.com/creekwaterwhiskey/
Read Next – Best Cinnamon Whiskeys – About Cinnamon Whiskey in One Place!