The Buffalo Trace Distillery has one of the most impressive ranges of whiskies, which shouldn't be a surprise considering the years they have had to master the trade. Buffalo Trace Distillery is the oldest continuously operating distillery in America.
Not even natural disasters or the prohibition compromised their work.
The first warehouse on the site was built in 1811 and used to store various goods, including whiskey to distill, and a more up-to-date distillery was built in 1858.
It wasn't until Col. Edmund Haynes Taylor Jr. in 1870 that the distillery was named O.F.C as the Colonel believed it was the finest whiskey produced in old-fashioned wood-fired copper stills.
Two of the warehouses built-in 1881 are still standing today, as is the distillery built in 1883.
As a testimony to their dedication to innovation, the steam heating system built in 1886 was the first distillery to use steam to heat, and it is still in use today. The O.F.C Distillery was one of only 4 that was able to produce whiskey during prohibition.
Buffalo Trace Distillery's history continues with new ideas and expansions but with its fair share of setbacks like floods and fire caused by lightning. Many of their brands have been named after the legendary people who made an impact on whiskey.
The Eagle Rare Collection
There are three bottles in the Eagle Rare collection; Eagle Rare, Double Eagle Very Rare, and Eagle Rare 17-Year-Old.
All three are straight bourbons. The exact mash bill isn't stated, but to be branded as a bourbon, it must be produced in the U.S., with a mash bill of at least 51% corn and to be aged in new charred oak barrels.
We would guess that they contain rye and barley too. Each is 45% ABV. The bourbons are also made from non-GMO ingredients, and they are also organic and the first distiller to make Kosher whiskey.
Read Next – Pendleton Premium Whiskey Brand Review
Eagle Rare
This bourbon has been aged for 10 years. It's a rich chestnut color that you can appreciate with the simple bottle design.
On the nose, you will notice corn, honey, and caramel. There is an element of vanilla too.
If you swirl the whiskey in your glass, you get a woodier smell and a nice touch of mint.
It's not a heavy smell but still has enough complexity to keep you intrigued.
It the oak that we can taste first, as well as perhaps a bit of spice and mint. We could taste honey and even a little coffee too.
What excited the taste buds were the orange and chocolate flavors, though very subtle, were present.
Double Eagle Very Rare
Very rare is a good way to describe this, with only 299 bottles being made in 2019. The crystal decanter that the bourbon comes with is stunning, with an eagle inside and another on top of the stopper.
Even the box has a light inside that comes on when you slide the doors open. It has been aged for 20 years.
There is a nice amount of brown sugar and tobacco on the nose, along with hints of peach and vanilla.
The peach follows through in the first sip, but it is well balanced with vanilla and toasted ok with just enough caramel. For the finish, you notice some spice and pepper.
Eagle Rare 17-Year-Old
If the Double Eagle Very Rare price tag is a bit steep, you might want to look at the rather less expensive straight bourbon that has been aged for at least 17 years. It has a deep mahogany color. The smell is another complex one and makes you want to learn more.
The aged oak is definitely apparent, but you will also notice baking spices, dark fruits, and a touch of brown sugar and vanilla.
On the palate, there is a robust oaky flavor and cinnamon and just enough rye spice.
This is followed by leather and tobacco, leaving you with a similar finish with perhaps a bit of toffee and spice.
It's amazing how the distillery has managed to age bourbon for 18 years and not have an overpowering oaky flavor and be very well-rounded.
Eagle Rare Bourbon Awards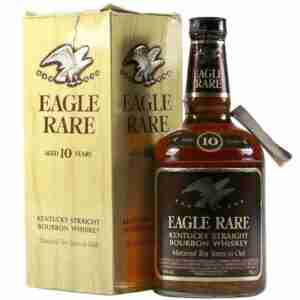 The Buffalo Trace Distillery has been winning numerous awards since the early 2000s. The Eagle Rare collection has won the following awards most recently:
2019 Silver Medal- New York Spirits Competition
2019 Best in Class/Gold Outstanding Whiskies of the World
2019 Silver Medal- North American Bourbon & Whiskey Competition
2019 "Best of Category"- Los Angeles International Spirits Competition
2019 Gold Medal- American Whiskey Masters
2109 Best of Category, 93 points- Los Angeles International Spirits Competition
2019 93 points- Ultimate Spirits Challenge
2019 Silver Medal- International Spirits Challenge
2019 Gold Medal- San Francisco World Spirits Competition
2020 Silver Medal- San Francisco Spirits Competition
Read next – Old Forester 1910 Whisky Review – Old Fine Whiskey!
How Should You Drink Eagle Rare Bourbon?
Considering the Double Eagle Very Rare Bourbon is so rare, it would almost be a crime to drink it in any way other than straight. As a collector's item, some people won't even open the bottle. If you prefer your whiskey with ice or a splash of water, you could try the Eagle Rare-17-Year-Old. The Eagle Rare is a good choice for neat, on the rocks, water, or club soda, or ginger ale. Here are a couple of cocktail ideas for the Eagle Rare.
Chocolate Old-Fashioned
2oz of Eagle Rare Bourbon
25 oz of simple syrup
10 drops of chocolate bitters
Orange peel for a garnish twist
For this cocktail, you want to use a short glass or rock glass. First, add the Eagle Rare Bourbon, the syrup, and the bitters. Stir the ingredients well, add some ice and stir again. Add your orange twist on the rim of the glass.
The Manhattan
2oz of Eagle Rare Bourbon
1oz of Sweet Vermouth
3 dashes of orange bitters
Add all of the ingredients into a cocktail shaker with ice. Shake very well and then strain into a martini glass.
You can squeeze orange and use the peel for decoration.
EAGLE RARE 10 YEAR OLD KENTUCKY STRAIGHT BOURBON Collectible Whiskey Glass 14 Oz
as of May 18, 2022 1:35 am
Buffalo Trace Kentucky Bourbon Balls Chocolates Gift Box for Holidays 32pcs.
out of stock
as of May 18, 2022 1:35 am
Personalized American Oak Bourbon Aging Barrel (062) - Custom Engraved Barrel From Skeeter's Reserve Outlaw Gear - MADE BY American Oak Barrel - (Natural Oak, Black Hoops, 2 Liter)
as of May 18, 2022 1:35 am
Whiskey Stones and Glass Set - 8 Granite Chilling Whisky Rocks – 2 Crystal Shot Glasses in Wooden Box – Premium Bar Accessories for the Best Tasting Beverages
1 used from $18.32
Free shipping
as of May 18, 2022 1:35 am
Gifts for Men Dad Grandpa, Whiskey Stones Gift Set, Cool Unique Birthday Gifts Ideas for Him Boyfriend Husband, Christmas Anniversary Wedding Retirement, Scotch Bourbon Glasses
6 new from $29.99
5 used from $21.18
Free shipping
as of May 18, 2022 1:35 am
Whiskey Decanter Globe Set with 4 Etched Globe Whisky Glasses - for Liquor, Scotch, Bourbon, Vodka - 850ml
2 new from $78.95
3 used from $63.16
Free shipping
as of May 18, 2022 1:35 am