Clyde May's is a whiskey produced by the Conecuh Ridge Distillery and is famous for being the creation of a moonshiner, Clyde May. When Clyde died in 1990, his son continued making sure that it went on to become a legal brand.
Today, there are five whiskey types: Straight Rye and Straight Bourbon. We are more interested in the three that are Clyde May's Alabama Style Whiskey, Clyde May's Cask Strength, Alabama Style Whiskey, and Clyde May's Special Reserve Alabama Style Whiskey.
A proper whiskey lover appreciates a great whiskey and a great story behind the whiskey.
Clyde May has had a handful of experiences that have helped him a bottle that American spirit we hear of.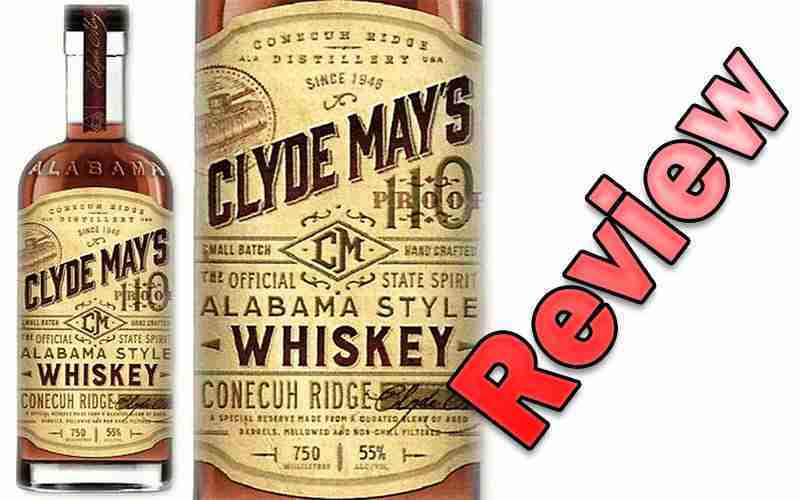 The History of the Man Behind the Whiskey
Clyde May was born just before the Great Depression; his early years were spent learning how to become resilient to the harsh world.
This early upbringing led Clyde to appreciate what 'true grit' really was, and it is something that he has managed to capture in his whiskeys.
He served in the Second World War, earning a Bronze Star and Purple Heart. Unfortunately for him, he was wounded and sent home, but this was almost a fortunate thing for whiskey lovers.
Four years later, he had gained a reputation for his fine spirits and commitment to quality. Considering the national prohibition at this time, Clyde became known as the most-wanted moonshiner.
Between the 1950s and the 1980s, Clyde produced approximately 300 gallons of whiskey. Some were sold unaged, while the rest were aged in charred barrels with dried apples.
In 2001, Clyde May's whiskey finally became legal. This, however, did land him in federal prison for eight months! Not deterred from his mission, Clyde continued to perfect his whiskey-making skills.
Over 70 years of determination resulted in Clyde May earning the title 'the Official State Spirit of Alabama.
Clyde May's Alabama Style Whiskey
This is a beautiful golden bronze-colored whiskey. You will notice rich caramel, green apples, and other dried orchard fruits on the nose.
The first taste is caramel and butterscotch with just a hint of apple. There is a lovely warmth to it with a bit of black pepper and toasted oak.
It is bottled at 85 proof, and there is a nice kick to this whiskey, but at the same time, you can appreciate a nice smooth finish.
Read next – Old Camp Whiskey Review – Meet Top-Class Whiskey!
Clyde May's Special Reserve Alabama Style Whiskey
You will first notice the rich burgundy color, unique for a whiskey. On the palate, you will appreciate its complexity. It smells somewhat sweeter than the previous Clyde May's with delicious candied apple scents and toffee, nutmeg, and cinnamon.
There is an initial balance of sweet and spice before the whiskey comes into play. You can taste vanilla, dark fruits, tobacco, and leather.
It is not for the faint-hearted. The Clyde May's Special Reserve Alabama Style Whiskey is 110 proof- 55% ABV. The balance of flavors means that it won't blow your head off, but you will want more.
Read Next – 1792 Bourbon Review – The Heart of Bourbon Country in Kentucky!
Clyde May's Cask Strength Alabama Style Whiskey
It is slightly scarlet than burgundy and has a rich scent of toasted cedar and a touch of peach. People call this a bright whiskey; it has plenty of vanilla and molasses, hints of burnt sugar, and just a touch of oak.
Right at the end, you can taste tart green apples mixed with a bit of warmth.
With only a few thousand bottles a year, it is well worth treating yourself to one of these when you get the chance.
It has been aged for either 8, 9, or 10 years. At 117 proof (58.5%), it is a little stronger than the special reserve.
Is Clyde May's a Whiskey or a Bourbon
For a whiskey to be classed as a bourbon, it must be made from at least 51% corn, aged in new oak barrels, and produced in the U.S. Only the Clyde May Straight Bourbon qualifies.
The range of whiskeys uses a grain mash of 55% corn, 30% rye, and 15% barley.
However, it isn't aged in new barrels and therefore can't be classed as bourbon. This doesn't stop any of them from being amazing spirits.
Read next – Redneck Riviera Whiskey Review – Meet "Liquid Sunshine" Bourbon!
Clyde May Awards
The first official award for Clyde May's whiskey was back in 2012 at the Micro Liquor Spirit Awards.
Clyde May's Alabama Style Whiskey has won the following awards:
How to Drink Clyde May's Alabama Style Whiskey
With such a top-class whiskey, you can drink any of the Alabama Style whiskeys as you prefer. It is immaculate or on the rocks, and if you add just a little water, you will ultimately allow all of the flavors to shine.
We tried many of Clyde's traditional recipes and found two we preferred.
Warm Apple Cider
The perfect drink to warm you up at the end of a cold day. This drink is slightly spiced, quick, and easy. You will need:
The Original Clyde May's Alabama Style Whiskey
Apple Cider
Cinnamon sticks
In a pan, add three-parts apple sides to one-part Alabama Style Whiskey, and warm it up to be hot but not boiling.
Pour into glasses and add a cinnamon stick to serve.
Read next – Old Forester 1910 Whisky Review – Old Fine Whiskey!
The Clyde Mule
The Clyde Mule takes the traditional cocktail to a new depth. The ingredients are:
5oz of the Original Clyde May's Alabama Style Whiskey
75oz of lime juice
Ginger beer
Please don't feel you have to measure the amounts correctly. We stuck to the two fingers plus one finger rule. Mix all of the ingredients and add to a glass filled with ice. If you want to impress, and a lime wheel to decorate.
Read next – Eagle Rare Bourbon Review – Kentucky Straight Bourbon Whiskey!
Whiskey Stones Gift Set for Men | Whiskey Glass and Stones Set with Wooden Box, 6 Granite Whiskey Rocks Chilling Stones and 10oz Whiskey Glasses | Whiskey Lovers Gifts For Men, Dad, Husband, Boyfriend
as of June 9, 2023 12:30 pm
Whiskey Glasses Set of 2, Kollea Whiskey Stones Set with 2 Whiskey Glasses 11oz & 8 Reusable Stainless Steel Ice Cubes, Gift for Him Men Dad Husband Boyfriend Birthday, Anniversary or Retirement
out of stock
as of June 9, 2023 12:30 pm
Whiskey Stones Gift Set for Men | Whiskey Glass and Stones Set with Wooden Box, 8 Granite Whiskey Rocks Chilling Stones and 10oz Whiskey Glasses | Whiskey Lovers Gifts For Men, Dad, Husband, Boyfriend
as of June 9, 2023 12:30 pm
Glencairn Crystal Whiskey Glass, Set of 6, Clear, 6 Pack
9 new from $37.83
Free shipping
as of June 9, 2023 12:30 pm
Venero Crystal Whiskey Glasses, Set of 4 Rocks Glasses in Gift Box - Lowball Bar Glasses for Drinking Bourbon, Scotch Whisky, Cocktails, Cognac - Old Fashioned Cocktail Tumblers
17 used from $31.18
Free shipping
as of June 9, 2023 12:30 pm
GLENCAIRN Crystal Whiskey Glass, Set of 2
11 new from $17.95
Free shipping
as of June 9, 2023 12:30 pm
Clyde May's 9 Year Old Cask Strength Alabama Style Whiskey 750ml
as of August 16, 2022 7:55 pm
Complex and uncommonly smooth at 117 proof. Finishing it in the Alabama style rounds out and even softens the bold flavors into a surprisingly smooth finish and an extra year of aging reveals more complex flavors than last year's release. 117 Proof
Clyde May's Alabama Style Whiskey 750ml
as of August 16, 2022 7:55 pm
Color: Deep, glimmering bronze color with perfect clarity. Aroma: The generous aromatics are loaded with rich caramel, dried orchard fruits, toffee, butterscotch, nutmeg, spicy rye notes, maple and candied orange peel. Taste: The palate is harmonious a
Clyde May's 110 Proof Special Reserve Whiskey 750ml
as of August 16, 2022 7:55 pm
Clyde May's Special Reserve Whiskey is a 6 year old whiskey. It has bolder hints of dried apple on the nose and on the finish to help make this the smoothest 110 proof you'll ever drink. The palate has a mix of citrus fruits and baking spice notes to help
Clyde May's Straight Bourbon Whiskey 750ml
as of August 16, 2022 7:55 pm
The availability of this product is limited and subject to change. Clyde May's Straight Bourbon is a 5 years old and is non-chill filtered for a fuller mouthfeel. It has a sweet nose with hints of brown sugar, dried orchard fruits, and caramel. It fi
Clyde May's Straight Rye Whiskey 750ml
as of August 16, 2022 7:55 pm
Aged a minimum of 3 years, with floral notes, honeysuckle and apricot on the nose and spice and citrus on the palate. Finish is soft and smooth with tannins that bring out black pepper and wood spice. Best enjoyed on the rocks or served in a "PerfectÃ