The Barton 1792 Distillery sits on the heart of bourbon country in Kentucky. The distillery is home to 196 acres of land with 29 barrel-aging warehouses and a further 22 buildings which include a still house and the all too famous Tom Moore Spring. You can experience the full world of 1972 Bourbon with one of the distillery's complimentary tours. Although established in 1879, the name 1792 Bourbon comes from the year Kentucky became part of the United States.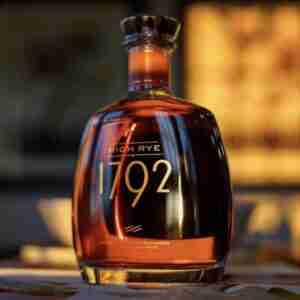 The distillery produces a range of bourbons that could suit almost every taste. Here is a complete list of the 1792 range:
1792 Small Batch Bourbon
1792 Limited Edition Expression
1792 Sweet Wheat
1792 Aged Twelve Years
1792 High Rye
1792 Single Barrel
1792 Bottled in Bond
1792 Port Finish
As much as we would love to write about them all, we will stick to the 1792 Small Batch Bourbon.
Read next – Wild Turkey Rare Breed Review – Kentucky Bourbon With Soul
1792 Small Batch Bourbon Overview
This is classified as a straight bourbon and for this, it must be produced in the U.S, be aged in new, charred, oak barrels. It must also contain at least 51% corn. The actual mash bill in unknown. Apart from being at least 51% corn, it is advertised as high rye, so we can assume it contains between 15% and 25% rye. It's a beautiful rich honey color and this is even more apparent thanks to the stunning yet simple bottle design. It is 93.7 proof and 46.85% ABV.
The 1792 Small Batch Bourbon has gone through several renames. Before 2013, this bourbon was branded as 1792 Ridgemont Reserve and was aged for 8 years. After the renaming to 1792 Small Batch Bourbon, the period of ageing was no longer stated.
As a small batch bourbon, we are lacking the parameters of this definition. For many types of whisky, such as the straight bourbon, we know exactly what requirements it has to comply with. When it comes to a small batch, this meaning can vary from one distillery to another, so we aren't going to consider this in our review.
1792 Small Batch on the Nose
You definitely get the smell of rye spice followed by a nice caramel with just a touch of oak, but not that you have to go searching for it. The strong aroma of ethanol leads you to think that it is stronger than it actually is. The aroma of this whisky is best described as a pleasant confusion. You are left desperate to take the first taste, but the intrigue makes you want to learn more.
Read next – Old Camp Whiskey Review – Meet Top-Class Whiskey!
1792 Small Batch on the Palate
Many of the scents follow through with that first sip, for example, the rye spice and caramel are probably the first thing you will taste. There is also a sweetness of vanilla. Similarly, it tastes stronger than you think it really is. There is something to watch out for with the 1792 Small Batch and it leaves you either loving it or hating it. It's not like you get the spice and the sweetness blending together. It's more like a battle between the two. But this is neither good nor bad, it's down to the individual tastes of a person.
For the finish, the spices of the rye definitely win the battle, but the sweet vanilla and caramel still make it to the finish line.
When you consider the value for money, you get plenty of flavor. It has more character than you would expect but might be lacking the complexity of flavors that you would get from other whiskies.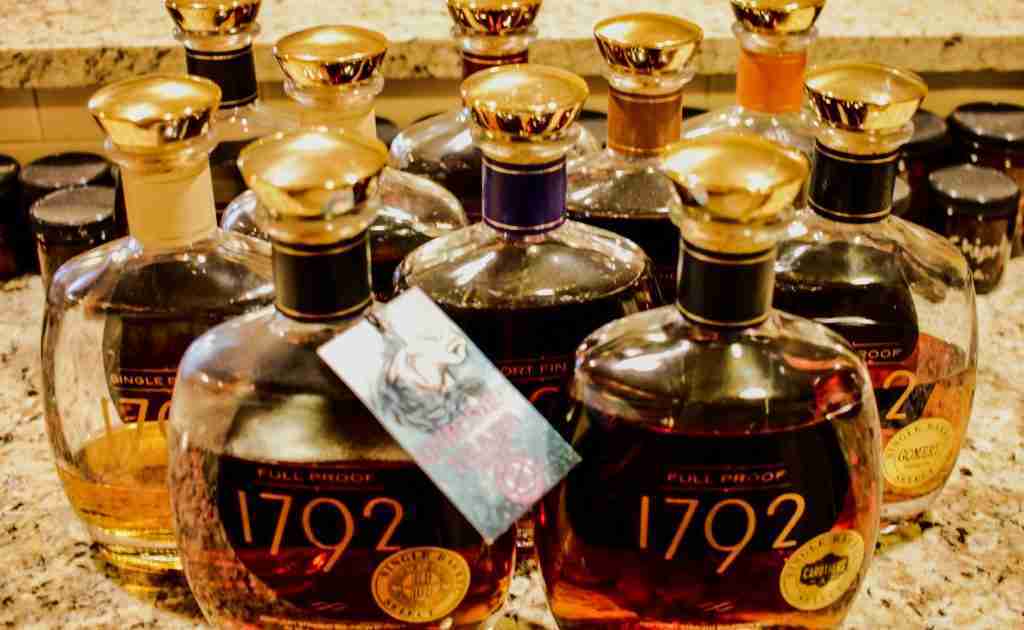 How Should You Drink 1792 Small Batch?
Because of the love-hate relationship, sipping this bourbon really is going to be down to personal preference. That being said, if you add a splash of water or you want to enjoy it over ice, we found that you can enjoy it more. The great thing about the 1792 Small Batch is because it is priced well, you won't feel bad adding it to your favorite cocktail!
Quick tip, if you don't have a cocktail shaker, you can use a metal travel mug.
Read next – Old Forester 1910 Whisky Review – Old Fine Whiskey!
Cocktail Recipes for 1792 Small Batch
Georgia Smash
This is a great cocktail for those warmer days when you want something refreshing to quench your thirst. For the ingredients you will need:
2 ounces of 1792 Small Batch Bourbon
¾ ounce of lemon juice
½ ounce of Crème de Peche
½ ounce of Orgeat
1 large sprig of mint
Add all of your ingredients into a cocktail shaker (or your travel mug) and shake for a good few minutes. You will need to fine-strain into a tall glass, preferably over crushed ice, but again, if you don't have crushed ice, you can use cubes. If you want to add a hint of garnish, use fresh mint.
Manhattan Beach
Some people have taken that first sip of the 1792 Small batch Bourbon and picked up notes of banana. If this appealed to you, the spice of the rye combined with a hint of tropical flavors will be right up your alley.
2 ¼ ounces of 1792 Small Batch Bourbon
½ ounce of sweet vermouth
¼ ounce of banana liqueur
2 splashes of chocolate bitters
2 splashes of orange bitters
Rather than shaking this cocktail, you are better off adding the ingredients to a glass filled to about ¾ of ice. Keep stirring until the cocktail is suitably chilled and add a twist of orange peel to garnish.
Read next –  Redneck Riviera Whiskey Review – Meet "Liquid Sunshine" Bourbon!
Whisky Sour
When you combine the rye flavors of this bourbon with the traditional sweet flavors of this cocktail, you can start to really to appreciate who these ingredients complement each other.
2 ounces of 1792 Small Batch Bourbon
1 ounce of fresh lemon juice
1 ounce of simple syrup
½ ounce of fresh lime juice
½ ounce of fresh orange juice
Add all of your ingredients into your cocktail shaker and shake very well for at least 10 seconds. Strain, and double straining is recommended, over ice. Add a cherry to garnish or if you have a good amount of foam, a bit of cherry syrup.
Libbey Signature Kentucky Bourbon Trail Whiskey Glasses, Set of 4
2 new from $31.99
4 used from $29.43
Free shipping
as of February 25, 2021 2:41 am
Advent calendar 2020-24 Day Bourbon & American Whiskey
as of February 25, 2021 2:41 am
Bourbon 1792 Kobo Soy Candle From the Woodblock Collection
as of February 25, 2021 2:41 am
Maker's Mark Whisky Bourbon Red Wax Drips 9 oz. On The Rocks Glass
3 new from $15.95
1 used from $14.99
Free shipping
as of February 25, 2021 2:41 am
Kobo Candles Kobo Soy Candle, Bourbon 1792
as of February 25, 2021 2:41 am
Personalized Whiskey Making Kit (102) - Create Your Own Kentucky Bourbon Whiskey - The Outlaw Kit from Skeeter's Reserve Outlaw Gear - MADE BY American Oak Barrel - (Oak, Black Hoops, 1 Liter)
as of February 25, 2021 2:41 am
Whiskey Decanter Set World Etched Globe Decanter Antique Ship Glasses Bar Pour Funnel Stopper Liquor Dispenser Spirits Scotch Bourbon Vodka Rum Wine Tequila Brandy Perfect Gift 850 ml
1 new from $74.99
1 used from $62.48
Free shipping
as of February 25, 2021 2:41 am
Single Barrel 1792 Kentucky Bourbon Whiskey Design Edible Image Cake Topper For Half Sheet Cake!
out of stock
as of February 25, 2021 2:41 am
Whiskey Decanter Set with 2 Old Fashioned Whisky Glasses for Liquor Scotch Bourbon or Wine - Irish Cut
2 new from $29.95
Free shipping
as of February 25, 2021 2:41 am
Whiskey Decanter Set Globe with 2 Etched Globe Whisky Glasses - Comes With Whiskey Stones for Whiskey, Scotch, Bourbon 850ml
3 new from $52.95
1 used from $45.95
Free shipping
as of February 25, 2021 2:41 am
Woodford Reserve Bourbon Ball Gift Box, 32 Candies per box, delicious and perfect for holiday gifts
2 new from $46.99
Free shipping
as of February 25, 2021 2:41 am
Premium Art Deco Whiskey Glass Set. 10oz Bourbon Glasses In Stylish Gift Box. Genuine Lead Free Crystal Scotch Glasses Designed In Europe. 2 Double Old Fashioned Rocks Glasses For Liquor And Alcohol.
as of February 25, 2021 2:41 am
Whiskey Gun Decanter Set + 2 Whisky Bullet Glasses on Gun Shaped Rich Wood Classic Mahogany Base Tray with Bullet Chilling Stones Gift Packaging - for Liquor Scotch Bourbon - Christmas Holiday Gift
as of February 25, 2021 2:41 am
BOURBON BARREL FOODS WOODFORD RESERVE BOURBON CHERRIES WRCC (Pack of 2)
5 new from $34.99
Free shipping
as of February 25, 2021 2:41 am