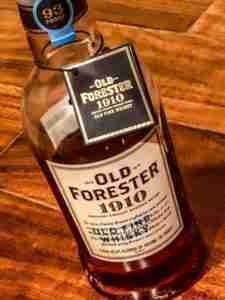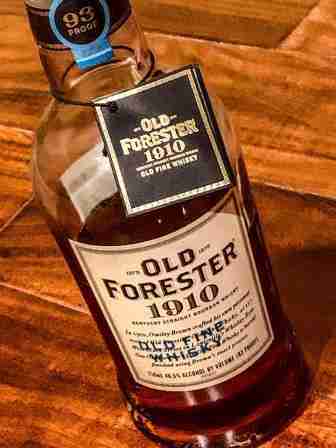 Old Forester 1910 is one of the whiskies from the Brown-Forman Shively Distillery in Louisville.
The Brown-Forman Distillery is one of the giant American-owned spirits and wine companies and among the top 10 largest global spirits companies. Despite having more than 4,700 employees, Brown-Forman remains a family-run business, with the current CEO, Garvin Brown IV, being a 5th generation Brown family member.
What's so lovely about this is that the stories of the Old Foster 1910 whisky have been passed down from generation to generation for 150 years.
In 1870, George Garvin Brown was a young pharmaceuticals salesman who sold whisky in sealed glass bottles. When whisky was still commonly sold from the barrel, this was an innovative approach.
It wasn't until October 1910 that the Old Forster 1910 whisky was created, and some would say the same out of sheer bad luck. When a fire broke out, the bottling line had to be shut down.
There was no way of knowing how long the vat of mature whisky would have to wait until it could be bottled. Instead of risking the vat of whisky, it was placed in a new, charred oak container to rest.
This could have been one of the first cases of double barrelling whisky and at least the first documented case.
The same method is used today. Mature Old Forester at 100 percent proof is stored in a lightly toasted heavily charred barrel, almost to the "point of incineration." The incineration of 1910 tells you just how this whisky got its name.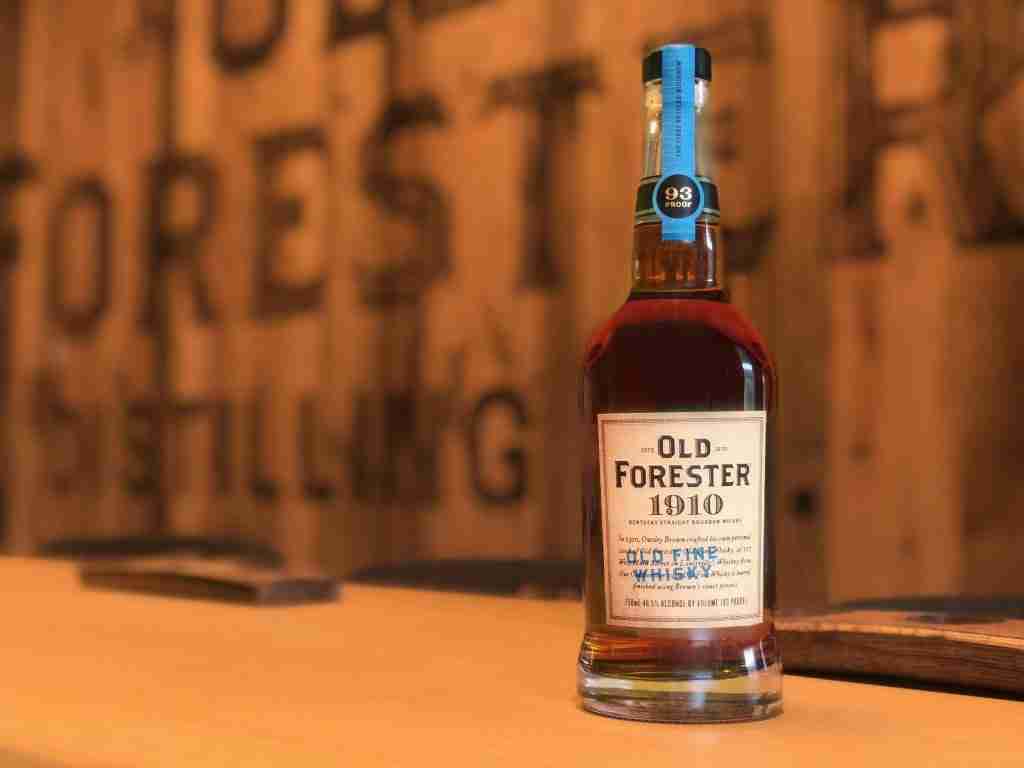 Old Forester has an extraordinary claim to fame. It is America's first bottled bourbon and the only bourbon that has been sold by the same company before, during, and after prohibition—thanks to the license from the U.S government to produce Old Forester for medicinal purposes.
Read Next – Best Honey Whiskeys
Overview of Old Forester 1910 Whiskey
Old Forester 1910 is classified as straight bourbon. To be classed as a bourbon, it must be produced in the U.S., aged in a charred oak barrel, and made from at least 51% corn. The mas bill of Old Forester 1910 is 72% corn, 18% rye, and 10% malted barley.
This rich dark bronze whisky is 93% proof, 46.5% ABV. It was released in 2018, but there is no information on how long it has been aged for.
Old Forester 1910 on the Nose
The first scents to detect are a slightly sweet oak aroma. Once this passes, you are met with caramel and vanilla.
If your sense of smell is sensitive, you may even detect some pecan. All the while, you still get the underlining oak smell.
We found that this is a whiskey that you want to leave to sit in the glass as the aroma becomes more pleasant with some time to air.
Old Forester 1910 on the Palate
You will appreciate the smoothness of this whiskey, and you can understand how the wood's sugars have been able to dissolve into it. It is a sweet whisky with hints of burnt caramel and vanilla. There is still a charred flavor, and it's impossible to miss the taste of the oak. Some may not consider the flavors to be deep, but with just the hint of berries, there is no doubt that it's not a delicious and wonderful drinking experience.
The finish of Old Forester 1910 is where oak comes into play. It's solid and rich, but the caramel and vanilla still remind us of the sweetness.
Overall, Old Forester 1910 is oaky, sweet, and with a subtleness of fruitiness. It's almost heavily on the mouth but certainly not in a negative way. The second barrelling process adds a hint of buttercream and sticky toffee with a slow release of warm spice.
The Old Forester Range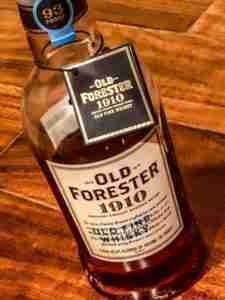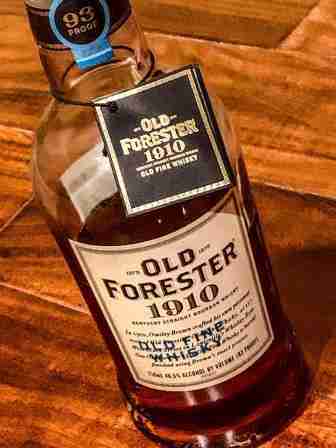 While using the same process as the Old Forester 1910, other Old Forester whiskies warrant a mention. This include:
Old Forester 86 proof Kentucky straight bourbon whisky
Old Forester 100 proof Kentucky straight bourbon whisky
Old Forester Birthday bourbon straight bourbon whisky
Old Forester single barrel select Kentucky bourbon whisky
Old Forester Whiskey Row Series: 1870 Original Batch
Old Forester Whiskey Row Series: 1897 Bottled in Bond
Old Forester Whiskey Row Series: 1290 Prohibition Style
Old Forester Kentucky Straight Rye Whisky
Read next – Redneck Riviera Whiskey Review – Meet "Liquid Sunshine" Bourbon!
How to Drink Old Forester 1910
Neat, this whisky was fine, but not to everyone's taste. Some might prefer it with just a drop of water; however, this whisky is fantastic to make a range of cocktails. Here are some worthy examples:
The 1910 Caramel Vanilla
A slight twist on the Old Fashioned, this cocktail only needs 2 ounces Old Foster 1910, 0.25 ounces of caramel-vanilla syrup, and a splash of your favorite aromatic bitter. Mix the ingredients with a little bit of warm water, ensuring that the container is heatproof.
Pour into a glass, and to warm the soul, add a toasted marshmallow or two on top.
Here Kitty Kitty
Again, Old Foresters uses the 86-proof bourbon, but we felt that the subtle hint of berries worked well with the fruity flavors of the Here Kitty Kitty.
Take a handful of raspberries and mash them up slightly, not enough to make a paste. Add 0.75 ounces of lemon juice and another 0.75 ounces of syrup.
Top that with 2 ounces of Old Forester 1910. Once you have given it a good shake, strain it over a tall glass with plenty of ice.
Top it up with sparkling apple cider. If you want to invite your friends around, add some whole raspberries to garnish.
Read next – Bird Dog Whiskey Review – Meet Western Spirit's Multiple Taste Whiskey!
Train to Penn Station
Though initially using the 100-proof rye whisky, we liked a slightly toned-down version. This cocktail has also been used with gin, but with Old Forester 1910, you get an oaky cocktail with delicious notes of citrus and hints of floral.
Mix 2 ounces of Old Forester 1920 with 0.5 ounces of Grandiflora syrup, 0.25 ounces of Crème Yvette, and 0.75 ounces of lemon juice. Strain the cocktail and add a twist of lemon peel for decoration.