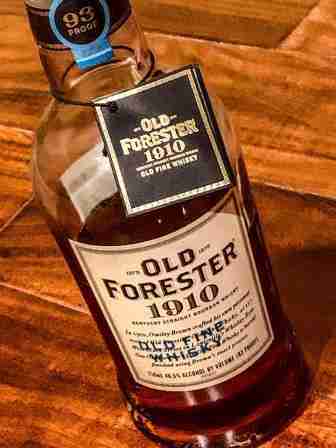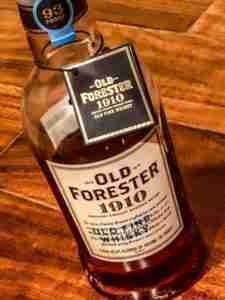 Old Forester 1910 is one of the whiskies from the Brown-Forman Shively Distillery in Louisville.
The Brown-Forman Distillery is a giant American-owned spirits and wine company among the top 10 largest global spirits companies. Despite having more than 4,700 employees, Brown-Forman remains a family-run business, with the current CEO, Garvin Brown IV, being a 5th-generation Brown family member.
What's so lovely about this is that the stories of the Old Foster 1910 whisky have been passed down from generation to generation for 150 years.
In 1870, George Garvin Brown was a young pharmaceutical salesman who sold whisky in sealed glass bottles. This was an innovative approach when whisky was still commonly sold from the barrel.
It wasn't until October 1910 that the Old Forster 1910 whisky was created, and some would say the same out of sheer bad luck. The bottling line had to be shut down when a fire broke out.
There was no way of knowing how long the vat of mature whisky would have to wait until it could be bottled. Instead of risking the vat of whisky, it was placed in a new, charred oak container to rest.
This could have been one of the first cases of double-barrelling whisky and at least the first documented case.
The same method is used today. Mature Old Forester at 100 percent proof is stored in a lightly toasted, heavily charred barrel, almost to the "point of incineration." The incineration of 1910 tells you just how this whisky got its name.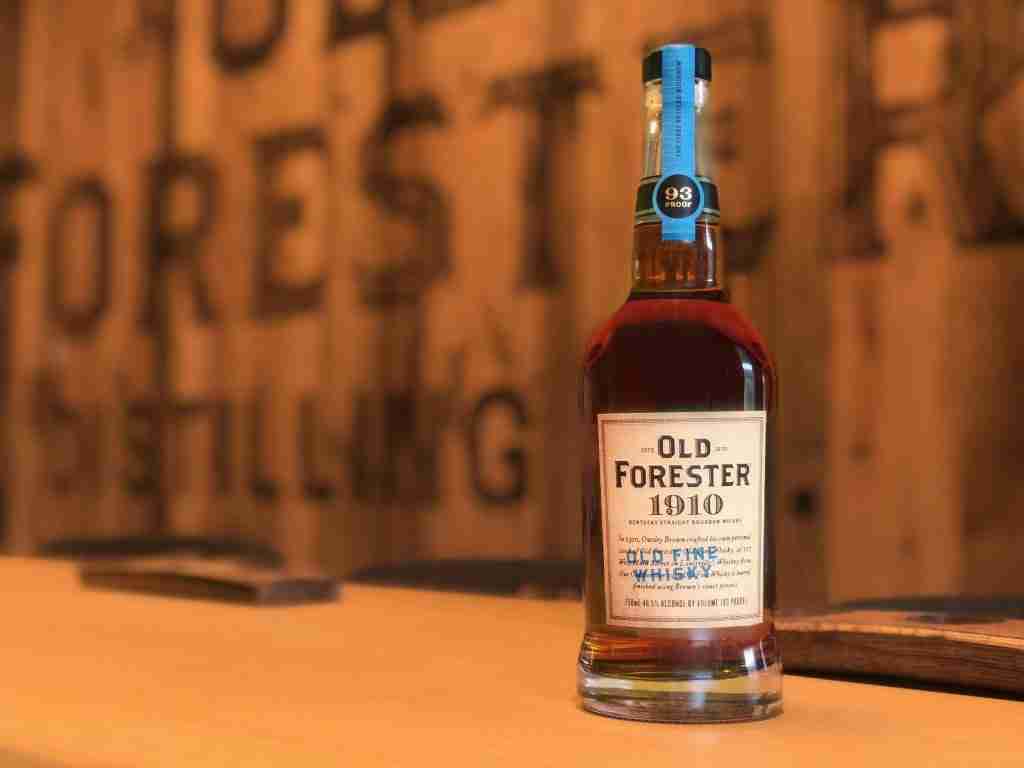 Old Forester has an extraordinary claim to fame. It is America's first bottled bourbon and the only bourbon that has been sold by the same company before, during, and after prohibition—thanks to the license from the U.S. government to produce Old Forester for medicinal purposes.
Read Next – Best Honey Whiskeys
Overview of Old Forester 1910 Whiskey
Old Forester 1910 is classified as straight bourbon. To be classed as a bourbon, it must be produced in the U.S., aged in a charred oak barrel, and made from at least 51% corn. The mas bill of Old Forester 1910 is 72% corn, 18% rye, and 10% malted barley.
This rich dark bronze whisky is 93% proof, 46.5% ABV. It was released in 2018, but there is no information on how long it has aged.
Old Forester 1910 on the Nose
The first scents to detect are a slightly sweet oak aroma. Once this passes, you are met with caramel and vanilla.
You may even detect some pecan if your sense of smell is sensitive. All the while, you still get the underlining oak smell.
We found that this is a whiskey you want to leave to sit in the glass as the aroma becomes more pleasant with some time to air.
Read Next – Best Scotch Whiskies You Can Buy in 2023
Old Forester 1910 on the Palate
You will appreciate the smoothness of this whiskey, and you can understand how the wood's sugars have been able to dissolve into it. It is a sweet whisky with hints of burnt caramel and vanilla. There is still a charred flavor, and it's impossible to miss the taste of the oak. Some may not consider the flavors deep, but with just the hint of berries, there is no doubt that it's not a delicious and wonderful drinking experience.
The finish of Old Forester 1910 is where oak comes into play. It's solid and rich, but the caramel and vanilla still remind us of the sweetness.
Overall, Old Forester 1910 is oaky, sweet, and with a subtleness of fruitiness. It's almost heavily on the mouth but certainly not in a negative way. The second barrelling process adds a hint of buttercream and sticky toffee with a slow release of warm spice.
Read Next – The Essentials: 10 American Whiskeys You Need To Try
The Old Forester Range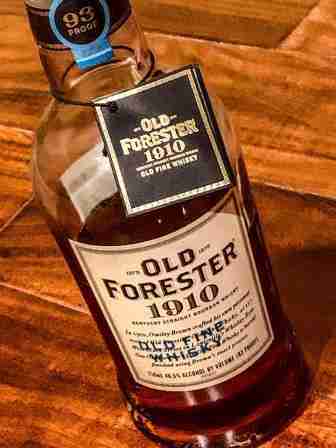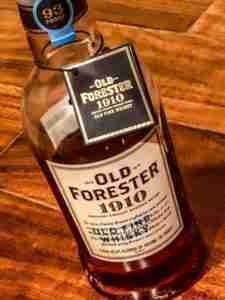 While using the same process as the Old Forester 1910, other Old Forester whiskies warrant a mention. This include:
Old Forester86-proof Kentucky straight bourbon whisky
Old Forester 100-proof Kentucky straight bourbon whisky
Old Forester Birthday bourbon straight bourbon whisky
Old Forester single barrel select Kentucky bourbon whisky
Old Forester Whiskey Row Series: 1870 Original Batch
Old Forester Whiskey Row Series: 1897 Bottled in Bond
Old Forester Whiskey Row Series: 1290 Prohibition Style
Old Forester Kentucky Straight Rye Whisky
Read next – Redneck Riviera Whiskey Review – Meet "Liquid Sunshine" Bourbon!
How to Drink Old Forester 1910
Neat, this whisky was fine, but not to everyone's taste. Some might prefer it with just a drop of water; however, this whisky is fantastic for making a range of cocktails. Here are some worthy examples:
The 1910 Caramel Vanilla
A slight twist on the Old Fashioned, this cocktail only needs 2 ounces of Old Foster 1910, 0.25 ounces of caramel-vanilla syrup, and a splash of your favorite aromatic bitter. Mix the ingredients with warm water, ensuring the container is heatproof.
Pour into a glass, and add a toasted marshmallow or two to warm the soul.
Here Kitty Kitty
Again, Old Foresters uses the 86-proof bourbon, but we felt that the subtle hint of berries worked well with the fruity flavors of the Here Kitty Kitty.
Take a handful of raspberries and mash them up slightly, not enough to make a paste. Add 0.75 ounces of lemon juice and another 0.75 ounces of syrup.
Top that with 2 ounces of Old Forester 1910. Once you have given it a good shake, strain it over a tall glass with plenty of ice.
Top it up with sparkling apple cider. Add some whole raspberries to garnish if you want to invite your friends around.
Read next – Bird Dog Whiskey Review – Meet Western Spirit's Multiple Taste Whiskey!
Train to Penn Station
Though initially using the 100-proof rye whisky, we liked a slightly toned-down version. This cocktail has also been used with gin, but with Old Forester 1910, you get an oaky cocktail with delicious citrus notes and hints of floral.
Mix 2 ounces of Old Forester 1920 with 0.5 ounces of Grandiflora syrup, 0.25 ounces of Crème Yvette, and 0.75 ounces of lemon juice. Strain the cocktail and add a twist of lemon peel for decoration.
The Old Forester line occupies a somewhat isolated position in the assortment of American spirits.
Old Forester is one of the oldest brands, originating from the very beginnings of American distilling, rightfully ranked among the classics of local bourbons.
So, today in this article, We will give Old Forester 1910 Old Fine Whisky Review.
See these below…
Read Next – The Best Tennessee Whiskeys: A Comprehensive Guide
Old Forester 1910 Old Fine Whisky Review:
Old Forester 1910 Old Fine Whisky is made from corn, rye, and barley malt. The grains are crushed and kneaded, after which they are fermented for 5-7 days. At this stage, a branded yeast strain is used, which is grown daily in our distillery.
The long fermentation process provides the drinks with an unsurpassed depth and complexity the bouquet. After double distillation, the bourbon is placed in new American oak casks made in-house cooperage, maturing and acquiring a harmonious bouquet.
To create exclusive drinks, the masters of the distillery manually select oak containers from the warmest corners of the warehouse. The heat allows the bourbon to reveal its character to the maximum. The result is a unique, bright, powerful, and perfectly balanced blend.
One of the oldest drinks in the brand line is created using two types of barrels. The aroma of bourbon combines shades of buttercream, toffee, cedar, and apricot. A smooth, rounded taste and notes of sweet oatmeal cookies with raisins flavored with milk chocolate, caramel, and spices are guessed.
The bouquet ends with an exquisite finish of charred oak and spices. So, let's see the Old Forester 1910 Old Fine Whisky Review…
Overview:
High-rye mash bill of 72% corn, 18% rye, and 10% malted barley and a thousand little secrets to settle with the sky where virtuous souls inevitably frown the eyebrow while sniffing this water of the devil.
Distill, and filter the liquor drop by drop over a thick layer of maple charcoal (mellowed charcoal), differentiating it from ordinary bourbon.
Finally, please leave it to mature for two years in a new, toasted barrel (pour downgraded whiskey into it and set it on fire). While dreaming of the exchanges between the wood and the liquid that permeates the wheels to steal their flavors, summer expansion and winter retraction included tapping the barrels regularly, an essential mark of the staff's affection, bottling, to serve.
Read Next – Redneck Riviera Whiskey Review – Meet "Liquid Sunshine" Bourbon!
Appearance:
It has a rich dark shade of amber with golden undertones. The jug configuration here is a more established style, more conventional than their more up-to-date forms.
It sports a thick base that rapidly tightens to a more slender midriff and afterward grows back to a thicker wider before finishing in a medium-length neck. The entire thing is finished off with a blue name and a plug.
Read Next – The Best Scotch Glasses For Every Occasion
Aroma:
The manufacturer promises a bitter and sweet, floral solid nature aroma and rich tobacco leaf, with hints of mint and vanilla on the background of pine and oak.
Its fragrance is woven from a bouquet of floral, honey, and sandalwood notes with a touch of iris.
Oaky and delicately sweet. Rich caramel leads the way with a feeling of vanilla, newly prepared cake, frosting, and sweet walnuts. A light layer of rich oak balances it. It's unpretentious yet simple, straightforward, depreciates, and anticipates the remainder of the taste.
I observed the nose becoming increasingly more agreeable as I let the pour sit in the glass. This is one whiskey you'll need to invest in while drinking.
Taste:
The taste is spicy at first but quickly softens, with hints of sweet corn, rye, and oak. It has a soft, harmonious, and perfectly balanced taste with velvety hints of black pepper spice and sweet smoke.
A smooth and balanced taste of sweet cereal treats and milk chocolate, trailed by kinds of caramel corn and flavors.
Aftertaste:
The aftertaste of Old Forester 1910 Old Fine Whisky is incredibly long, complete, and rich, with a slight warming effect. The sense of taste is perfectly fruity to begin, with ready strawberries, raspberries, and a rich note of kirsch. This turns tart at midpalate with the complement of lemon juice and a smokily-sweet message of caramelized sugar. This completes quietly, with really waiting for therapeutic cherry notes. All through the mouth, this turns harsh at focuses, again in the style of Madeira.
Finish:
While OA assumes a part in the nose and sense of taste, oak is upfront in the completion. The finish is long, warm, and with a good level of sweetness. An overwhelming kind of scorched oak drives the accuse and is intermixed with a light portion of caramel and vanilla. These better flavors blur and are supplanted with dry calfskin and a light stogie box.
These flavors wait for seemingly forever. It's a beautiful completion that causes you to acknowledge how well this whiskey could match a stogie.
Verdict:
Before consuming it, of course, in moderation, the learning process was challenging. Challenging the first sip even proved dissuasive. The second sip allowed me to soften the emotion, channel the flavors, nose, mouth, and the phases, attack, and length. This fire quickly spread from the lips to the palate, this power, caramel, licorice, burnt wood, this brute force, 40% alcohol.
A subtle balance that gives it its exceptional taste. The bottle is presented in a sober and somewhat vintage case! This whiskey has a superb amber/golden color. In the mouth, the attack is initially peaty and peppery. Then it evolves towards softer aromas. We feel salty aromas in the end. In short, it is a tasting whiskey, as we like them. If you want to think outside the box, this Old Forester 1910 Old Fine Whisky will give you complete and total action and surprise your guests!
Read Next – Best 10 Texas Whiskeys: All About Texas Whiskey in One Place!
Read Next – 5 Top And Best Peanut Butter Whiskey