Picture this- you are sitting around the campfire; the guitars are out, and all are having a good time. Family and friends are reminiscing about old times and celebrating new ones. The only thing missing is that perfect drink to go with the setting.
This is how Old Camp whiskey began; an idea of bringing together the beautiful elements of the country and parties.
Brian Kelly and Tyler Hubbard are the two country musicians forming the band Florida Georgia Line, who have made history by becoming the first country act to be awarded the RIAA's Diamond Award. It makes sense that they need a top-class whiskey to go with it.
While on tour, Kelly, Hubbard, and the other band members had a "camp-style" atmosphere to toast and celebrate before their performance.
They wanted a drink that would ring true to this feeling while remaining honest about who they were.
At the same time, it had to be a drink that would stir up the same feelings for others.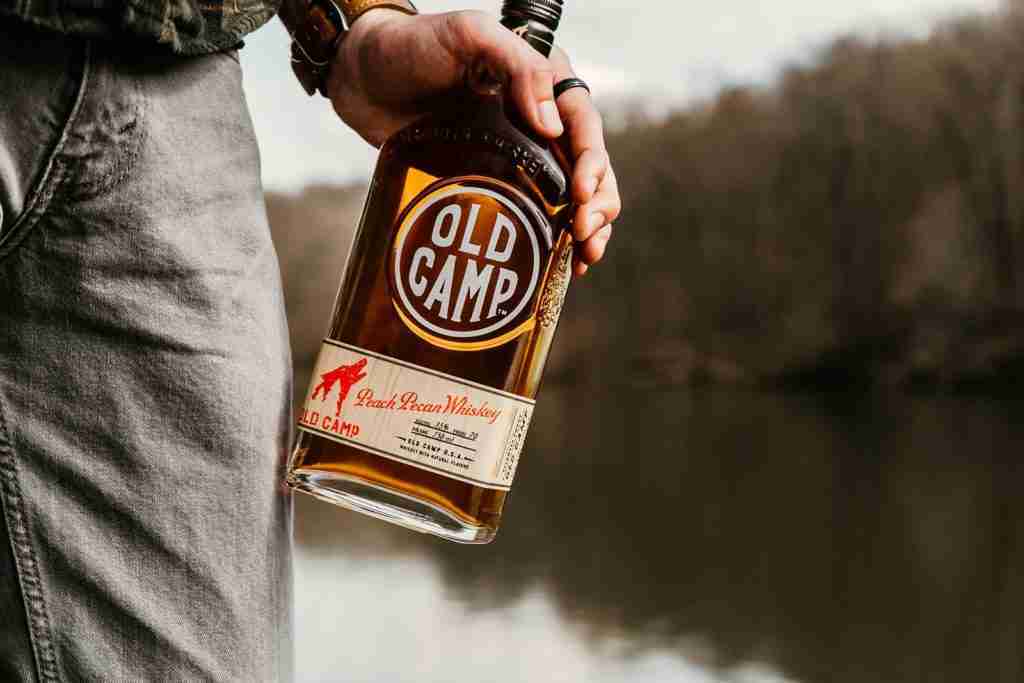 The Old Camp Whiskey Process
The first part of Old Camp is an American whiskey that has been aged in white American oak barrels with a No.3 char for at least two years.
It is then blended with the rich flavors of southern peaches and pecans. This infusion makes Old Camp 70 proof with 35% alcohol by volume (ABV).
Old Camp on the Nose and the Pallet
When you open a bottle of Old Camp whiskey, the first thing that will heat your nose is the lovely warm scent of peaches followed by a buttery pecan smell.
To taste, the whiskey is sweet but not sickly. It is balanced out with a nice hint of spice and even a touch of caramel.
Read next – Redneck Riviera Whiskey Review – Meet "Liquid Sunshine" Bourbon!
How to Drink Old Camp Whiskey?
Because this is a blend of American whiskey with peach and pecans, the alcohol percentage is slightly lower than typical whiskeys.
This makes it ideal for drinking neat. It's smooth, warm, and sweet enough to enjoy the party without losing your head.
Alternatively, you might want to use Old Camp whiskey as the base for your cocktails.
You are only limited to your imagination, but we tried two cocktails that brought out this spirit's flavors and richness.
Old Camp with a Berry Twist
½ cup of Old Camp whiskey
½ cup of lemon juice
½ cup of syrup
12 oz of blackberries
Mix all of the ingredients, shake well, and pour over ice. Top it off with your favorite brand of tonic, and to impress the crows, a sprig of fresh rosemary.
The Old Camp Mule
2 oz of Old Camp whiskey
4 oz of Ginger Beer
Fresh Basil leaves
Frozen peach slices
We have all heard of the famous Irish mule and multiple variations, but the Old Camp Mule is an excellent choice for those looking to enjoy a more robust peach flavor.
Don't forget to add ice as well as the frozen peach slices.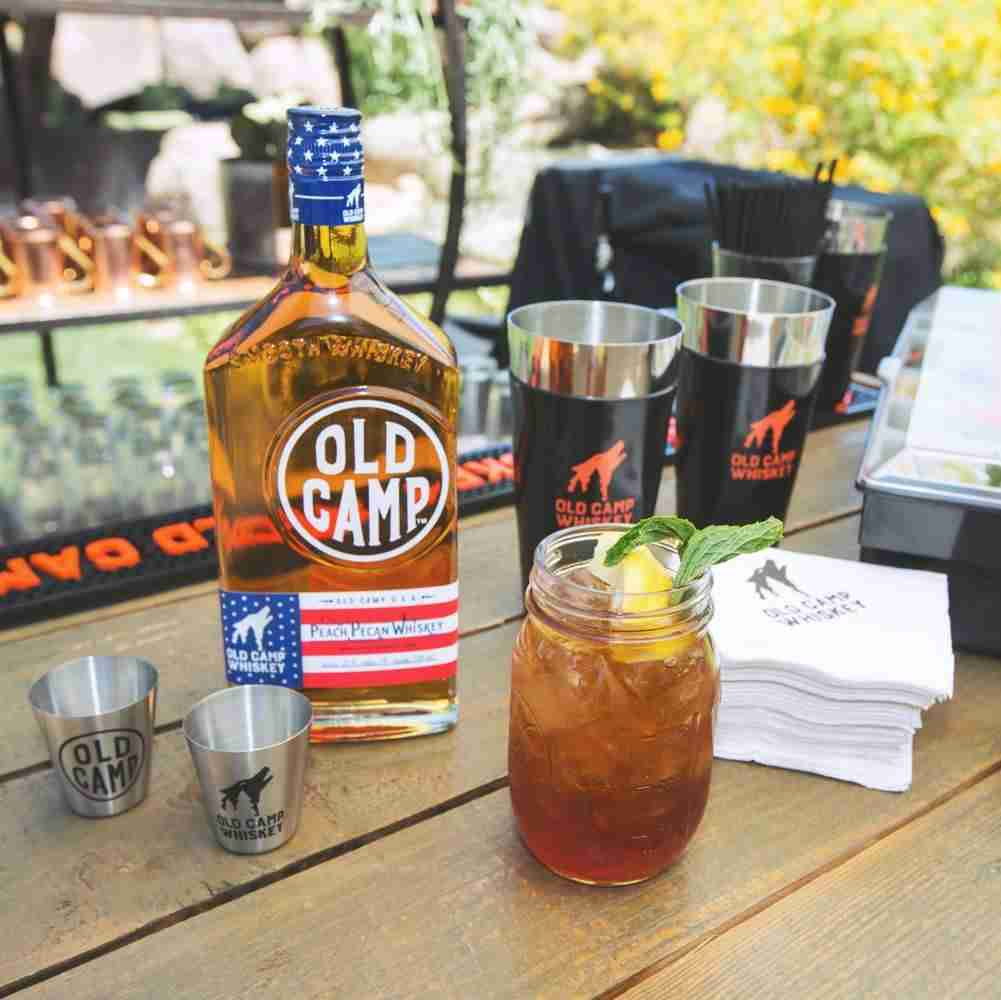 Read next – Creek Water Whiskey Review
Bottle Design
There are two designs, but the one we loved was the Old Camp logo of trees silhouetted in a howling wolf's head. If you are one of the very fortunate ones, you may be able to get your handles on a signed bottle!
One version has this logo printed with the design of the American flag. This limited-edition bottle launched in time to raise a glass for Armed Forces Day and Military Appreciation Month.
The 'Patriot Pack' marked the partnership of Florida Georgia Line and the United Services Organization, a non-profit organization that supports American military servicemen and women. We aren't alone in appreciating when those who can share and help the less fortunate.
Read next – Clyde May's Alabama Style Whiskey Review.
The Old Camp Community
Aside from this smooth blended whiskey flavor, we love how Florida Georgia Line makes you feel part of the lifestyle.
Their Facebook page posts Old Camp photos to help you chase away the Monday Blues and kick-start the weekend.
Their official website encourages photos of how you like to enjoy your bottle of Old Camp.
Even those who can't stand the idea of camping are drawn to the idea of buying a bottle and gathering some friends to enjoy the country life together.
In Summary
Don't get us wrong. If you are not feeling sociable, this is still the perfect whiskey to drink while you wind down after a long day at work or once you have put the kids to bed.
That being said, with its creation in mind, the best way to enjoy Old Camp whiskey is with friends celebrating and enjoying life.
Read Next – TX Whiskey Review
How to Drink Your Bourbon Properly
Images source – www.facebook.com/oldcampwhiskey
Read Next – 1792 Bourbon Review – The Heart of Bourbon Country in Kentucky!