Picture this- you are sitting around the campfire; the guitars are out, and all are having a good time. Family and friends are reminiscing about old times and celebrating new ones. The only thing missing is that perfect drink to go with the setting.
Old Camp whiskey began by bringing together the country's beautiful elements and parties.
Brian Kelly and Tyler Hubbard are the two country musicians forming the band Florida Georgia Line, who have made history by becoming the first country act to be awarded the RIAA's Diamond Award. It makes sense that they need a top-class whiskey to go with it.
While on tour, Kelly, Hubbard, and the other band members had a "camp-style" atmosphere to toast and celebrate before their performance.
They wanted a drink that would ring true to this feeling while remaining honest about who they were.
At the same time, it had to be a drink that would stir up the same feelings for others.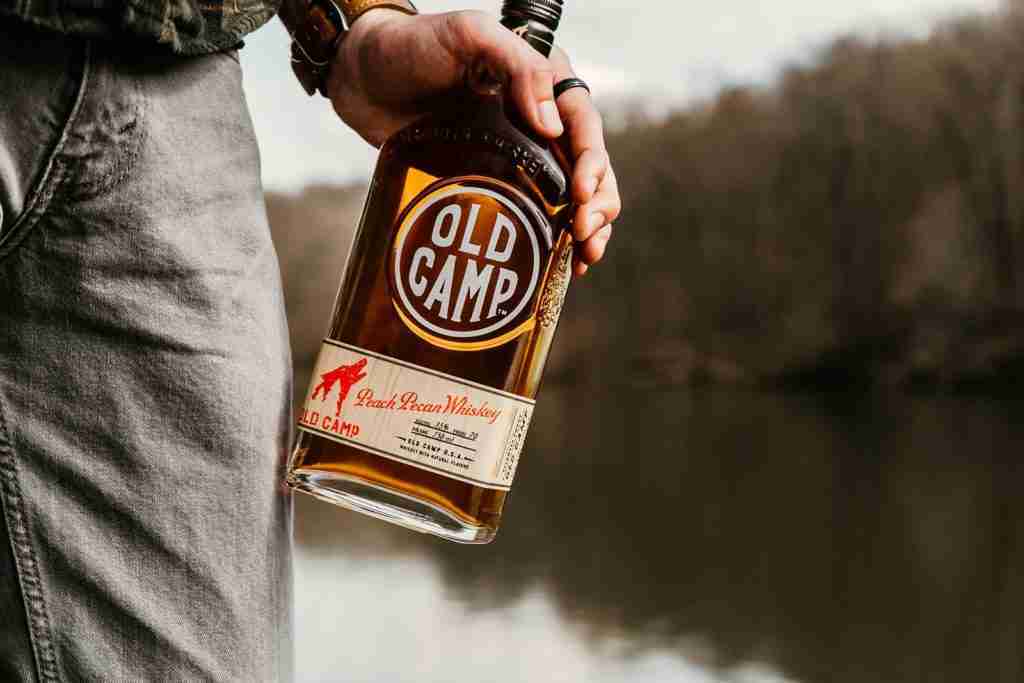 The Old Camp Whiskey Process
The first part of Old Camp is an American whiskey aged in white American oak barrels with a No.3 char for at least two years.
It is then blended with the rich flavors of southern peaches and pecans. This infusion makes Old Camp 70 proof with 35% alcohol by volume (ABV).
Old Camp on the Nose and the Pallet
When you open a bottle of Old Camp whiskey, the first thing that will heat your nose is the lovely warm scent of peaches, followed by a buttery pecan smell.
To taste, the Whiskey is sweet but not sickly. It is balanced with a nice hint of spice and even caramel.
Read next – Redneck Riviera Whiskey Review – Meet "Liquid Sunshine" Bourbon!
How to Drink Old Camp Whiskey?
Because this is a blend of American Whiskey with peach and pecans, the alcohol percentage is slightly lower than typical whiskeys.
This makes it ideal for drinking neat. It's smooth, warm, and sweet enough to enjoy the party without losing your head.
Alternatively, you might want to use Old Camp whiskey as the base for your cocktails.
You are limited to imagination, but we tried two cocktails that brought this spirit's flavors and richness.
Old Camp with a Berry Twist
½ cup of Old Camp whiskey
½ cup of lemon juice
½ cup of syrup
12 oz of blackberries
Mix all of the ingredients, shake well, and pour over ice. Top it off with your favorite tonic brand and a sprig of fresh rosemary to impress the crows.
The Old Camp Mule
2 oz of Old Camp whiskey
4 oz of Ginger Beer
Fresh Basil leaves
Frozen peach slices
We have all heard of the famous Irish mule and multiple variations, but the Old Camp Mule is an excellent choice for those looking to enjoy a more robust peach flavor.
Don't forget to add ice as well as the frozen peach slices.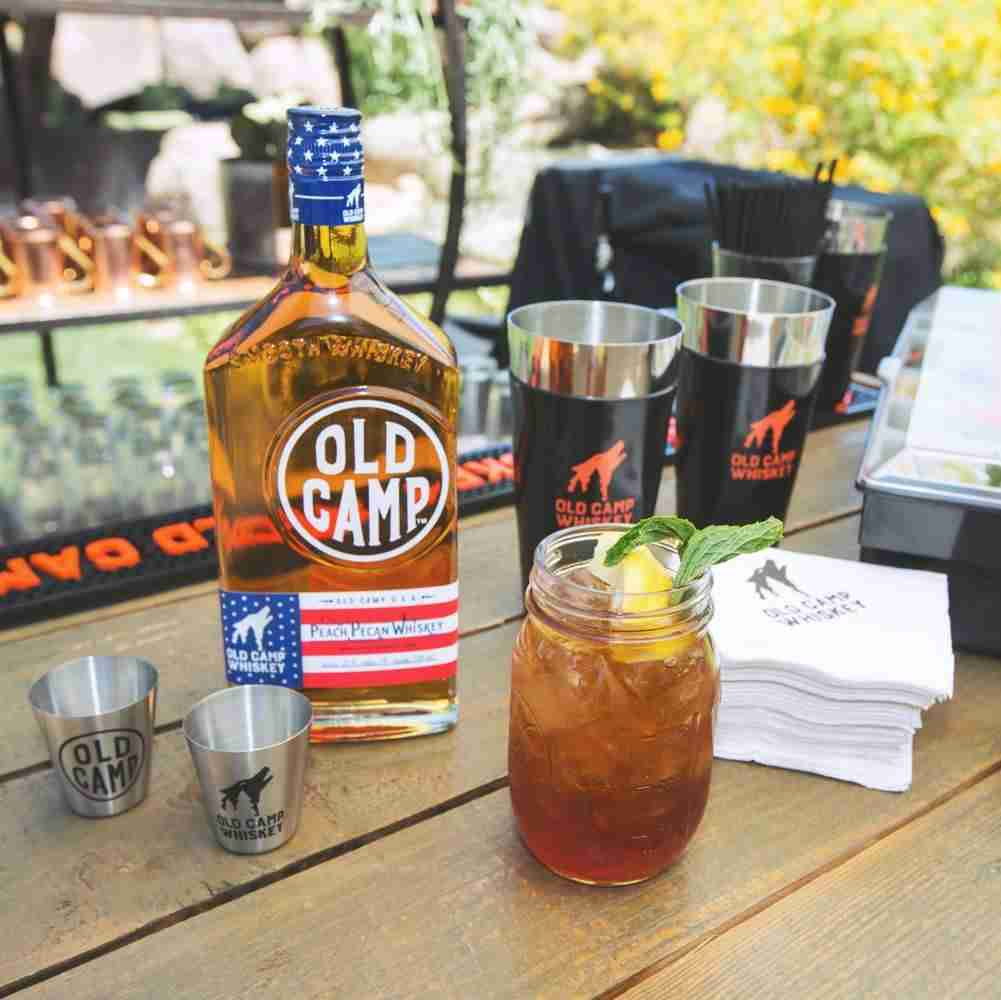 Read next – Creek Water Whiskey Review
Bottle Design
There are two designs, but we loved the Old Camp logo of trees silhouetted in a howling wolf's head. If you are one of the very fortunate ones, you may be able to get your handles on a signed bottle!
One version has this logo printed with the design of the American flag. This limited-edition bottle launched in time to raise a glass for Armed Forces Day and Military Appreciation Month.
The 'Patriot Pack' marked the partnership of Florida Georgia Line and the United Services Organization, a non-profit organization that supports American military servicemen and women. We aren't alone in appreciating those who can share and help the less fortunate.
Read next – Clyde May's Alabama Style Whiskey Review.
The Old Camp Community
Aside from this smooth blended whiskey flavor, we love how Florida Georgia Line makes you feel part of the lifestyle.
Their Facebook page posts Old Camp photos to help you chase away the Monday Blues and kick-start the weekend.
Their official website encourages photos of how you enjoy your Old Camp bottle.
Even those who can't stand the idea of camping are drawn to buying a bottle and gathering friends to enjoy country life together.
In Summary
Don't get us wrong. If you are not sociable, this is still the perfect Whiskey to drink while you wind down after a long day at work or once you have put the kids to bed.
With its creation in mind, the best way to enjoy Old Camp whiskey is with friends celebrating and enjoying life.
Read Next – TX Whiskey Review
How to Drink Your Bourbon Properly
Images source – www.facebook.com/oldcampwhiskey
Read Next – 1792 Bourbon Review – The Heart of Bourbon Country in Kentucky!
Mixed and enhanced bourbons are intensely hot at this moment. Shopper interest in earthy-colored spirits keeps ascending with American Whiskey, explicitly seeing a few fantastic deals develop.
Old Camp Peach Pecan Whiskey carries a one-of-a-kind seasoning blend to the bourbon market.
So, here in this article, get a review of this Whiskey…
What Is Peach Pecan Whiskey?
The experiences caused team Florida Georgia Line to have sent off their image of Whiskey – Old Camp Peach Pecan Whiskey.
The band's Brian Kelley and Tyler Hubbard made the smooth bourbon a definitive beverage to launch the party, filling a container with the sensation of unlimited opportunity and living at the time.
Whether at a show back end, camping area, grill, or pregame with companions, Old Camp Peach Pecan Whiskey is the ideal blend for a fun time frame!
Propelled by the band's Southern roots, Old Camp is mixed with American bourbon matured for at least two years in white American oak barrels with a No. 3 scorch mixed with Southern peach and walnut flavors.
The outcome is flavorfully smooth and sweet yet adjusted, with caramel and light zest notes. With 35% liquor by volume, Old Camp is 70 proof.
Old Camp is a curious soul, a secret bourbon vigorously doctored with peach and walnut flavors. The initial segment of Old Camp is an American bourbon that has matured in white American oak barrels with a No.3 scorch for about two years.
It is then mixed with the wealthy kinds of southern peaches and walnuts. This imbuement makes Old Camp 70 proof with 35% liquor by volume (ABV).
READ Next – Gentleman Jack Whisky Review – Master of Malt
Old Camp Peach Pecan Whiskey Description:
Mixed and enhanced bourbons are scorching at present. Shopper interest in earthy-colored spirits keeps ascending with American Whiskey, explicitly seeing a few fantastic deals develop.
The flavors joined are supposed to be a gesture to both states for the band's sake. The goal is to have a simple-tasting yet fascinating and altogether remarkable bourbon.
The juice is obtained from two-year-old American bourbon matured in burned new oak barrels.
From that point, the bourbon is imbued with substances of peach and walnut, of which I am interested concerning the cycle in question.
The bourbon is weakened to an agreeable 35% ABV so that usually somebody can have a second pour without agonizing over an excessive amount of intoxication.
Read Next – Best 10 Texas Whiskeys: All About Texas Whiskey in One Place!
Review:
Tasting this outstanding contribution uncovers solid beginning notes of peach and walnut, gladly declaring the underlying Southern foundations of both the brand and the alcohol.
The specific and recognized whisky consumer will generally welcome this whisky who loves a deep flavor with a smooth completion. It might be said that Old Camp preferences are more seasoned than you would anticipate that it should taste.
Overview:
Likewise, one truly decent thing about Old Camp is that it won't burn through every last dollar any time soon; it comes in at a simple $21.99 a container. It might be said that it's challenging to come by a container like this anywhere close to this value range. By and by considering here that this cost is extraordinary, we can hope for the sort of value these young men are putting out.
Filtering:
Filtration consists of filtering the brandy before putting it in barrels. This step differentiates Jack from other bourbons, giving it a slightly smoky taste and a certain roundness.
Aging:
The Jack Daniels is aged in toasted American white oak barrels. No giant toaster. These are barrels sprinkled with pure Whiskey and then set on fire… Thanks to the starch in the wood, a thin caramelized layer is created that lines the barrel. This step is perhaps the most important in defining famous taste of Jack.
Appearance:
By appearance, Old Camp peach pecan whiskey has a golden orange look. Simply twirling the bourbon in a glass, you can perceive that it's very thick, and a ton of legs are happening at the edge.
Aroma:
You promptly get the impression of peach candy blended with a bit of nectarine. I wanted to get the smell of the walnut component. However, the peach essentially ruled.
Taste:
It was straightforward and a problem. According to the nose, the peach component became the dominant focal point before all else, and afterward, it got unusual.
In the center, there is a particular kind of hard watermelon sweet, and afterward, in the completion, it returns to its namesake with the completion of toasted walnuts. It's a full-bodied bourbon, so the completion endures some time.
Read Next – The Essentials: 10 American Whiskeys You Need To Try
Verdict:
Behind its color, similar to golden straw, you have sweet alcohol in the mouth. This alcohol is creamy on the palate. It has notes of toasted oak and spicy fruit.
And in my glass of rocks, perfect for Whiskey and bourbon, there was a drink of a vibrant dark amber color.
Old Camp Peach Pecan Whiskey's aromas are vibrant and varied. You can feel corn (like canned sweets from a can), vanilla, smoke, oak, a little cocoa, chocolate, and some floral palette. You sniff.
Very friendly and exciting. On the palate, Old Camp Peach Pecan Whiskey is soft. Again with hints of corn, vanilla, smoke, and oak. Peach in the aftertaste.
Read Next – BLACKENED American Whiskey Review
Conclusion:
The pop-country team Florida Georgia Line has had its hand in making bourbon marks for Wolf Moon Bourbon, a coordinated effort with Jason Aldean and Old Camp Peach Pecan Whiskey.
The previous is a very adaptable and profoundly receptive whiskey. As the name infers, the last option is pervaded with additional notes of peaches and walnuts.
Read Next – The Best Scotch Glasses For Every Occasion
Read Next – Best Scotch Whiskies You Can Buy in 2023