The Wild Turkey Distillery has a great range of whiskies, from Bourbons to Rye, Single Barrels, Reserves, and liqueurs.
It's the Wild Turkey Rare Breed that we will focus on but not before taking a quick look at this distillery's history.
Austin Nichols started selling wine and spirits in 1855, which became the Wild Turkey Distillery in 1869.
After surviving prohibition in the 1930s, Wild Turkey got the official name after a hunting trip.
Jimmy Russell joined the Wild Turkey distillery team in 1954 after learning his trade from Ernest W. Ripy, the son of the original distiller.
Now with 60 years as a master distiller, he is the longest-tenured master distiller in the world, nicked by some as the Buddha of Bourbon.
In 1981, his son Eddie joined the team, making the father and son master distillers one kind.
Wild Turkey has created a couple of world-time firsts in the whiskey industry.
They were the first to create a bourbon liqueur, the first steps of Wild Turkey's American Honey.
Another first was the introduction of barrel-proof bourbon, the premium Rare Breed.
Wild Turkey Overview
All the Wild Turkey whiskies use water from the Kentucky River, filtered through limestone to remove any iron and other impurities. The yeast is an original strain that has been used for more than 60 years.
Jimmy Russel has always insisted that all Wild Turkey whiskies are entirely natural with no GMO ingredients.
The America White Oak barrels have a no.4 char, which provides a unique color and flavor. All of the whiskies are aged for a minimum of 5 years.
Wild Turkey Rare Breed
The Wild Turkey Rare Breed is a burnt umber color. The mash bill is 75% corn, 13% rye, and 12% barely.
It's not how long it has been aged, but we know it's a blend of 6 to 12-year-old bourbon. It has an alcohol level of 58.4% ABV, 116.8 proof.
On the Nose
There is excellent heat on the nose. It's dark and sweet with a lovely oaky aroma.
You will also notice a good amount of caramel, vanilla, cinnamon, and licorice.
It could be the rye, but some of us picked up some grape, which tends to grow as you swirl the bourbon in the glass.
The movement also releases nice citrus and burnt wood smell.
Read Next – 5 Top And Best Peanut Butter Whiskey
On the Palate
You won't be disappointed if you have tried one of the other Wild Turkey whiskies.
You have the quality of flavors you would expect, starting with rich caramel and vanilla. This comes before the spice of cinnamon, apples, and licorice.
You can't miss the burnt oak from those No.4 barrels. There is a good amount of heat, but not so much that you feel burned.
The finish of this whiskey is sweet, with notes of honey and citrus. You are left with a delicious fruity oak that is genuinely superb and smooth.
Wild Turkey Rare Breed Awards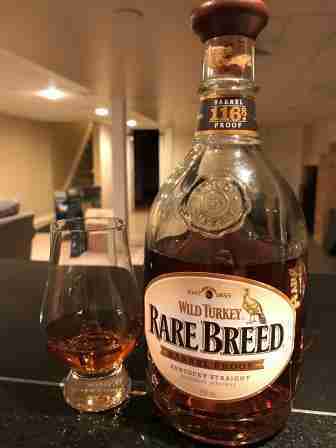 With two master distillers, Eddie Russell joining the Bourbon Hall of Fame in 2010, it's understandable that the Wild Turkey Rare Breed has won so many awards. Here are just some of them:
2010 Beverage Tasting Institute- 93 Points
2010 International Wine & Spirits Competition- Silver medal & Best in Class
2010 San Francisco World Spirits Competition- Silver Medal
2010 Ultimate Spirits Challenge- 92 Points- Excellent, Strong Recommendation
2011 Beverage Tasting Institute- 92 Points
2011 San Francisco World Spirits Competition- Gold Medal
2011 Ultimate Spirits Challenge- 93 Points, Excellent, Highly Recommended
2012 International Wine & Spirit Competition- Gold Medal, Outstanding
2012 San Francisco World Spirits Competition- Gold Medal
2013 Beverage Tasting Institute- 93 Points- Gold Medal, Exceptional
2014- International Wine & Spirits Competition- Silver Medal
2016 san Francisco World Spirits Competition- Double Gold Medal
As you can see from the awards list, the Wild Turkey Rare Breed gets better each year.
Read next – Eagle Rare Bourbon Review – Kentucky Straight Bourbon Whiskey!
How to Drink Wild Turkey Rare Breed?
It's a strong whiskey with so much flavor. It is perfect for drinking neat.
Ice and water can be added if you feel it is too strong, but we found that just a few drops helped enhance the flavor.
If you want to add a mixer, here are some perfect cocktails to enjoy your Wild Turkey Rare Breed.
Kentucky Mule
A Kentucky twist to the traditional Moscow Mule is an excellent treat for those long summer days.
Two parts Wild Turkey Rare Breed
¾ oz ginger syrup
¾ oz freshly squeezed lime juice
Splash of Angostura bitters
Soda water
Add all ingredients except the soda to a cocktail shaker and mix well. Add some ice to a tall glass and strain the mixture into the glass. Add soda to taste as well as lime and mint to garnish if you want.
Read next – 1792 Bourbon Review – The Heart of Bourbon Country in Kentucky!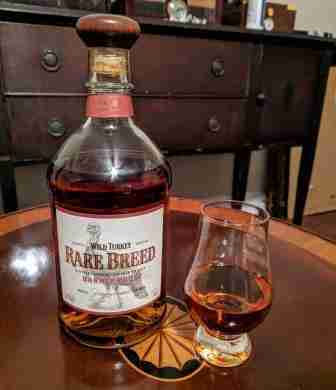 Bourbon Bramble
This is the ideal way to bring out the darker fruit flavors of the whiskey, and although great for summer, we liked it as a good year-rounder.
Two parts Wild Turkey Rare Breed
¾ oz freshly squeezed lemon juice
½ oz simple syrup
½ oz BlackBerry liqueur
Blackberries (fresh preferred)
In a short glass, muddle some blackberries (mash them with a pestle). Add the whiskey, syrup, and lemon juice to your shaker with crushed ice and shake. Pour the shaker ingredients over the muddled blackberries, then pour the liqueur. You can add a few more blackberries and a lemon twist for decoration.
Read Next – Bird Dog Whiskey Review – Meet Western Spirit's Multiple Taste
Second Circle
This cocktail has a vibrant color and an equally rich taste that you can enjoy in any weather. The port brings a new depth to the drink with a lovely plum flavor.
Two parts Wild Turkey Rare Breed
1 tsp. maple syrup
1 oz. Ruby Port
First, mix the three ingredients in a shaker with some ice. Once it has been well shaken, strain it into a short/rock glass over more ice.
If you have some cherries, use one to garnish.
If you're a bourbon fan, then chances are you've heard of Wild Turkey. This unique bourbon is known for its complex taste and heavy body. If you haven't tried it yet, now might be as good a time as any. But what about those who don't like bourbon? Do they have anything to look forward to?
Not really. While Wild Turkey may be a popular choice for bourbon fans, it's not the best option for everyone. In this Wild Turkey Rare Breed review, we will take a closer look at this bourbon and tell you why it might not suit you.
What is Wild Turkey?
The wild turkey is a rare birds breed found in many parts of the United States. This bird is unique because it is the only North American bird that can fly. Wild turkeys are curious and active animals and make great pets if you can meet their needs.
They are social birds and need plenty of interaction with people, other animals, and toys.
What are the Different Types of Bourbon?
There are many different types of bourbon, each with its unique taste. Here are the four main types:
Blended Bourbons – bourbons made from a blend of different distilleries' spirits.
Single Barrel Bourbons – bourbons made from a single barrel of whiskey are typically more expensive than blended bourbon.
Distilled Bourbons – bourbons distilled from the fermented mash rather than neutral grain spirits.
Rye Bourbons are bourbons made with at least 51% rye liquor.
How to Taste Wild Turkey Bourbon
There is something undeniably satisfying about sinking your teeth into a cold glass of bourbon, and that's precisely what you can expect when you taste the rare breed edition of Wild Turkey. This spirit is made from 100% corn, and as a result, it has a slightly sweet taste with notes of caramel and vanilla.
If you're looking for an elevated bourbon experience distinctly different from the traditional variety, then one option worth considering is the rare breed edition.
The Wild Turkey Rare Breed Review
Wild Turkey is a majestic bird that has been around for centuries. It can be found in many parts of the world but is most commonly found in North America. Wild Turkey is considered a rare breed, and very few of them are left.
A wild Turkey is a large bird with a long neck and legs. They have a tail that is long and wavy. Their feathers are light brown, and they have red heads and channels. The wild Turkey is the national bird of the United States and the official bird of Kentucky.
Wild Turkey is an exciting bird to watch because it can fly very well for its size. They are also good at hunting because they can shoot arrows very quickly. Wild Turkey is not as common as it used to be, but it is still an exciting and beautiful animal to see.
Conclusion
If you're a fan of American whiskey, then you'll want to check out Wild Turkey Rare Breed.
This bourbon is made up of only select barrel types, which gives it a unique flavor that's hard to find in other whiskeys.
Wild Turkey Rare Breed is definitely worth trying if you're looking for an exciting and complex bourbon that will appeal to both beginner and experienced drinkers.
Rustic Home Bar Decor Wild Turkey Bourbon Barrel Lid Wood Wall Art Kentucky
as of December 9, 2023 1:25 am
WILD TURKEY Collectible Whiskey Glass 14 Oz
as of December 9, 2023 1:25 am
Wild Turkey Bourbon Metal Tin Sign Decor 8x12 Inch
2 new from $9.99
Free shipping
as of December 9, 2023 1:25 am
Premium Quality Whiskey Glasses Set of 2 in Hand Crafted Wooden Box – Lead-Free Crystal Old Fashioned Tasting Tumblers For Scotch, Whisky, Liquor, Bourbon 10 oz. Luxury Gift Set For Men or Women
out of stock
as of December 9, 2023 1:25 am
Taste of the Wild Prey Turkey Limited Ingredient - 25Lbs (418345)
6 new from $65.99
Free shipping
as of December 9, 2023 1:25 am
Harry Truman"Kentucky Bourbon" Whiskey Glass, Circa 1951 (Gift Box Set of 2)
as of December 9, 2023 1:25 am
Greenline Goods Whiskey Glasses - Bourbon Trail Kentucky Whisky (Set of 2) - Etched 10 oz Tumbler Gift with Bourbon Trail Map | Old Fashioned Rocks Glass
out of stock
as of December 9, 2023 1:25 am