Picture this- you are sat around the campfire; the guitars are out, and a good time is being had by all. Family and friends are reminiscing about old times and celebrating new ones. The only thing missing is that perfect drink to go with the setting.
This is how Old Camp whiskey began; an idea of bringing together the wonderful elements of the country and parties. Brian Kelly and Tyler Hubbard are the two country musicians, forming the band Florida Georgia Line, who have made history by becoming the first country act to be awarded the RIAA's Diamond Award. Needless to say, it makes sense that they need a top-class whiskey to go with it.
While on tour Kelly, Hubbard, and the other band members had a "camp-style" atmosphere where they would toast and celebrate before their performance. They wanted a drink that would ring true to this feeling while remaining honest to who they were. At the same time, it had to be a drink that would stir up the same feelings for others.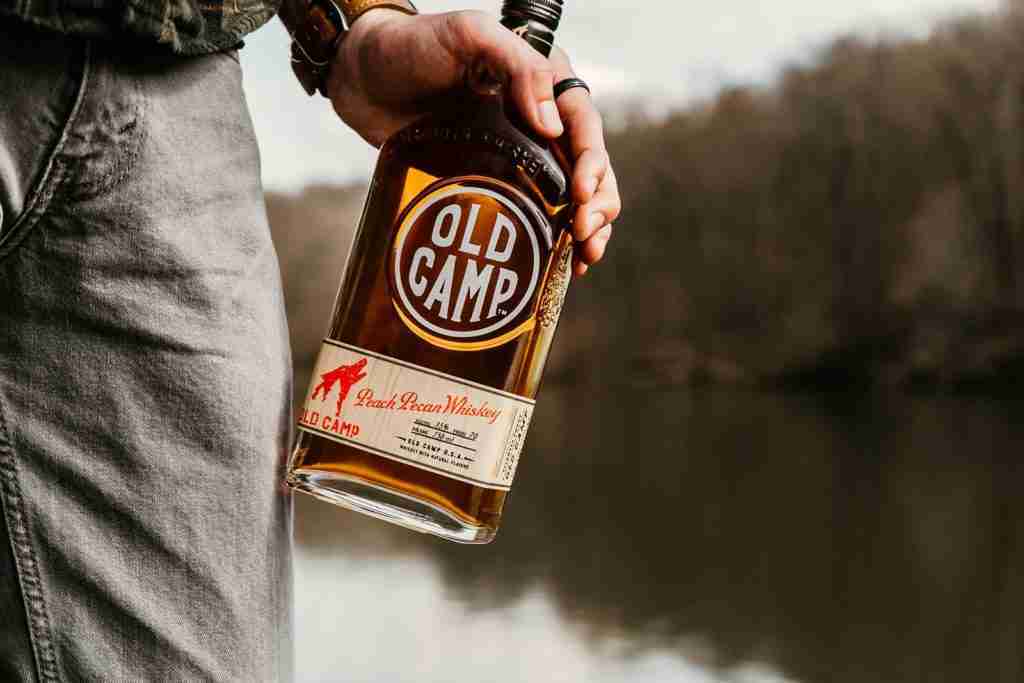 The Old Camp Whiskey Process
The first part of Old Camp is an American whiskey that has been aged in white American oak barrels with a No.3 char, for at least two years. It is then blended with the rich flavors of southern peaches and pecans. This infusion makes Old Camp 70 proof with 35% alcohol by volume (ABV).
Old Camp on the Nose and the Pallet
When you open a bottle of Old Camp whiskey, the first thing that will heat your nose is the lovely warm scent of peaches followed by a buttery pecan smell. To taste, the whiskey is sweet but not sickly, it is balanced out with a nice hint of spice and even a touch of caramel.
Read next – Redneck Riviera Whiskey Review – Meet "Liquid Sunshine" Bourbon!
How to Drink Old Camp Whiskey?
Because this is a blend of American whiskey with peach and pecans, the percentage of alcohol is slightly lower than typical whiskeys. This makes it ideal to drink neat. It's smooth, warm, and sweet enough to enjoy the party without losing your head.
Alternatively, you might want to use Old Camp whiskey as the base for your cocktails. Really, you are only limited to your imagination, but we tried two cocktails that brought out the flavors and the richness of this spirit.
Old Camp with a Berry Twist
½ cup of Old Camp whiskey
½ cup of lemon juice
½ cup of syrup
12 oz of blackberries
Mix all of the ingredients, shake well and pour over ice. Top it off with your favorite brand of tonic and to really impress the crows, a sprig of fresh rosemary.
The Old Camp Mule
2 oz of Old Camp whiskey
4 oz of Ginger Beer
Fresh Basil leaves
Frozen peach slices
We have all heard of the famous Irish mule and multiple variations, but the Old Camp Mule is a great choice for those looking to enjoy a stronger peach flavor. Don't forget to add ice as well as the frozen peach slices.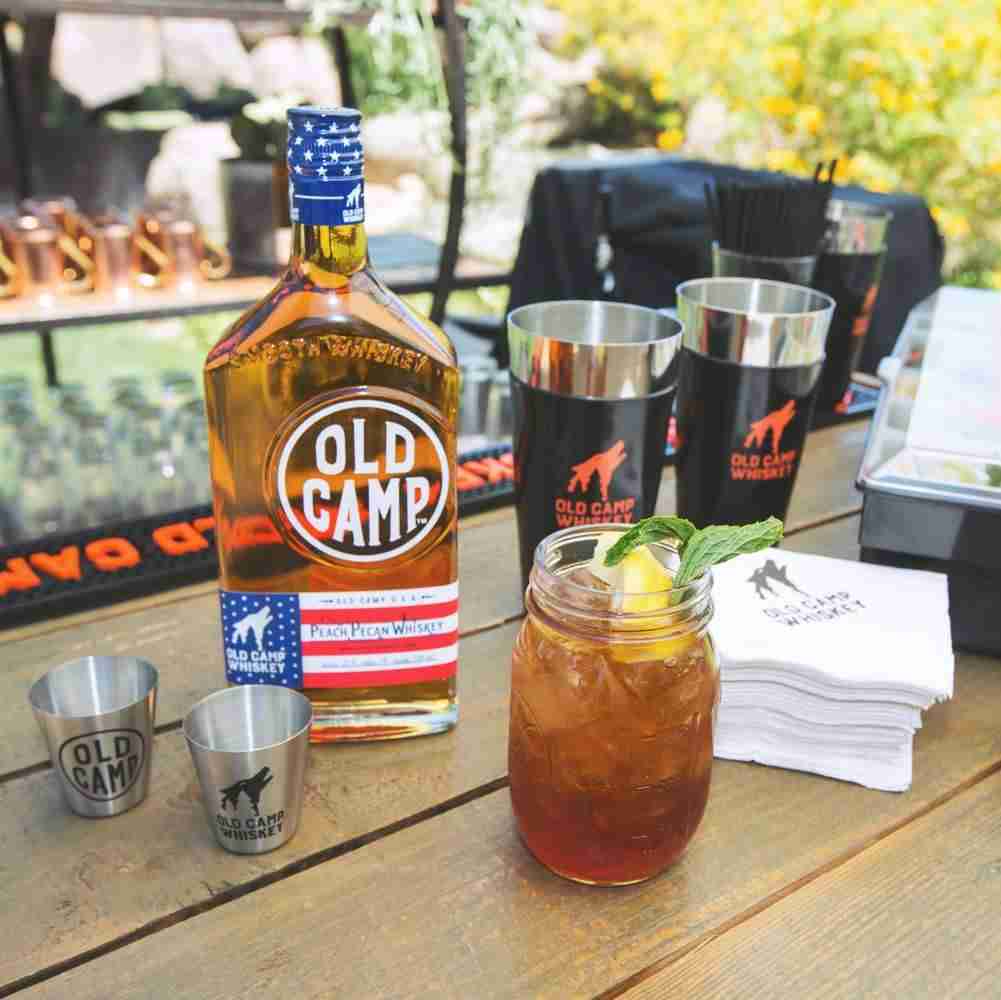 Read next – Creek Water Whiskey Review
Bottle Design
There are two designs but the one we really loved was the Old Camp logo of trees silhouetted in a howling wolf's head. If you are one of the very fortunate ones, you may be able to get your handles on a signed bottle!
One version has this logo printed with the design of the American flag. This was a limited-edition bottle launched in time to raise a glass to for Armed Forces Day and Military Appreciation Month. The 'Patriot Pack' marked the partnership of Florida Georgia Line and the United Services Organization, a non-profit organization that supports American military servicemen and women. We aren't alone in appreciating when those who can share and support the less fortunate.
Read next – Clyde May's Alabama Style Whiskey Review
The Old Camp Community
Aside from the flavor of this smooth blended whiskey, we love how Florida Georgia Line makes you feel part of the lifestyle. Their Facebook page posts photos of Old Camp to help you chase away the Monday Blues and kick start the weekend. Their official website encourages photos of how you like to enjoy your bottle of Old Camp. Even those who can't stand the idea of camping are drawn to the idea of buying a bottle and gathering some friends to enjoy the country life together.
In Summary
Don't get us wrong, if you are not feeling sociable, this is still the perfect whiskey to drink while you wind down after a long day at work or once you have put the kids to bed. That being said, with its creation in mind, the best way to enjoy Old Camp whiskey is with friends celebrating and enjoying life.
Images source – www.facebook.com/oldcampwhiskey
Whiskey Stones Gift Set with Stand | 13-Piece Handcrafted Whiskey Glass Set Granit Whiskey Rocks for Perfect Drink | Whiskey Gift Set & Whiskey Kit | Best Whisky Stones Glass Set for Men Dad Boyfriend
1 new from $39.95
Free shipping
as of January 17, 2021 11:05 pm
Features
✔ Luxury Whisky Stones Gift Set – Ideal for bourbon, scotch, whiskey or a stiff drink. This men's whiskey set comes with two crystal glasses, 8 granite stones for chilling your drink, tongs for serving up the rocks, and a beautiful wooden display stand.
✔ Classic Bar, Man Cave, or Kitchen Addition – An old-fashioned design with modern convenience, our whiskey glasses set makes it easy to relax, serve up a fresh shot of scotch, and share in a cool, delicious drink with friends or business associates.
✔ Handsome Gift Selection – Our whiskey rocks set is a stunning choice for providing dads, boyfriends, brothers, or husbands with a unique gift for enjoying alcoholic or non-alcoholic drinks. It's perfect for chilling liquor, spirits, wine, and more. Get your whiskey gift set today!
✔ Pure, More Delicious Alcohol – The bourbon whiskey stones set help you maintain the optimal drink temperature without watering it down or diluting it, retaining the high-quality taste you paid for. They're also washable, reusable, and safe on glass.
✔ Trusted Quality Assurance – Here at Rocksly we care about the quality of our drink set and the happiness of our customers. Contact us with any questions or concerns regarding your whisky stones set, and we'll be happy to provide you with responsive, reliable customer service.
Whiskey Stones Gift Set for Men & Women - Whiskey Decanter, 2 Twisted Whiskey Glasses, 2 XL Stainless Steel Whisky Cubes, 2 Coasters, Silicone-Tipped Tongs & Freezer Pouch in Pinewood Box
1 new from $69.95
Free shipping
as of January 17, 2021 11:05 pm
Features
✅ INDULGE IN A LUXURIOUS WHISKEY KIT: Get your hands on a deluxe twisted crystal 11 oz whiskey glass set including the 30oz modern twister design Whiskey Decanter made of thick, solid crystal, the Freezer Base, Coasters, Tongs, Whiskey Rocks & Freezer Pouch for chilling them.
✅ AN EXTRA LARGE WHISKEY STONES SET: No watered drinks - no dirty ice stones anymore! The EXTRA large 1.6" (40mm) Stainless Steel whiskey rocks will chill your whiskey in no time, upgrading your whiskey enjoyment.
✅ SAFETY & LUXURY MEET IN THE TOP WHISKEY KIT: Each whiskey stone is made of Food Grade 304 Stainless Steel in full compliance with FDA specifications, while the whiskey decanter & glasses of perfect clarity LEAD-FREE crystal .
✅ SPOIL A LOVED MAN WITH THE BEST GIFT: Quality-made and luxurious, Frolk chilling drink stones set is the #1 gifting idea for Christmas, Father's Day or any occasion. Thrill a loved novice or seasoned whiskey connoisseur!
✅ LOVE YOUR COOL STONES WHISKEY SET OR YOUR MONEY BACK! Not entirely thrilled with your Whiskey Set? Simply get in touch with us within 90 days of your purchase and we will give you a full refund, for any reason. After all, your purchase is covered under our 100% Satisfaction Guarantee.MONEY BACK – Not entirely thrilled with your Whiskey Set.
Greenline Goods Whiskey Glasses – United States Constitution (Set of 2) | 10 oz Tumblers - American US Patriotic Gift Set | Old Fashioned Cocktail Glasses
out of stock
as of January 17, 2021 11:05 pm
Features
Patriotism personified - Each premium whiskey glass reflects the unmistakable United States Constitution. This celebrated historical document wraps around the entire glass for a unique and distinctive effect. The founding fathers would no doubt be proud to see you sipping from this set.
Unique patriotic gift - Anyone who loves history, the USA, and drinking fine spirits from premium quality glassware, will love these lowball glasses. Great for groomsmen, Father's Day, or birthday presents for your boyfriend or husband, and more.
10 oz with a heavy base: Premium quality glassware, 100% LEAD FREE, and just the right size. This glass is suitable for any number of cocktail classics. Looks especially classy with an old fashioned, scotch, or full-bodied bourbon.
Dishwasher safe & guaranteed for life: Each lowball drinking glass has been specially printed to maintain the integrity of the design. Will not wash off or get distorted in the dishwasher. Glasses have also been thoroughly tested to be breakage resistant.
Glassware guarantee: We know you're going to love these glasses, but in case you don't, each set comes with a 100% Money Back Guarantee.
Whiskey Glass Set of 2 - Bourbon Whiskey Stones Gift Set - Rocks Whisky Chilling Stones - Scotch Glassess Gift in Wooden Box - Wisky Stones Set - Burbon Gifts for Men Dad for Birthday Fathers Day
1 new from $44.95
1 used from $29.17
Free shipping
as of January 17, 2021 11:05 pm
Features
All-in-one glassware gift box. Whisky glasses (10oz / 300ml) made for tasting the full flavor of whisky, burbon, scotch. 8 natural granite wisky stones kit keep the drink saturated without diluting melted ice. The velvet bag will protect chilling rocks for a long time. Tongs and 2 slate table coasters perfectly complement this gorgeous bourbon gift set. Cool whiskey glass gift boxed set will be premium gift for whiskey drinker.
Ideal present for any occasion. Perfect for birthday, retirement, wedding, anniversary, housewares, housewarming gift, independence day, father's day, memorial day, best friend day, labor day, christmas, thanksgiving day, valentine's day, flack friday, cyber monday, ny, new year, veterans day. Whiskey gift boxed set is amazing present for your boss, boyfriend, brother, uncle, son, grandfather, husband, best man, dad, father.
Premium crafted wooden gift box. Whiskey glasses and stones gift set for men in the luxurious wooden gift box will be great man gift ideas. Scotch stones gift wooden box looks luxury and presentable. Our whiskey gift set is an absolute must-have for a scotch, bourbon or whiskey lover. Make happy your loved ones with an awesome scotch gift with drink stones. Bourbon drinker gift ideas for him and for guys who have everything, groomsmen, stepfather, step dad, friends or wisky lovers men.
High quality and natural materials. Our scotch drinking glasses made of high quality safe lead-free glass and has unique shape. Whiskey chilling stones made of natural granite and serves to chill it perfectly well for sipping your soft whiskey. Each polished stone is washable and reusable. Slate coasters look rich and stylish. Use metal tongs for gently place whisky stones in rocks glasses. Enjoy whiskey glassware gift set from Whiskoff.
We make things easy for you. Our scotch whiskey glasses set are customers approved, and we provide broken glass replacement policy. Just choose whiskey stones wooden box with whiskey glass and make happy loved ones. Our company made impressive whiskey gift ideas for him. This whiskey box set will be loved a man who has everything. Cool whiskey gift stones for scotch drinker.
Whiskey Glass Set (Ornate Decanter Set)
1 new from $69.97
Free shipping
as of January 17, 2021 11:05 pm
Features
【ENHANCE YOUR DRINKING EXPERIENCE】Our Stunning Rocks Glass with a Timeless Design is a Heavy-Duty, Ultra-Clear, Lead-Free Tumbler. Beautifully Clear and with Intricate Designs, these Glasses will Impress You and Your Guests with Each and Every Drink.
【LARGE GLASSES FOR YOUR COCKTAILS AND OVERSIZED ICE】At TakeFlight we LOVE Our Whiskey Neat or with Some of our Premium Whiskey Stones. But we Enjoy Cocktail Mixology and Other Spirits Too. And Sometimes we Want Our Drinks Icy Cold with a Large Ice Sphere or Block. That's Why We Made these Bourbon Glasses Large Enough to Accommodate not Only Your Bourbon, Rye, Brandy, or Scotch, but also your Manhattan, Old Fashioned, Boulevardier, Sazerac, or Whiskey Sour.
【THE ULTIMATE GIFT FOR DAD, GROOMSMEN, GRADUATION】 Whether You Call Him Dad or Pops, Grandpa or Papa, this Gift is the Perfect, Unique Gift for the Father or Grandfather Who Has Everything. Whether It's for Your Farher, Step-Father, Grandpa, Or Uncle, these Scotch Glasses Gift Sets are a Favorite Unique Gift for the Father Figure in Your Life. Also Popular for Wedding Gifts, Housewarming, Husband Valentines Gift, or a Valentine's Gift for Your Boyfriend or Girlfriend.
【CLASS UP YOUR MAN CAVE】 You Deserve the Very Best. No More Discount Store Non-Matching Glassware for Your Bar. Treat Yourself to Some Premium Quality Glasses in a Box so Amazing that You'll Want to Display it in Your Man Cave or Use it as a Beautiful Way to Store Your New Favorite Whisky Glasses.
【100% SATISFACTION GUARANTEE – 60 Day Warantee】Our Barware and Bar Accessories are Built to the Highest Standards and Carefully Gift Boxed to Arrive to You in the Best Possible Shape. If in the remote possibility you are not completely satisfied with your new product, please contact us, and we will gladly replace it or provide you a refund - no questions asked. Your satisfaction is our absolute #1 priority.
English Pewter Company 11oz Old Fashioned Whiskey Rocks Glass With Monogram Initial - Unique Gifts For Men - Personalized Gifts With Your Choice of Initial (T) MON120
out of stock
as of January 17, 2021 11:05 pm
Features
Handmade by our master craftsmen and women in Sheffield, England
11oz old fashioned rocks glass
Featuring a superb handcast pewter badge in the style of a wax seal
CHOOSING YOUR INITIAL - Simply click on the drop down box labelled 'Size' and select the initial of your choice
Supplied in a cream and black gift box complete with velvet bag
BTaT- Whiskey Glasses Double Wall, Bourbon Glasses, Set of 4, Cocktail Glasses, Scotch Glasses, Old Fashioned Glass, Rocks Glass, Crystal Glasses, Vodka Glasses, Drinking Glasses, Gifts, Gins
2 new from $32.95
Free shipping
as of January 17, 2021 11:05 pm
Features
Set Of 4 Double Wall Whiskey Glass (7 Oz., 210 Ml)
Made From High Quality, Lead-Free, And Condensation-Resistant Borosilicate, Keeps Your Drink Cold Longer
Handsome And Unique Design, Perfect To Use As Whiskey Glass, Old Fashioned Glass, Cocktail Glass, Bourbon Glass, Scotch Glass
Ships In A Beautifully Designed Box, Great For A Gift
Dishwasher Safe, Microwave Safe, Oven Safe, And Freezer Safe