The Wild Turkey Distillery has a great range of whiskies from Bourbons to Rye, Single Barrels, Reserves, and liqueurs. It's the Wild Turkey Rare Breed that we will focus on but not before taking a quick look at the history of this distillery.
Austin Nichols started selling wine and spirits in 1855, which become the Wild Turkey Distillery in 1869. After surviving prohibition in the 1930s, Wild Turkey got the official name after a hunting trip. Jimmy Russell joined the Wild Turkey distillery team in 1954 after learning his trade from Ernest W. Ripy, the son of the original distiller. Now with 60 years as a master distiller, he is the longest-tenured master distiller in the world, nicked by some as the Buddha of Bourbon. In 1981, his son Eddie joined the team, making the father and son master distillers one of a kind.
Wild Turkey has managed to create a couple of world time firsts in the whiskey industry. They were the first to create a bourbon liqueur, the first steps of Wild Turkey's American Honey. Another first was the introduction of the barrel proof bourbon, the premium Rare Breed.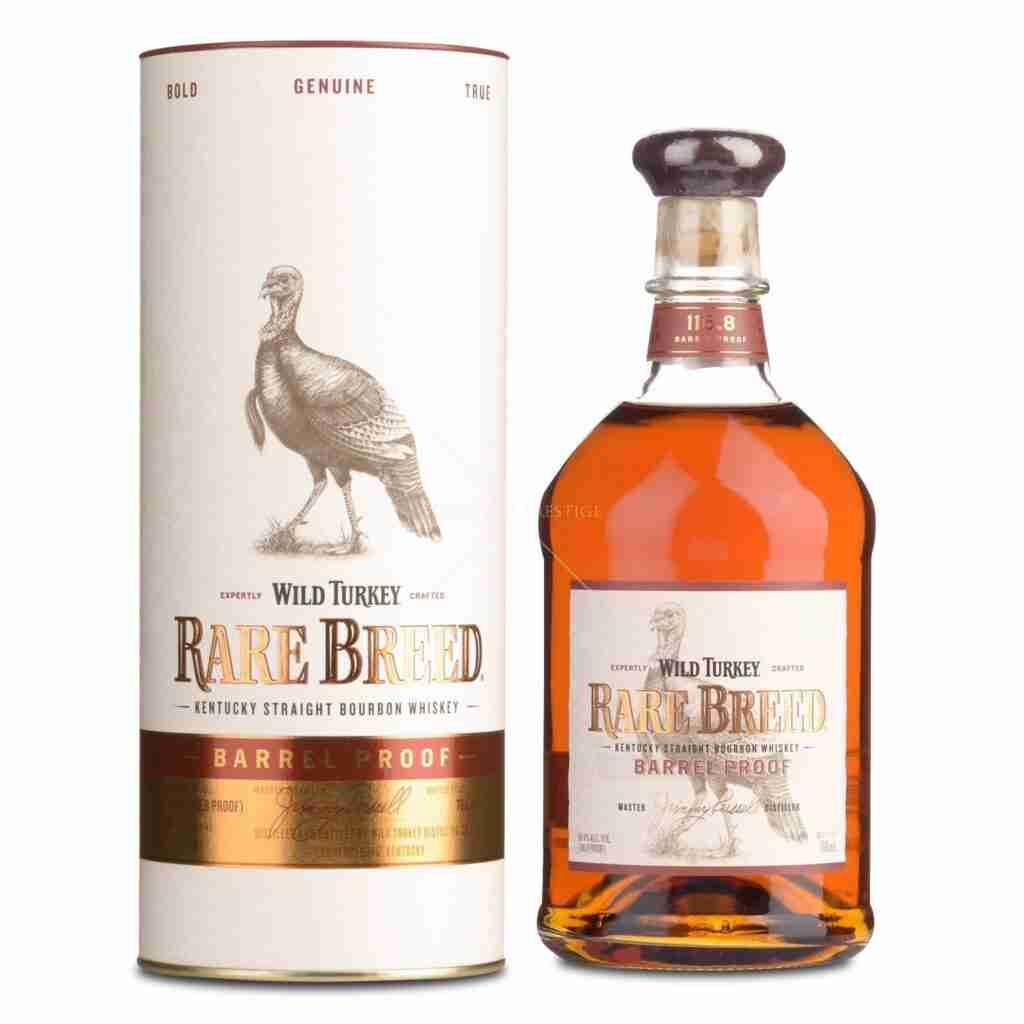 Wild Turkey Overview
All of the Wild Turkey whiskies use water from the Kentucky River, which is then filtered through limestone to take away any iron and other impurities. The yeast is an original strain that has been used for more than 60 years. Jimmy Russel has always insisted that all of the Wild Turkey whiskies are completely natural with no GMO ingredients. The America White Oak barrels have a no.4 char, which provides a unique color and flavor. All of the whiskies are aged for a minimum of 5 years.
Wild Turkey Rare Breed
The Wild Turkey Rare Breed is a burnt umber color. The mash bill is 75% corn, 13% rye, and 12% barely. It's not sure how long it has been aged for, but we do know it's a blend of 6 to 12-year-old bourbon. It has an alcohol level of 58.4% ABV, 116.8 proof.
On the Nose
There is a nice heat on the nose, it's dark and sweet with a lovely oaky aroma. You will also notice a good amount of caramel and vanilla and even cinnamon and licorice. It could be the rye but some of us picked up some grape and this tends to grow as you swirl the bourbon in the glass. The movement also releases nice citrus and burnt wood smell.
On the Palate
If you have ever tried one of the other Wild Turkey whiskies, you won't be disappointed. You have the quality of flavors you would expect, starting with rich caramel and vanilla. This comes before the spice of cinnamon, apples, and licorice. You can't miss the burnt oak from those No.4 barrels. There is a good amount of heat, but not so much that you feel a burn. The finish of this whiskey is sweet with notes of honey and citrus. You are left with a delicious fruity oak that is truly superb and smooth.
Wild Turkey Rare Breed Awards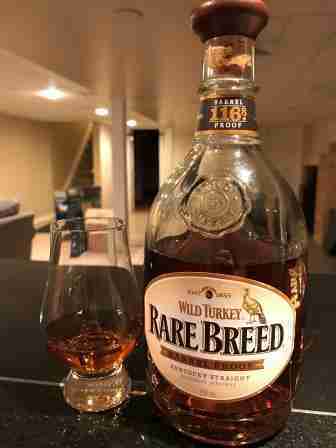 With two master distillers, Eddie Russell joining the Bourbon Hall of Fame in 2010, it's understandable that the Wild Turkey Rare Breed has so many won so many awards. Here are just some of them:
2010 Beverage Tasting Institute- 93 Points
2010 International Wine & Spirits Competition- Silver medal & Best in Class
2010 San Francisco World Spirits Competition- Silver Medal
2010 Ultimate Spirits Challenge- 92 Points- Excellent, Strong Recommendation
2011 Beverage Tasting Institute- 92 Points
2011 San Francisco World Spirits Competition- Gold Medal
2011 Ultimate Spirits Challenge- 93 Points, Excellent, Highly Recommended
2012 International Wine & Spirit Competition- Gold Medal, Outstanding
2012 San Francisco World Spirits Competition- Gold Medal
2013 Beverage Tasting Institute- 93 Points- Gold Medal, Exceptional
2014- International Wine & Spirits Competition- Silver Medal
2016 san Francisco World Spirits Competition- Double Gold Medal
As you can see from the awards list, the Wild Turkey Rare Breed gets better each year.
Read next – Eagle Rare Bourbon Review – Kentucky Straight Bourbon Whiskey!
How to Drink Wild Turkey Rare Breed?
It's a strong whiskey with so much flavor it is perfect to drink neat. Ice and water can be added if you feel like it is a little too strong, but we found that just a few drops really helped to enhance the flavor. If you looking to add a mixer, here are some perfect cocktails to enjoy your Wild Turkey Rare Breed.
Kentucky Mule
A Kentucky twist to the traditional Moscow Mule, this is a great treat for those long summer days.
2 parts Wild Turkey Rare Breed
¾ oz ginger syrup
¾ oz freshly squeezed lime juice
Splash of Angostura bitters
Soda water
Add all of the ingredients except the soda to a cocktail shaker and mix well. Add some ice to a tall glass and strain the mixture into the glass. Add soda to taste as well as lime and mint to garnish if you want.
Read next – 1792 Bourbon Review – The Heart of Bourbon Country in Kentucky!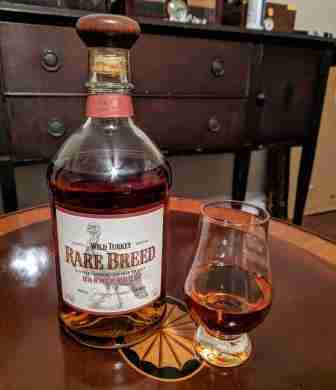 Bourbon Bramble
This is the ideal way to bring out the darker fruit flavors of the whiskey and although great for summer, we liked it as a good year rounder too.
2 parts Wild Turkey Rare Breed
¾ oz freshly squeezed lemon juice
½ oz simple syrup
½ oz BlackBerry liqueur
Blackberries (fresh preferred)
Add the whiskey, syrup, and lemon juice to your shaker with crushed ice and shake. In a short glass, muddle some blackberries (mash with a pestle). Pour the shaker ingredients over the muddled blackberries and then pour the liqueur on top. You can add a few more blackberries and a lemon twist for decoration.
Second Circle
This cocktail has an amazingly rich color and an equally rich taste that you can enjoy in any weather. The port brings a new depth to the drink with a lovely plum flavor.
2 parts Wild Turkey Rare Breed
1 tsp. maple syrup
1 oz. Ruby Port
First, mix the three ingredients in a shaker with some ice. Once it has been well shaken, strain it into a short/rock glass over more ice. If you have some cherries, use one to garnish.
Rustic Home Bar Decor Wild Turkey Bourbon Barrel Lid Wood Wall Art Kentucky
as of January 18, 2021 7:50 am
Features
BARREL TOP WALL ART Rustic Home Bar Decor Wild Turkey Bourbon Barrel Lid Wood Wall Art KentuckyBarrel lids make a very unique Father's Day gift, Mother's Day gift, birthday gift, graduation gift, wedding gift, etc. It's great for any whiskey, bourbon, or wine aficionado in your life
BOURBON BARREL HEAD – This real American white oak barrel comes straight to you from the distillery and measures 21"-22" in diameter. Rustic Home perfected crafting these repurposed artifacts into eye-catching works of art to be enjoyed for many years! If you are looking for the perfect gift idea, art prints on barrel lids are a great place to start.
RUSTIC HOME DECOR - Barrel heads serve as a fantastic rustic wall accent for any room. Hang this conversation starter in your office, man cave, bar, living, or dining room! Each piece has meaning and history, all once genuine barrels of a Kentucky or Tennessee whiskey distillery.
PRODUCTION METHOD: Each barrel lid is crafted with deliberate care. This includes realigning the barrel slats and attaching them to a backer board to make a sturdier, more fortified product. Each piece is then lightly sanded, carefully sealed, and printed to specification. We also install wood wall hanging hardware on the back. completing the piece and ensuring it is display, hang-on-the-wall ready.
Proudly Made in USA
WILD TURKEY Collectible Whiskey Glass 14 Oz
as of January 18, 2021 7:50 am
Wild Turkey Bourbon Metal Tin Sign Decor 8x12 Inch
as of January 18, 2021 7:50 am
Features
SIZE (LxWxH): 8x12x0.1 inch / 20x30x0.2 cm.
Made of metal/tin, vivid colors, lightweight, fade resistant.Recyclable, environmentally friendly materials.
EASY TO HANG ART: The lightweight metal tin sign is pre-drilled, making it easy to decorate.Easy to clean and easy to wipe.
CLASSIC VINTAGE DECOR: These Retro Collectible Tin Signs Are A Fun And Attractive Decoration For Your Home, Office, Bar, Restaurant, Dorm, Man Cave Or Garage!
GIFT FIRST CHOICE: exquisite metal sign can be used as a gift for family and friends, they will love this item.
Wild Turkey Bourbon Label- Wall Art Sign- 8 x 10"-Genuine Replica Print-Ready to Frame. Home Décor-Dining Décor. A Must For Kentucky Bourbon Whiskey Fans. Perfect Addition To Man Cave-Dorm-Bar-Garage.
1 new from $10.88
Free shipping
as of January 18, 2021 7:50 am
Features
| | |
| --- | --- |
| Color | Tan & Red |
| Is Adult Product | |
| Size | Medium |
Premium Quality Whiskey Glasses Set of 2 in Hand Crafted Wooden Box – Lead-Free Crystal Old Fashioned Tasting Tumblers For Scotch, Whisky, Liquor, Bourbon 10 oz. Luxury Gift Set For Men or Women
1 new from $30.00
Free shipping
as of January 18, 2021 7:50 am
Features
QUALITY CRAFTSMANSHIP THAT TANTALIZES THE SENSES – This set of 2 whiskey tumblers is designed as an extension of our respect and love for great whisky. Balanced and weighted for an ergonomic feel, this whiskey glassware is sturdy and comfortable to hold. Indulging in great alcohol is more than just taste, it's an experience from first pour to final sip.
THE GORGEOUS GIFT SET – Our stunning whiskey glass set comes packaged in a vintage and exquisite stained, pine wood gift box, making a perfect gift for groomsmen, weddings, anniversaries, Father's Day or housewarmings. Exudes style and luxury, this stylish whiskey set for two is the perfect way to impress your whiskey enthusiasts.
ULTRA-CLARITY, DURABLE 100% LEAD-FREE AND SAFE FOR EVERYDAY USE – Take comfort knowing your glasses for scotch are designed for safe drinking. Crafted from non-leaded crystal, our bourbon glass set allows you to safely enjoy your best alcohol. Dishwasher-safe, you can tend to your guests and save time hand washing these delicate crystal scotch glasses.
GENEROUS CAPACITY TO OPTIMIZE ALCOHOL'S FLAVORFUL NUANCES – The 10 oz bourbon tumbler's mouth is large enough for ice balls, whiskey stones or cubes while the smooth edging creates a soft sipping experience. Perfect if you want more than one shot of your favorite alcohol. This gorgeous display of refined craftsmanship sets the bar at a higher standard of quality and attention to detail.
100% CUSTOMER SATISFACTION GUARANTEED – All of our products come with 100% satisfaction guarantee. In the improbable case that you are not 100% thrilled with our whiskey gift set, we will either replace the product or offer you a full refund, with no questions asked.
Taste of the Wild Prey Turkey Limited Ingredient - 25Lbs (418345)
3 new from $54.99
Free shipping
as of January 18, 2021 7:50 am
Features
REAL TURKEY is the #1 ingredient, high-quality, NO MEAL and PROTEIN-RICH for lean, strong muscles
For some pets, a LIMITED-INGREDIENT DIET may be EASIER TO DIGEST, so this recipe uses only FOUR KEY INGREDIENTS: cage-free turkey, lentils, tomato pomace and sunflower oil
A simple food, complete and balanced with added MICRONUTRIENTS and GUARANTEED omega fatty acids to support healthy SKIN & COAT
Added FLAVOR from savory seasoning; includes 80 MILLION CFU/lb proprietary PROBIOTICS GUARANTEED for digestive support
Formulated with NO GRAINS OR GMO ingredients; NO ARTIFICIAL colors, flavors or preservatives added
Harry Truman"Kentucky Bourbon" Whiskey Glass, Circa 1951 (Gift Box Set of 2)
1 new from $38.00
Free shipping
as of January 18, 2021 7:50 am
Features
Gift Box Set of 2 Harry Truman Collection Bourbon/Whiskey glasses
Perfect for generous pours of liquor with plenty room for ice
Wide mouth enhances flavors; sturdy base handles muddled drinks
Toughened to withstand the rigors of a professional bar; dishwasher safe
Specifications: Height: 3 3/4"; Rim Diameter: 3 1/2"; Capacity: 11 1/4 ounces
Greenline Goods Whiskey Glasses - Bourbon Trail Kentucky Whisky (Set of 2) - Etched 10 oz Tumbler Gift with Bourbon Trail Map | Old Fashioned Rocks Glass
1 new from $28.00
Free shipping
as of January 18, 2021 7:50 am
Features
Sand etched whiskey tumbler: Each Greenline Goods rocks whisky glass was etched by a skilled artisan and features a hand drawn map of the Bourbon Trail with coordinates. Glass sets are carefully packed in an elegant gift box and chosen to make a lasting impression!
10 oz with a heavy base: Premium quality glassware, 100% LEAD FREE, and just the right size. This glass is suitable for any number of cocktail classics. Looks especially classy with an old fashioned, scotch, or of course, a full-bodied bourbon.
Dishwasher safe & guaranteed for life: Each lowball drinking glass has been sand etched to maintain the integrity of the design. Will not wash off or get distorted in the dishwasher. Glasses have a heavy base, and have been thoroughly tested to be breakage resistant.
Unique gift idea: Looking for a unique gift idea? You found it. Each glass features an intricate map of the famed Kentucky Bourbon Trail, which wraps around the tumbler to show all of the sites in stunning detail.
Glassware guarantee: We know you're going to love these glasses, but in case you don't, each set comes with a 100% Money Back Guarantee.