Old Forester 1910 is one of the whiskies from the Brown-Forman Shively Distillery in Louisville. The Brown-Forman Distillery is one of the largest American-owned spirits and wine companies and among the top 10 of the largest global spirits companies. Despite having more than 4,700 employees, Brown-Forman remains a family run business, with the current CEO, Garvin Brown IV, being a 5th generation Brown family member. What's so nice about this, is that the stories of the Old Foster 1910 whisky have been passed down from generation to generation for 150 years.
In 1870, George Garvin Brown was as a young pharmaceuticals salesman who sold whisky in sealed glass bottles. At a time when whisky was still commonly sold from the barrel, this was an innovative approach. It wasn't until October 1910 that the Old Forster 1910 whisky was created, and some would same out of sheer bad luck. When a fire broke out, the bottling line had to be shut down. There was no way of knowing how long the vat of mature whisky was going to have to wait until it could be bottled. Instead of risking the vat of whisky, it was placed in a new, charred oak container to rest. This could have been one of the first cases of double barrelling whisky and at least the first documented case.
The same method is used today. Mature Old Forester at 100 percent proof is stored in a lightly toasted heavily charred barrel, almost to the "point of incineration". The incineration of 1910 tells you just how this whisky got its name.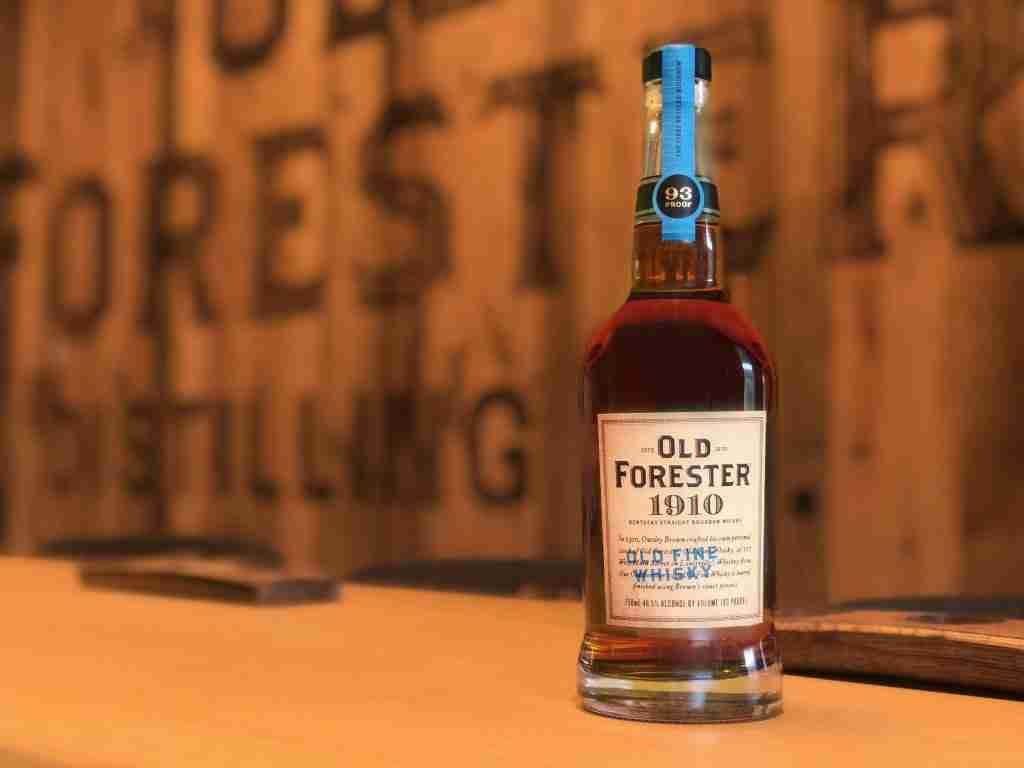 Old Forester has a great claim to fame. It is America's first bottled bourbon and the only bourbon that has been sold by the same company before, during, and after prohibition—thanks to the license from the U.S government to produce Old Forester for medicinal purposes.
Overview of Old Forester 1910 Whiskey
Old Forester 1910 is classified as straight bourbon. To be classed as a bourbon, it must be produced in the U.S., aged in a charred oak barrel, and made from at least 51% corn. The mas bill of Old Forester 1910 is 72% corn, 18% rye, and 10% malted barley.
This rich dark bronze whisky is 93% proof, 46.5% ABV. It was released in 2018 but there is no information on how long it has been aged for.
Old Forester 1910 on the Nose
The first scents to detect are a slightly sweet oak aroma. Once this passes, you are met with caramel and vanilla. If your sense of smell is sensitive, you may even detect some pecan. All the while, you still get the underlining oak smell. We found that this is definitely a whiskey that you want to leave to sit in the glass as the aroma becomes more pleasant with some time to air.
Old Forester 1910 on the Palate
You will appreciate the smoothness of this whiskey and you can appreciate how the wood's sugars have been able to dissolve into it. It is definitely a sweet whisky with hints of burnt caramel and vanilla. There is still a charred flavor and it's impossible to miss the taste of the oak. Some may not consider the flavors to be deep, but with just the hint of berries, there is no doubt that it's not a delicious and wonderful drinking experience.
The finish of Old Forester 1910 is where to oak really comes into play. It's strong and rich but the caramel and vanilla are still there to remind us of the sweetness.
Overall, Old Forester 1910 is oaky, sweet, and with a subtleness of fruitiness. It's almost heavily on the mouth but certainly not in a negative way. The second barrelling process adds a hint of buttercream and sticky toffee with a slow release of warm spice.
The Old Forester Range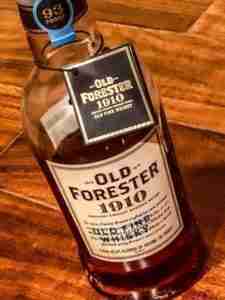 While using the same process as the Old Forester 1910, there are other Old Forester whiskies that warrant a mention. This include:
Old Forester 86 proof Kentucky straight bourbon whisky
Old Forester 100 proof Kentucky straight bourbon whisky
Old Forester Birthday bourbon straight bourbon whisky
Old Forester single barrel select Kentucky bourbon whisky
Old Forester Whiskey Row Series: 1870 Original Batch
Old Forester Whiskey Row Series: 1897 Bottled in Bond
Old Forester Whiskey Row Series: 1290 Prohibition Style
Old Forester Kentucky Straight Rye Whisky
Read next – Redneck Riviera Whiskey Review – Meet "Liquid Sunshine" Bourbon!
How to Drink Old Forester 1910
Neat, this whisky was fine, but not to everyone's taste. Some might prefer it with just a drop of water; however, this whisky is absolutely amazing to make a range of cocktails. Here are some worthy examples:
The 1910 Caramel Vanilla
A slight twist on the Old Fashioned, this cocktail only needs 2 ounces Old Foster 1910, 0.25 ounces of caramel-vanilla syrup and a splash of your favorite aromatic bitter. Mix the ingredients with a little bit of warm water, making sure that the container is heatproof. Pour into a glass and to really warm the soul, add a toasted marshmallow or two on top.
Here Kitty Kitty
Again, Old Foresters uses the 86-proof bourbon, but we felt that the subtle hint of berries worked really well with the fruity flavors of the Here Kitty Kitty. Take a handful of raspberries and mash them up slightly, not enough to make a paste. Add 0.75 ounces of lemon juice and another 0.75 ounces of syrup. Top that with 2 ounces of Old Forester 1910. Once you have given it a really good shake, strain it over a tall glass with plenty of ice. Top it up with sparkling apple cider. If you want to invite your friends around, add some whole raspberries to garnish.
Read next – Bird Dog Whiskey Review – Meet Western Spirit's Multiple Taste Whiskey!
Train to Penn Station
Though originally using the 100-proof rye whisky, we liked a slightly toned-down version. This cocktail has also been used with gin but with Old Forester 1910, you get and oaky cocktail with delicious notes of citrus and hints of floral. Mix together 2 ounces of Old Forester 1920 with 0.5 ounces of Grandiflora syrup, 0.25 ounces of Crème Yvette and 0.75 ounces of lemon juice. Strain the cocktail and add a twist of lemon peel for decoration.
Riedel Tumbler Spey Whisky, Set of 2
3 new from $29.90
1 used from $24.01
Free shipping
as of January 16, 2021 1:32 am
Features
The decorated, machine-made tumbler of the stylish, yet subtly nostalgic glass collection Riedel barware are inspired by the glamorous art Nouveau period and present a contrast to riedel's purist, unadorned wine glasses.
The 'spey' series takes it names from the world famous Scottish River, which is synonymous with fine Scotch whiskies.
Spey glasses have a large surface area. Riedel's barware tumbler collection presents perfect, 'must have' glasses for all Cocktail and spirits lovers.
All Riedel glasses are dishwasher safe.
Glass capacity is 10 oz. and the glass Height is 4 inches
JoyJolt Aurora 5-Piece Crystal Whiskey Decanter Set,100% Crystal Bar Set, Crystal Decanter Set Comes With A Scotch Decanter-25.3 Ounces And A Set Of 4 Old Fashioned Whiskey Glasses-8.10oz
2 new from $59.95
Free shipping
as of January 16, 2021 1:32 am
Features
The JoyJolt Aurora crystal bourbon decanter set is unique, easy on the hand, handmade by expert artisans, with an beautiful design that will make a lasting impression and are Non-leaded crystal decanter. Comes with heavy glass stopper on the glass decanter.
This old fashioned decanter are great for wine, scotch, liquor, bourbon, and whiskey. Savor your finest whiskey or scotch in style with Aurora sleek cocktail glasses, and are excellent for cocktail bourbon rocks tumbler.
These decanter set are handmade, and has a strong base and are sturdy and strong enough for home, bar, hotel, restaurant, resort, and weddings or in areas where breakage of rocks glasses is a concern.
These whiskey glass is wide enough for ice stones, whiskey balls or cubes. Our liquor decanter set also makes a fantastic gift and comes in a safe beautiful embossed gift box, the perfect gift idea for any occasions.
These double old fashioned whiskey glasses set are dishwasher save, without any fear of damage or breakage. 1-year satisfaction guarantee If they are damaged in any way upon arrival, we will send you a replacement set free of charge.
Ashcroft Twist Whiskey Glass - 10oz - Set or 2 - Modern Rocks whisky glasses - Lead Free Crystal Glasses for Scotch or Bourbon - Luxury Gift Box - The ideal old fashioned glass
1 new from $19.95
3 used from $14.17
Free shipping
as of January 16, 2021 1:32 am
Features
☑️ PREMIUM QUALITY/CRAFTSMANSHIP - ELEVATE YOUR HOME BAR with a wisky glasses set from Ashcroft for those serious about their spirits, nothing says sophistication quite like an Ashcroft whiskey glass set. Sturdy, comfortable, and sits beautifully in the hand. Sit back and enjoy a wisky, bourbon or scotch at the end of a long day from your new whisky glasses. As we say here at Ashcroft Celebrate the Simple Things, you deserve it!.
☑️PREMIUM QUALITY/STYLE - ENHANCE YOUR BOARDROOM OR MAN CAVE. These bar glasses have a heavy base you can feel the quality with each glass. These old fashioned wiskey glasses hold 10oz's of scotch, brandy, vodka, or rum. The ideal whiskey glasses for men who appreciate the finer things in life.
☑️ SUPERIOR QUALITY LEAD FREE CRYSTAL - Original high quality whiskey glasses set of 2. Diamond like Precision Accentuates the Twist design appreciate the Quality & Craftsmanship every time you serve a Double Old Fashioned, Bourbon, Vodka,Tequila, Scotch or Whiskey. The Ashcroft Twist Glass is the Original Twist Glass. Enjoy your new Twist Glasses while you sip your favorite drink, the unique look and feel will mesmerize. Our rocks glasses exude style and luxury with amazing craftsmanship.
☑️LUXURY BOXED GIFT SET - Surprise someone with this wisky glasses set and make their day special, watch their eyes light up as they open the lid and see the sparkling glasses nestled in the beautiful luxurious gift box. If it's not a gift treat yourself to a set of cool whiskey glasses or bar glasses sets for the home. Each glassware piece has been carefully fitted inside a protective cushion to keep your glass perfectly safe during shipping.
☑️ CONFIDENCE & SATISFACTION - Quality Gift Box packaging ensures your glassware arrives safely.
Ashcroft Fine Glassware Diamond Whiskey Glasses, Old fashioned Glasses, Set of 2 for Liquor, Bourbon, Scotch, 10 ounce Whiskey Tumbler, Diamond Cut Lowball Glasses
1 new from $16.95
Free shipping
as of January 16, 2021 1:32 am
Features
☑️ ELEVATE YOUR HOME BAR - For those serious about their spirits, nothing says sophistication quite like an Ashcroft Diamond cut whiskey glass. Sturdy, comfortable, and sits beautifully in the hand.
☑️ LARGE & LUXURIOUS - These whiskey tumblers hold 10 oz of scotch, vodka, or rum. Perfect capacity to relax for longer, without repeated refills. These lowball glasses will hold a 2-inch whiskey ball.
☑️ ULTRA CLARITY LEAD-FREE GLASSWARE - Our Diamond rocks glasses exude style and luxury with the amazing craftsmanship Ashcroft is known for. A showpiece for those serious about their spirits.
☑️ LUXURIOUS GIFT-BOXED & SAFE PACKAGING - Ashcrofts emblem is Embossed in SILVER with each box having a magnetic closure latch, protective cushioning to keep your glass perfectly safe during shipping.
☑️ 100% PERFECT DELIVERY PROMISE - If your not 100% satisfied return your glasses for a full refund that's the Ashcroft Promise.
Paksh Novelty 7-Piece Italian Crafted Glass Decanter & Whisky Glasses Set, Elegant Whiskey Decanter with Ornate Stopper and 6 Exquisite Cocktail Glasses
2 new from $36.99
Free shipping
as of January 16, 2021 1:32 am
Features
Complete your barware collection with this value packed fine whiskey decanter set. The set includes a timeless, squared 33.75 oz decanter with a beveled fluted stopper and 6 sophisticated 9.5oz whiskey tumbler glasses all providing classic elegance.
Drinks are sure to be thoroughly enjoyed when served from this elegant liquor decanter into the old fashioned glasses that have been masterfully crafted in a beautiful, classic diamond cut, with distinctive light reflective starburst detailing.
Crafted in Parma, Italy from fine sands and raw materials, users will experience a rich tradition of innovation pioneers of glassmaking demonstrated in this lead-free, old fashioned glass and whisky decanter set.
Perfect for formal entertaining and everyday use. Serve and toast your most cherished whiskey, bourbon, and scotch in style with this wine decanter at housewarming, wedding, or retirement functions.
Our whiskey gift set makes a stately Christmas, holiday, birthday, etc. gift, complementing any style. With easy hand wash or dishwasher maintenance, this whiskey drinkware set is sure to be a treasured heirloom that is long to be remembered.
Venero Crystal Whiskey Glasses, Set of 4 Rocks Glasses in Gift Box - Lowball Bar Glasses for Drinking Bourbon, Scotch Whisky, Cocktails, Cognac - Old Fashioned Cocktail Tumblers
1 new from $32.97
1 used from $26.96
Free shipping
as of January 16, 2021 1:32 am
Features
✅ CRAFTED FROM THE FINEST QUALITY CRYSTAL. Serving your drinks in these elegant whiskey glasses is sure to impress your party guests. Blown from solid crystal they sparkle beautifully in the light and are guaranteed to make any drink look great. Ideal for sharing a toast on special occasions with family or clients, or playing poker and partying with friends.
✅ THICK SIDES AND BASE WON'T BREAK AND WILL RETAIN YOUR DRINK'S TEMPERATURE. The thick walls and heavy weighted base are extremely durable and keep your drink insulated at the perfect temperature for longer, whether you prefer it ice cold or room temperature, they're dishwasher safe and covered by our lifetime warranty so you'll never need to worry about them breaking.
✅ PACKAGED READY FOR GIFTING IN A SATIN-LINED PRESENTATION BOX. Treat yourself or give this gift set and make someone's special day. Packed in an elegant satin-lined padded presentation box, these old fashioned glasses make a perfect gift for Men or Women for Birthdays, Christmas, House Warming or Wedding Anniversary.
✅ ADD SOME ELEGANCE TO YOUR DINING TABLE AND SOME WOW FACTOR AT PARTIES. You won't be disappointed by the size of these large 10 oz rocks glasses, you can easily fit a double shot plus some mixer and ice cubes, perfect for drinking any liquor like Scotch Whiskey, Bourbon, Old Fashioned Cocktail, Cognac, Vodka, Gin, Tequila or use them as classy juice or water glasses
✅ TRY THEM RISK-FREE WITH OUR SATISFACTION GUARANTEE AND LIFETIME WARRANTY. We stand by our products with our outstanding customer service and satisfaction guarantee, try them out for 30 days and if you don't like them just return them for a full refund, you're also backed by a lifetime manufacturers warranty so if you ever have a problem just contact us and we'll send you a free replacement, click Add to Cart now and try them 100% risk-free today.
KANARS Old Fashioned Whiskey Glasses with Luxury Box - 10 Oz Rocks Barware For Scotch, Bourbon, Liquor and Cocktail Drinks - Set of 4
1 new from $36.99
1 used from $25.84
Free shipping
as of January 16, 2021 1:32 am
Features
☑ PERFECT GIFT FOR ANY WHISKEY LOVER - Each Whiskey Glass tumbler is carefully packaged in a unique elegant gift box. An exceptional value and an excellent gift for any occasion, perfect for wedding, birthday and anniversary gifts, also it can be used as a high-grade glassware in home
☑ THE BEST QUALITY LEAD FREE CRYSTAL - Original high quality crystal glass, Diamond-like detailing for texture and brilliant refraction, Sparkle beautifully in the light! KANARS lowball glass offers excellent clarity perfect for bourbon,scotch and whisky
☑ UNIQUE AND STYLISH - Stunning old fashioned cocktail glass set with timeless design. Not only a glass, but also an artwork. This whiskey tumbler fits effortlessly in your hand, Use it to tasting your favorite bourbon or scotch on the rocks
☑ SOLID AND HEAVY BASE DESIGN - Highly breakage resistant thanks to Platinum Glass production process, KANARS Whiskey glassware are heavier than others and gives you a real sense of strength and substantiality, They are virtually unbreakable and dishwasher safe, also durable enough to retain its sparkle for many years to come
☑ YOUR SATISFACTION GUARANTEED - Our brand values are Quality, Trust and Integrity, Customer satisfaction has always been our top priority, all of our products come with a 100% satisfaction guarantee. We guarantee 30 days money back and free replacement, professional after-sale service within 24 hours